On Saturday morning, I ran eight miles.
Going into the run, I wasn't sure how it would go. My friend Merri is training for the Hamptons Marathon at the end of September and, after running 18 miles last Saturday, her training plan called for an eight mile run over the weekend. She asked me to join her and since Merri is one of my favorite running buddies and I don't have the opportunity to run with her often, I agreed.
Merri was only in town for three days from New York City and I wanted to spend all the time with her that I could. Our running pace is very similar and Sadie is basically obsessed with her, so on Saturday morning, Sadie and I met up with Merri at 7 a.m. for a long run. Long for me… not so much for Merri.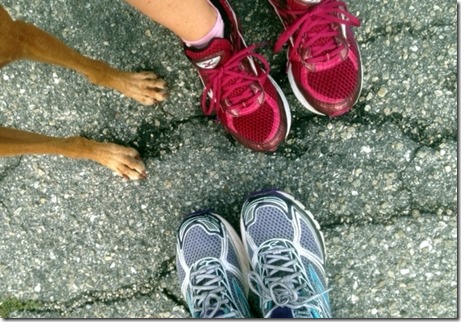 On Friday night, I went to bed thinking the run the following morning would be kind of miserable. And then something odd happened.
I woke up on Saturday morning and felt totally committed. I felt the way I do when I wake up to conquer a long run when I am training for a half marathon: It's non-negotiable and I'm going to get through it. I was actually excited. (Long runs are actually my favorite part of half marathon training.)
Merri told me she wasn't worried about our pace since she just wanted to get in the miles. She matched my pace and let me run at a pace that made me feel comfortable. Merri mapped out an out-and-back course and told me to just think of it as two four-mile runs. Mentally, this made things so much easier for me. Two four-mile runs? I can do that! 
We took off and ran around Sarasota. Running new routes when I am traveling is always fun for me because there's so much to look at and take in. During our run we saw a manatee! We talked the entire time which made the miles pass by so much faster than they do when I run on my own.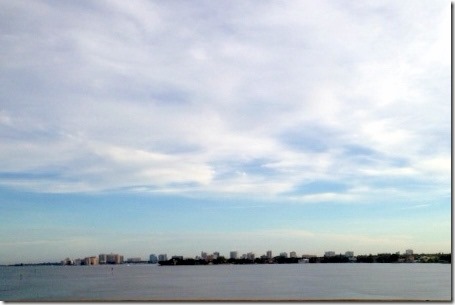 Once we reached the turn-around point, I felt great. I knew I'd finish and that I'd finish strong. Merri said that after each mile we reached during the second half of our run, she wanted to take a 10 second walking break to sip on water and mirror the water breaks that occur during a race. I always thought I preferred to run straight through, but these fast mini-breaks helped keep me going because I just focused on the mile we were running, not the miles we had left. I just had to make it through one mile at a time to make it to a super-short walking break.
Despite the heat and humidity and the fact that Merri and I looked like we had jumped in a pool at the end of our run, it was one of the best runs I've had all year.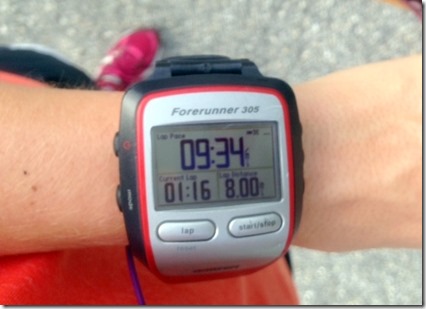 It's also the farthest I've run since the ZOOMA half marathon in January. It's three miles over my "magic mile number" and I finished with a feeling of accomplishment that I seem to only get from running.
After our run, I thought about just how mental running is for me.
Part of me knew I could run all eight miles, but I had a mental block up that made me doubt myself. It wasn't until I mentally committed to the run on Saturday morning that I knew I could do it.
Running an out and back course and telling myself it was just two four-mile runs helped me wrap my head around the eight-mile distance.
Allowing myself to take 10-second walking breaks after miles five, six and seven helped me work through the final few miles and focus on individual miles rather than the chunk of miles I had remaining.
So many little mental mind games went into this run and helped me finish feeling strong and proud. Now I'm on the lookout for a fall half marathon!
Question of the Afternoon
Do you play any mind games with yourself during workouts that help you make it through harder workouts?