As I'm sure you know, thanks to all of the red and pink you've seen popping up everywhere, next Thursday is Valentine's Day!
I thought a round-up post of creative, budget-friendly Valentine's Day ideas might be a good way to throw some fun, yet inexpensive, ideas out there.
If you've been reading this blog for a while, then you may have seen a couple of these Valentine's Day ideas before, but I found a bunch of new ideas share with you from other blogs and Pinterest (of course).
Hopefully one of these ideas will help make someone you love feel extra special on February 14!
Budget Friendly Valentine's Day Ideas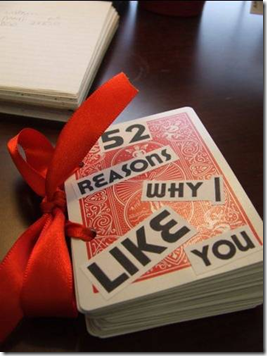 52 Reasons I Love You Deck of Cards: My sister did this project for her boyfriend last year and he loved it! She wrote a different thing that she loved about him on each card. Some were silly, others were really sweet, and the whole thing was really cute!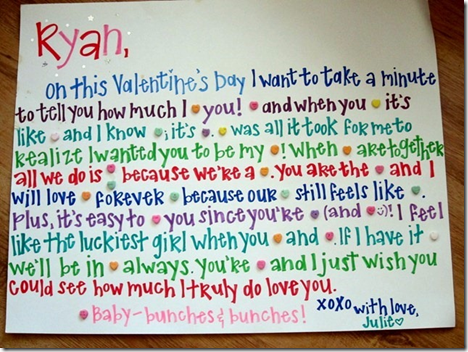 Candy Hearts Poster: I made Ryan a poster that revolved around the sayings found on the candy hearts that are always for sale around Valentine's Day. It took some time to come up with what I wanted the poster to say since the sayings on the candy hearts can be super hokey, but it was such a fun project.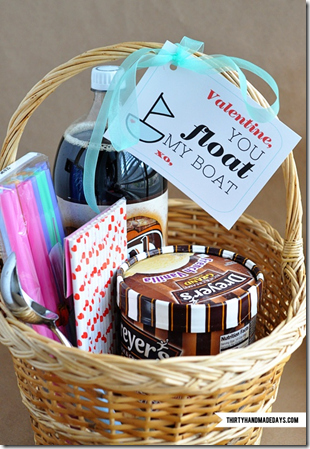 You Float My Boat Basket – This idea immediately appealed to me because Ryan is just a little bit obsessed with root beer floats. It's simple – you just fill a basket with ice cream, root beer and straws – but still super cute!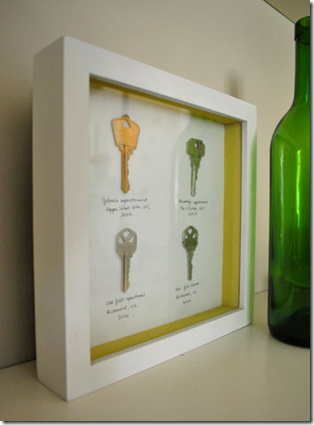 Now That I've Kissed the Ground You Walked On + Trail of Hershey Kisses: I totally stole this idea from a guy in high school who used it to ask a friend of mine to the prom! I placed a trail of Hershey Kisses from the front door of Ryan's apartment into his bedroom where I had this sign propped up on his bed, along with more Hershey Kisses, the above poster and homemade cupcakes, asking him to be my valentine.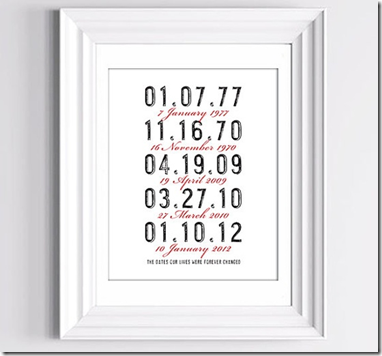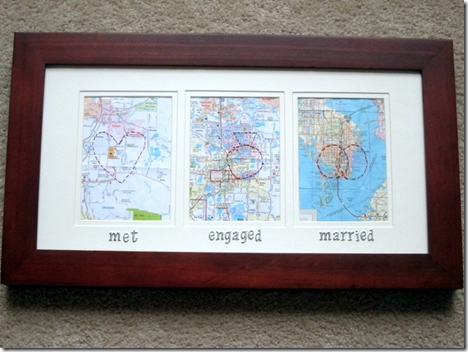 Met, Engaged, Married Embroidered Map: I gave this gift to Ryan for our one-year wedding anniversary. I got the idea from a map project that I saw on Pinterest and changed it slightly to read "Met, Engaged, Married." (The original read "Met, Married, Live.") A map of the location of each of these special events in our relationship filled the picture space above the corresponding text.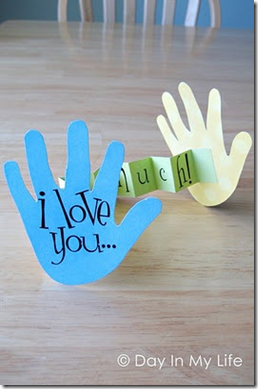 I Love You This Much Handprint Card: Though I don't have kids, my heart melted when I saw this card. I just had to share it with you guys just in case there are any parents out there looking for an adorable Valentine's Day craft project to do with their kids to surprise a loved one.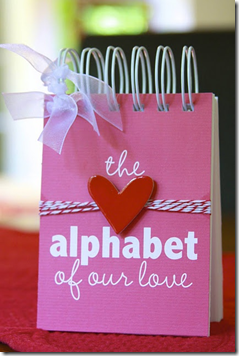 Scrapbook: For our first Valentine's Day together, I gave Ryan a homemade scrapbook and filled it with photos, captions and admission tickets that captured the first year of our relationship. Be prepared: This takes hours and hours of work. Phew.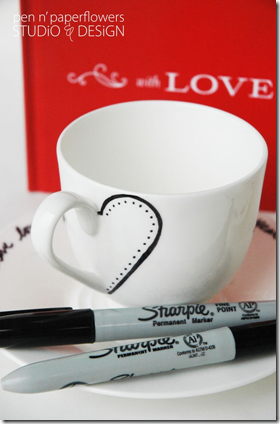 Personalized Coffee Mug or Tea Cup: Use a Sharpie to design your own mug! Add hearts, a favorite quote, song lyrics and more. Simply buy a mug, write away with the Sharpie and bake the mugs for 30 minutes at 350 degrees to let the design set.
Question of the Morning
What is the most memorable thing that you've done for someone or that someone has done for you on Valentine's Day?
I love our annual Valentine's Day Mission! Ryan and I create a small budget (usually $20) and both leave the house at the same time, setting a time limit during which we both have to get each other a bunch of little Valentine's Day gifts! We have also gone to the mall together and split up for an hour to each buy each other an outfit to wear on a date that evening. Both ideas are a lot of fun!