13 Reasons Why
and it's time to discuss this novel today!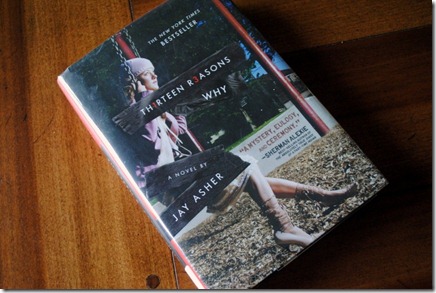 If you're in the market for some new reading material, you can find the reviews of past PBF Book Club books on my Books page.
Brief Summary
13 Reasons Why follows the journey of Clay Jensen, a well-liked high school student who arrives home one day to find a package of cassette tapes addressed to him in the mail. The tapes are from Hannah Baker, his classmate and former crush who committed suicide just a few days before. The tapes detail 13 reasons why Hannah decided to end her life and on the first tape she promises each recipient of her tapes that they contributed to her decision to commit suicide and must listen to her tapes to figure out their role in her decision.
My Review
It is clear from the beginning of this book that Hannah Baker committed suicide, so I'm not sure why I kept clinging onto the hope for a somewhat happy ending. Or at least an ending that left me feeling somewhat at peace. Suicide isn't something that is accompanied by a feeling of peace.
While I didn't completely fall in love with the book from the beginning, I plowed through it quickly and was intrigued the entire time. Hannah's voice through the cassette tapes clearly conveyed her troubled emotional state and her challenge in dealing with a less-than-squeaky-clean reputation in high school. I found myself waiting for her to reveal one of the 13 reasons why she committed suicide that could cause her to feel like there was no way out and no way to feel at peace in her life again.
As I learned more about Hannah and the people who affected her decision, I felt the underlying message her reasons seemed to convey was that every decision you make and every action you take can have everlasting consequences. Many of the decisions we make in our lives are made on a whim without much thought, but a simple remark can affect someone very, very deeply. Hannah's story made me think a lot about the people I interact with daily or the random stranger I pass as I go about my everyday life. So often we are unaware of what people are going through – even those close to us – and treating people with kindness and decency is so important.
The book itself was interesting to read in that it caused me to think a lot during my time away from the book. If anything, it's the conversations that I had with people after reading 13 Reasons Why and the impact the book had on my actions that made it worth reading. It made me want to be a little kinder to strangers. To be more aware of the people in my life and challenges they may be facing. To recognize that what I say to the people in my life and how I treat others can have everlasting implications.
Blogger Link Up
You can find additional reviews of Thirteen Reasons Why on the following blogs:
Discussion Questions
What did you think of the ending of the book? Did you feel like it left you wanting more or did you feel satisfied with the conclusion?
Do you think one of the 13 reasons Hannah detailed affected her more deeply than others? Which incident do you think had the greatest impact on her?
What will you remember most after reading this novel?
The October PBF Book Club selection was