Tonight was full of sweetness!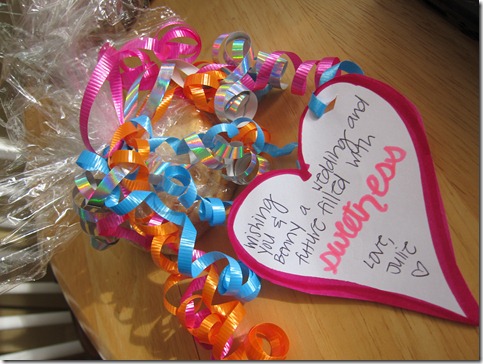 As you may remember, my friend Laurel got engaged over Fourth of July weekend and tonight a group of Laurel's closest friends and family (girls only!) got together at The Dessert Lady in downtown Orlando to celebrate.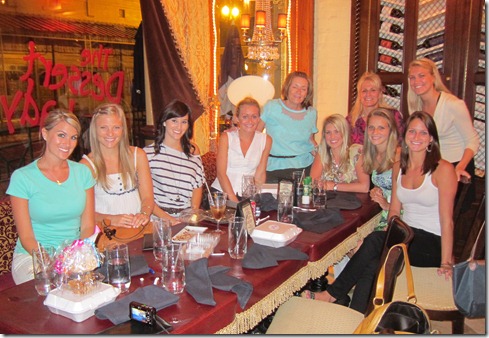 The bride to be is sitting at the head of the table, in case you were curious about the star of the evening.

I've been to The Dessert Lady with my mom, sister and Ryan before so I knew we were in for an indulgent night of delicious desserts.
Laurel, our friend Cherayne and I split a sampler platter so we could try a bunch of the different desserts.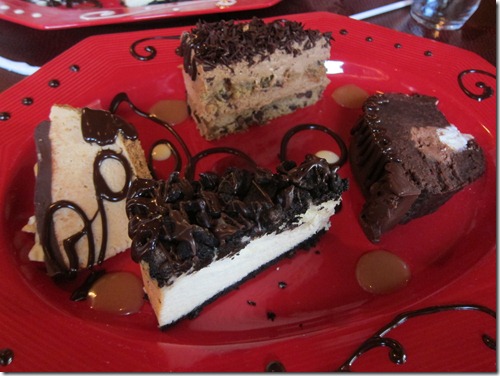 Our platter included:
Peanut butter pie
Oreo cheesecake
Chocolate zuccotto
Chocolate chip tiramisu special
The chocolate zuccotto stole the show!  It was basically a dome of dense chocolate cake (almost brownie-like) that surrounded white and dark chocolate mousse. The cake was then topped with chocolate ganache icing that I wanted to marry.
All of the desserts were so rich. Though I'm in the camp of people who don't believe that there's such thing as a dessert that is "too rich," about an hour after dessert, my stomach started talkin' to me. I'm feeling a bit crampy at the moment and think I'll blame the cheesecake. My relationship with peanut butter and chocolate is much too strong and solid for me to blame those desserts for taking me down.
I'm pretty sure that The Dessert Lady created my dream restaurant. A restaurant full of decadent desserts? Genius idea. Though I have absolutely no interest in ever owning my own restaurant, if I was going to do so, I think a dessert-only place would be the best fit. I'd also have self-serve frozen yogurt on tap that you could serve with any dish.
A seafood restaurant that serves lots of shellfish would be my runner-up restaurant.
Questions of the Evening
If you were going to open your own restaurant, what kind of food would you serve?
What would be your specialty dish?