Hey, hey, hey!
I hope things are going well in your neck of the woods.
I worked through the morning on a freelance piece. I budgeted more time than I ended up needing for the article, which was great. The words were flowin'! I love it when that happens.
When lunchtime rolled around, I had only one thought on my mind.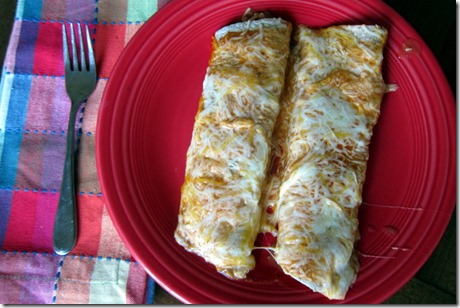 Enchiladas!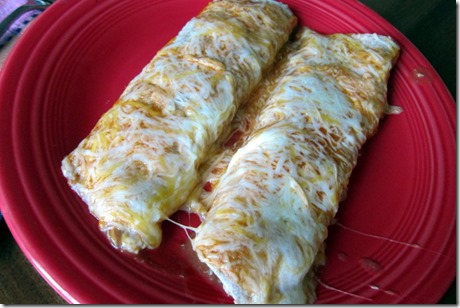 I reheated the two remaining enchiladas that we had leftover from last night's dinner and enjoyed them with a bowl of fresh strawberries.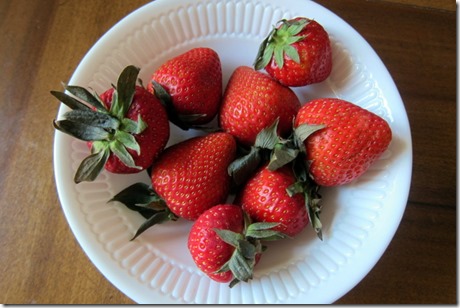 I was afraid the enchiladas would be mushy, but they tasted just as good the second time around.
After lunch, I headed out to a 1 p.m. car appointment. I've been postponing buying new breaks for a while now, but today was the day. I made sure to bring my laptop with me so I could walk next door and hop on Dunkin' Donuts' free wifi and work while I wait.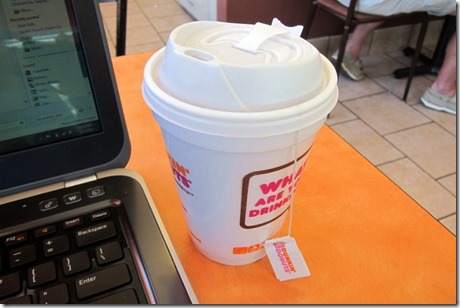 I've been here for a little more than two hours now and am hoping my car is ready soon. I have a cake to make once I get home!
Ryan and I are attending a BBQ tonight with our small group and I'm on dessert duty. I bought everything I need to make the Pioneer Woman's Best Chocolate Sheet Cake Ever and I'm anxious to get home and start baking.
I cannot remember the last time I made a cake from scratch and I've heard fantastic things about Ree's sheet cake. I hope it's a winner and that everyone likes it tonight. If not, I bought ice cream to go along with the cake and ice cream is always a hit!
Question of the Afternoon
Whenever you're asked to bring a dish to a party, what do you usually bring?
I almost always volunteer to bring a dessert unless it's Thanksgiving and then I'm all about side dishes!