I first heard of Blue Apron, a service that delivers all the ingredients you need to make three gourmet-quality meals, back in December 2013.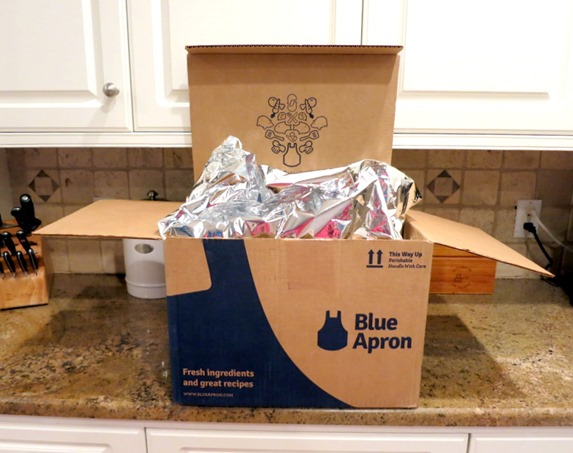 My friend Merri followed a Blue Apron recipe and made us a delicious dinner of udon noodle soup during one of my visits to New York City. She initially signed up for Blue Apron to teach herself how to cook since she was not really comfortable in the kitchen and absolutely raved about the step-by-step instructions that came with each shipment of the meal delivery service.
I came home from New York and spoke highly of the service to Ryan… so much so that he ended up giving me four weeks of Blue Apron meals for Christmas that year! We had so much fun trying new recipes and using fun, flavorful ingredients. We continue to use the service regularly and I promise you we have yet to make one meal we didn't love. I now have my mom and dad hooked on regular deliveries, too!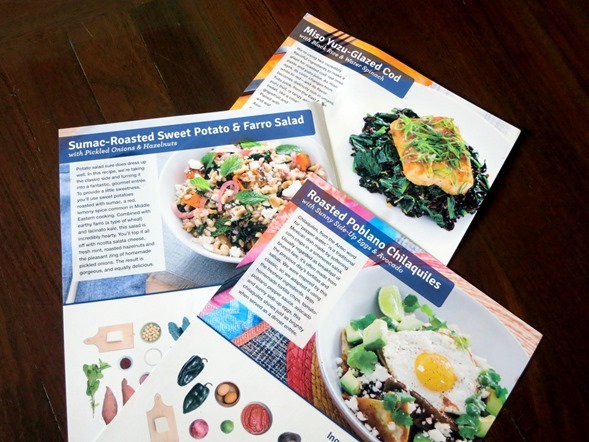 In case Blue Apron hasn't been on your radar up until now, here's how it works: Blue Apron is a service that sends you all of the farm-fresh ingredients you need to make three delicious meals a week for $9.99 per person per meal (with free shipping).  (A Family Plan is also available and feeds a family of four for $8.74 per person per meal.) All ingredients are delivered to your doorstep in a refrigerated box and come with three chef-designed recipes that are easy to follow thanks to gorgeous photos of each step of the recipe. (The Tom-Yum Style Shrimp and Noodles and the Orange Ginger Salmon are calling to me!)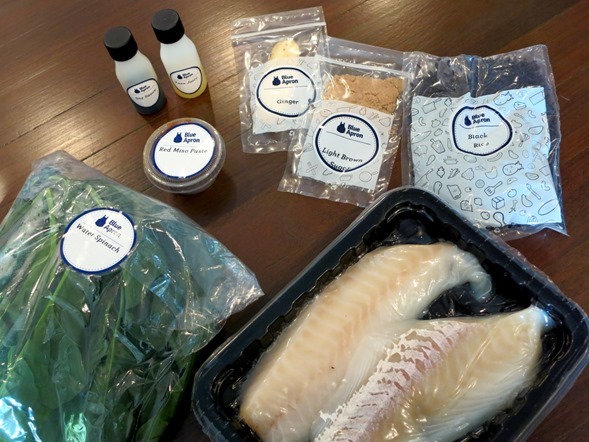 Ryan and I initially opted for the vegetarian meal plan to help ourselves learn to cook more delicious meatless meals, but you can choose whether or not your want your meals to include red meat, poultry, seafood, etc.
For our most recent Blue Apron delivery, we opted for a pescetarian meal plan and received all the fresh ingredients we needed to make two vegetarian dishes and one meal with fish.
Here's what our menu looked like: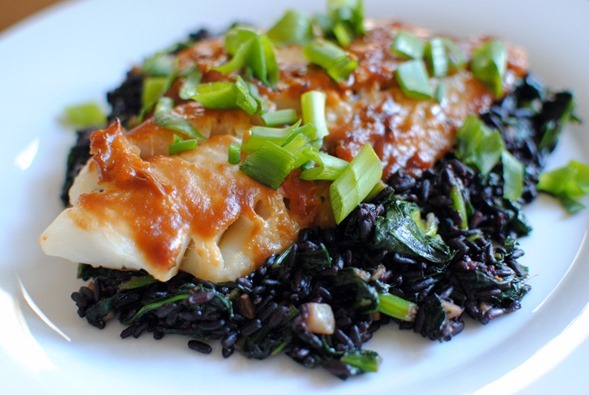 This dish was truthfully the one we were least excited about, mainly because it looked like it might be a little bland since, at first glance, it seemed like simple white fish, cooked rice and wilted spinach. Well, we were in for a very pleasant surprise because this dish was a big-time hit with both of us!! (It actually ended up being Ryan's favorite!) It was absolutely delicious thanks to the salty miso yuzu glaze and the fresh ginger. Definitely not your average fish and rice dish!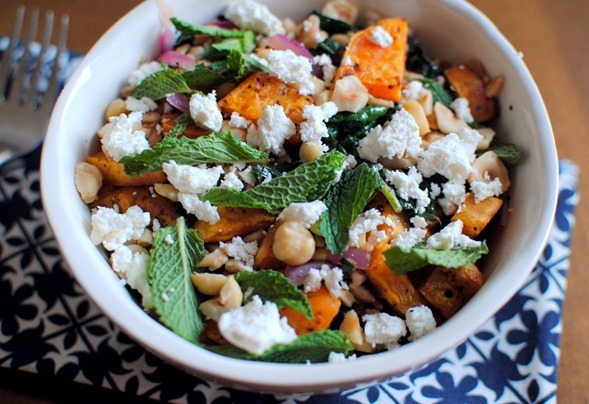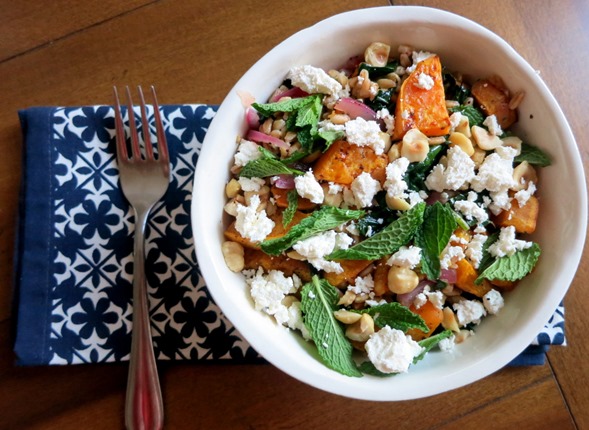 I couldn't wait to make this salad. The colors from the bright orange sweet potatoes and deep green kale made it look so vibrant and tasty. I am happy to report that is ended up being every bit as delicious as I hoped it would be! The chewy texture of the farro paired together perfectly with the soft sweet potato and the crunchiness of the hazelnuts. I also loved that I learned how to pickle onions while I made this recipe, as that's something I never knew how to do before! I told Ryan I think this salad would also taste delicious chilled as a summer side dish to bring to a BBQ with friends.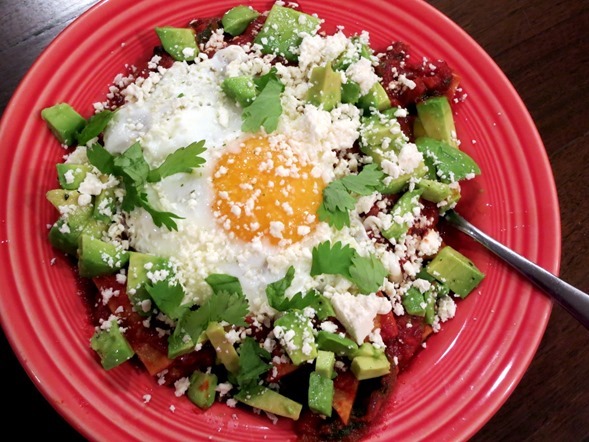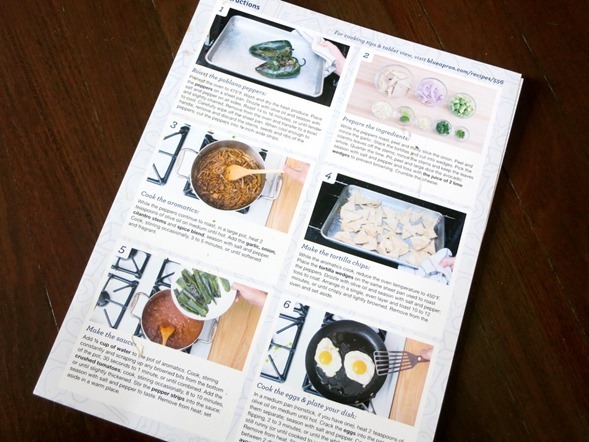 If you put a fried egg on top of something, Ryan will definitely order it at a restaurant, so this recipe caught his eye the minute we pulled it out of the Blue Apron box. (My egg was cooked all way through – pregnancy precaution.) Ryan ended up cooking the sauce part of this dish (for some reason, during pregnancy canned crushed tomatoes are currently making my stomach turn) but by the time he was done following the recipe, the smell encouraged me to give it a try and I loved it!! While he tackled the peppery sauce, I made the tortilla chips that served as the crunchy bed for the dish and fried up the eggs. Team work at its finest! Also, I loved the way this recipe had us toss fresh avocado in lime juice, salt and pepper before using it as a delicious garnish. That really kicked the flavor up a notch!
Giveaway
Now here is your chance to try Blue Apron for yourself! One PBF reader will win a free week of Blue Apron meals for two!
To enter this giveaway, click here to pop over to Blue Apron and check out what's on the menu for this week and leave a comment below telling me which recipe you'd be most excited to create!
Please note: This giveaway includes a week of meals for two people. Blue Apron delivers to 80 percent of the United States. In order to win this giveaway, you must live in one of the delivery zones. (A map of the delivery zones may be seen here.) I will randomly select a winner on Friday.
And please don't worry if you don't win! The first 100 readers who try Blue Apron will receive two free meals on their first order! To receive this promo, please click here to order.
Good luck!!!
***
Disclaimer: While this post is sponsored by Blue Apron, affiliate links are not included and I am not receiving any compensation for orders placed with Blue Apron. Thank you for your support!