Good evening!
Tonight I am excited to share another PBF reader-submitted volunteer story with you. Stephanie emailed me about her involvement with Everybody Wins!, a non-profit organization dedicated to promoting literacy among children and a love of learning through shared reading experiences. I am thrilled to share her story with you guys tonight!
To learn more about Everybody Wins!, please click the link below:
Stephanie's Story
I grew up watching my mom give back to our community through volunteer work by means of all different channels. Whether it was a food drive, a coat drive, delivering meals through Meals on Wheels or as a volunteer with Kids on the Block, educating children on physical handicaps, my mom was there, giving her time.
When I graduated from college and entered the "real world" I quickly forgot about all the volunteer work I had done throughout my life and was immersed in my first job, my first apartment and happy hour with new friends, in a new city. After a year or so, I felt like something was missing and I realized I no longer felt part of my new community and that I needed to connect through volunteer service.
While I've volunteered for a few organizations in the DC-area over the years, the one nearest to my heart is the Everybody Wins! program.

The best way to describe the program comes straight from their website: "Everybody Wins! DC (EW!DC) is a non-profit organization devoted to promoting children's literacy and a love of learning through shared reading experiences with caring individuals."
I started mentoring through the Everybody Wins! DC Chapter in 2009 and have loved it ever since day one. The U.S. Senate office I worked for at the time encouraged employees to participate in the program. After a representative came to our office and gave a presentation on the organization, I knew I wanted to be involved immediately. In fact, the U.S. Senate helped launch the program in 1995.
I finished up the school year with my second reading buddy (I had the same buddy for over two years and then he moved). Every Friday I would take an hour and a half out of my work day to spend the lunch time hour with my buddy Isabella for "Power Lunch." While she would eat lunch I started reading to her and once she'd finished eating she would take some time to read to me. We read a whole slew of books this year and our two favorites were Superfudge by Judy Blume (a hilarious book!) and The Tale of Desperaux by Kate Dicamillo. It was great getting to know Isabella and watching her reading become stronger every week.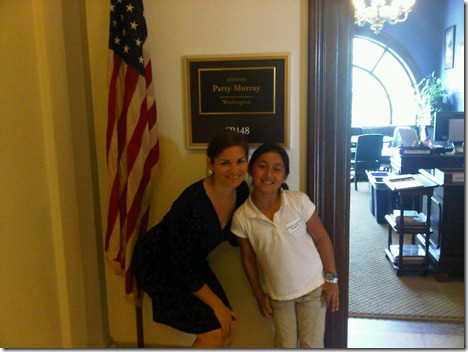 Throughout the school year, the program distributes books to the students to take home to continue their reading. There is definitely something special about putting your name in a brand new book and knowing that it is all yours to enjoy. What is also extra-special about the DC Chapter of Everybody Wins! is that members of Congress participate in the program, giving it a true community feel. Senator Harkin (D-IA) has served as the honorary chair of the program and takes time out of his week to read to his buddy. Many other politicians have participated throughout the years!
Isabella moved out of the country at the end of this school year and I am sad to see her go but I am looking forward to getting a new reading buddy and look forward to getting to know him/her. I really love the organization Everybody Wins! and it's a wonderful opportunity for me to take a step away from my busy job and give my focus and attention to a young student. Volunteering through Everybody Wins! has truly given me a connection to a city that I now call home and it was part of the inspiration behind my blog District Delights that I co-write with my friend Addy.
I hope I can pass on the importance of community service to my children one day as my mom did for me.
***
Additional reader volunteer stories: