I think it's safe to say that Sadie is feeling f-i-n-e.
A woman from our vet's office called to check on Sadie today and when she asked me how Sadie was doing, I looked over at her and saw this…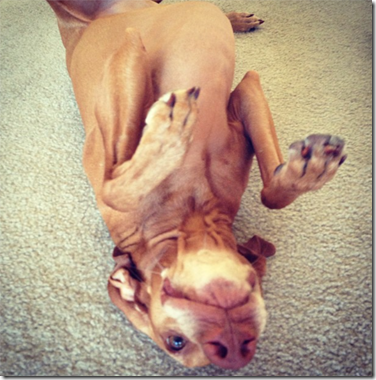 I think Sadie is finding it a little difficult to take the vet's "take it easy" orders to heart.
Lunch
Lunch today was nice and simple. I made myself chicken salad and served it with a side of carrots and a Bosc pear.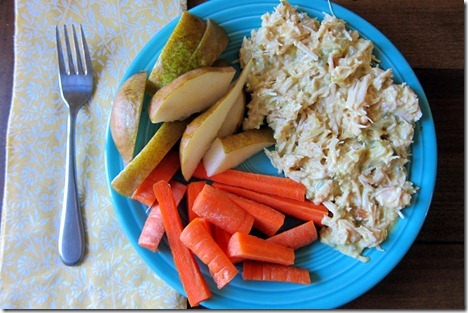 And no, I didn't take the time to peel my carrots. Wash and eat!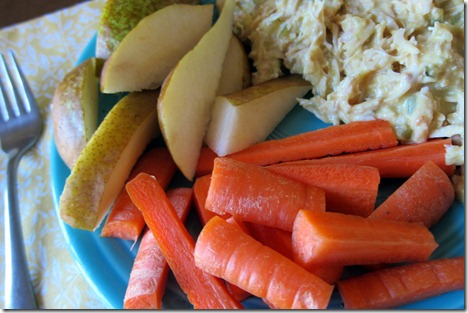 Further proof that Sadie is feeling more and more like her old self can be seen in the below picture.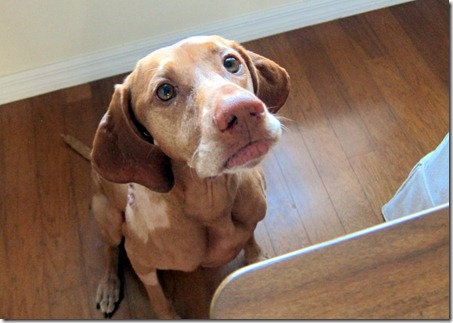 I can't even handle her face in that photo!
I shall call that look Chicken Obsessed.
You can also see the area where they shaved Sadie's shoulder to prep her for surgery in the above picture. (You can see a little bit of her stitches as well, but as someone who cannot handle blood and pictures of anything medical, no close up pictures of stitches – canine or human – will ever pop up on this blog, I assure you.) Ryan and I are assuming her arm is shaved because that's where they inserted an IV, but that's a guess. Maybe they just wanted to make her look fancy.
Blog Challenge
For my blogging friends out there, Katy Widrick is hosting a 28-day blog challenge where participants dedicate a month to "reworking, refreshing and rethinking blogs, social media spaces, community and more."
I already signed up to participate and wanted to spread the word just in case you're looking for a little motivation to help you improve your blog a bit, too!
You can learn more here: 28 Day Blog Challenge.