Good morning! I hope you are all enjoying a wonderful weekend and had a very Merry Christmas if you were celebrating yesterday!
Ryan and I have been immersed in family fun. I wish I was back in college and had another full week off to enjoy everyone. At least I have retirement to look forward to. 😉
Now it's time to get caught up… Let's back up a bit and begin with Christmas Eve!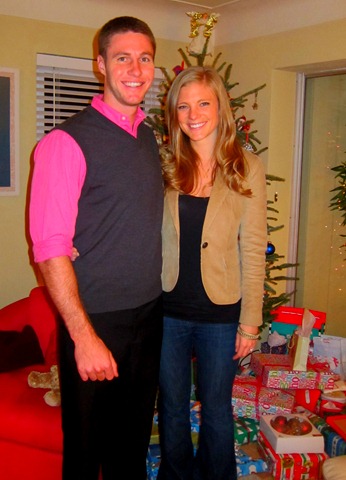 As the sun was setting, Ryan, my mom, dad, grandma, sister and I piled into my mom's minivan and headed to church.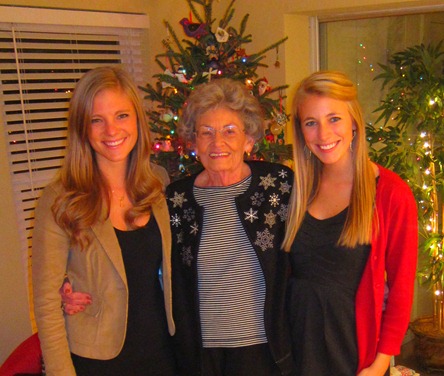 We attended a children's service, where they told the Christmas story using sounds and enjoyed watching the wonderment on the children's faces.
Once the service had concluded, we came back to my parents' house for a special Christmas Eve dinner. My mom prepared a seafood feast complete with crab legs and soft-shell crabs.
After dinner, my mom passed around our first gifts of Christmas. Every Christmas Eve we all get new pajamas and this year was no different. My sister and I were matching… as usual. 😉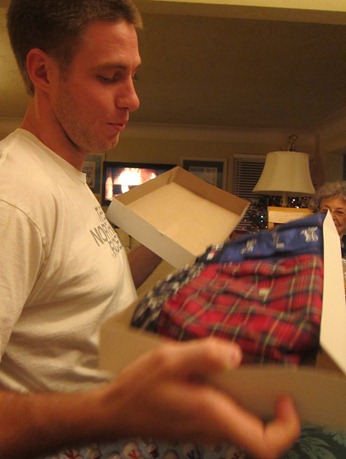 We quickly changed into our new pajamas and bundled up for our traditional Christmas Eve boat ride.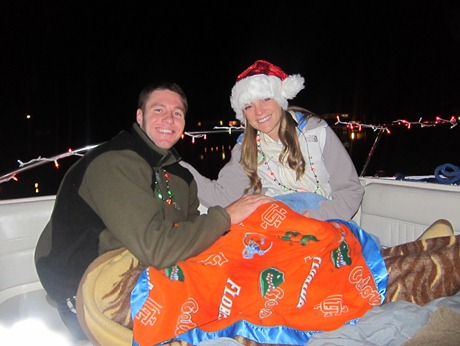 I think my sister was a little chilly…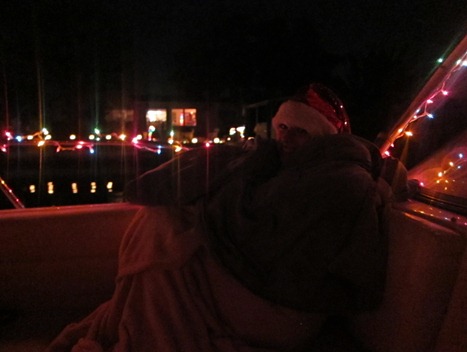 With our boat decorated in Christmas lights, we headed up and down canals while looking at the beautifully decorated boats and docks and said "Merry Christmas" to people as they ran outside to wave hello.
I think Sadie Claus thought she was the captain.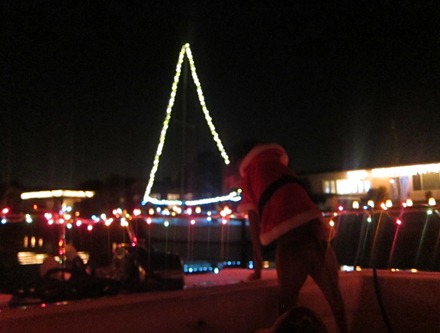 Once the boat ride was over, we came inside, ate some Christmas cookies and made some last minute Christmas gift preparations.
Christmas Day
We awoke bright and early on Christmas morning!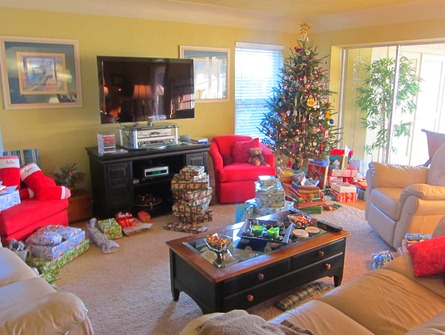 Ryan and I had two stockings… my family's and our own couple stockings to each other.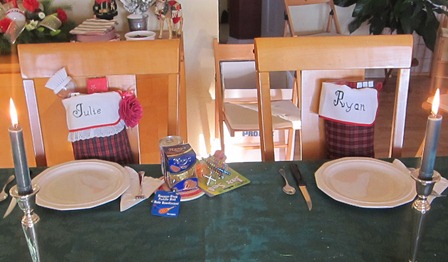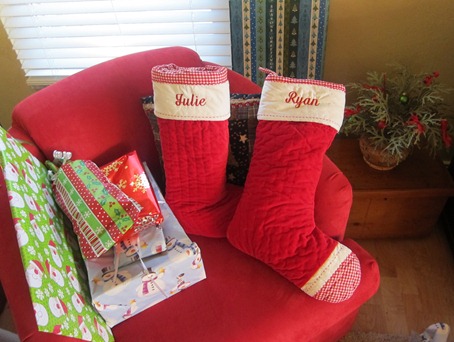 We opened our stockings while enjoying a hot breakfast of cheese puff casserole (an egg, cheese and ham-based casserole) and my favorite monkey bread.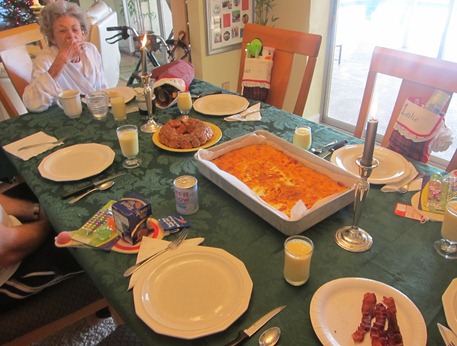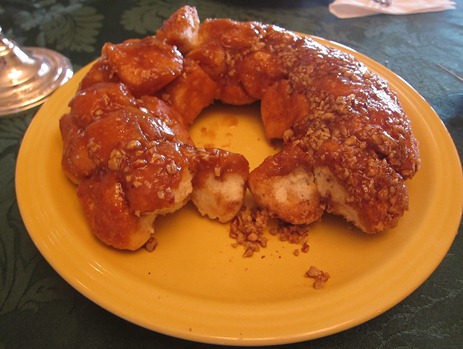 It took us a couple of hours to get through all of our Christmas gifts. We all agreed that we had a wonderful Christmas!
Once all of our gifts were opened, my mom reminded us that one remained… The pickle present.
Every year when we put out cookies and milk for Santa, we also leave him a pickle ornament to hang on the tree in a hard-to-find place. Then, after all of the Christmas presents are opened on Christmas morning, my sister and I search for the pickle ornament on the tree. The person who finds it then gets the very last gift… the pickle present.
This year was an especially hard year. Santa got pretty crafty with the ornament, wrapping the it in pine needles!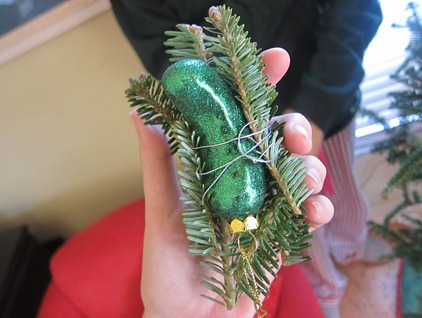 My sister was the lucky winner this year. Victory will be mine next year!
We spent the day enjoying our gifts, spending time together and prepping Christmas dinner.
Ryan's family arrived at my parents' house a little after 4 p.m. to enjoy some appetizers, dinner and dessert with all of us.
It felt like Christmas all over again when Ryan's mom arrived with two large bags full of presents! She did a wonderful job and Ryan and I loved all of our gifts.
After Christmas Round Two, it was dinner time!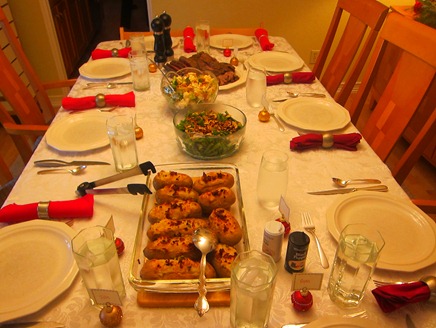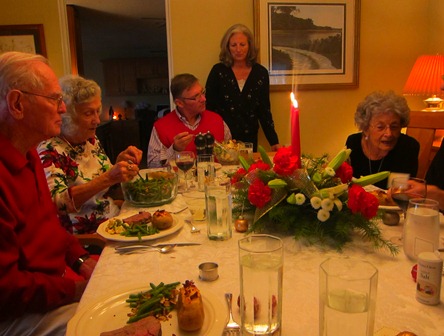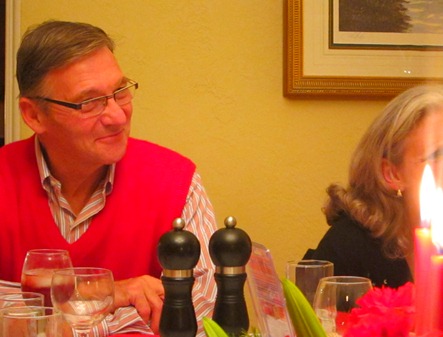 My mom prepared a delicious dinner of beef tenderloin, twice-baked potatoes and green beans with almonds. Ryan's mom provided a broccoli and cauliflower salad with bacon and pecans that I absolutely loved!
Dessert was also fantastic.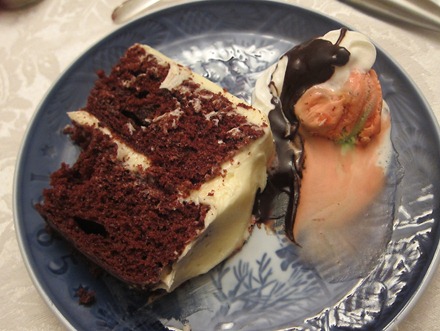 We had red velvet cake with ice cream, whipped cream and my mom's homemade chocolate sauce. Phenomenal! You can't go wrong with cake and ice cream.
It felt great to have my two families together for Christmas! I'm so glad Ryan's family could join us and make the evening extra special.
Eventually we hugged Ryan's family goodbye and settled in for the night to watch Christmas Vacation before bed.
I was super tired and fell asleep halfway through the movie.
It was a wonderful Christmas! My first one as a married woman. 😀