I thought I saw Food Network's best edition of Best Thing I Ever Ate when I saw the show about desserts.
Turns out I was wrong. There's a Best Thing I Ever Ate all about chocolate dishes.
After church, lunch and some shopping with my sister, Leslie and I flipped on the TV to chill out for a bit. (Well, being a student, she had homework to do, but Sadie and I kept her company on the couch.)
After watching about 10 minutes of the chocolate edition of Best Thing I Ever Ate, I had a severe craving for chocolate.
Cookies sounded like a great option, but we were all out of flour. What's a girl to do?
After searching around for a recipe for flourless chocolate cookies on the internet, I stumbled upon Kalyn's recipe for Fudgey Flourless Chocolate Oatmeal Cluster cookies.
Sign me up!
In no time at all, I had an unbelievably delicious batch of moist and perfectly chocolatey cookies.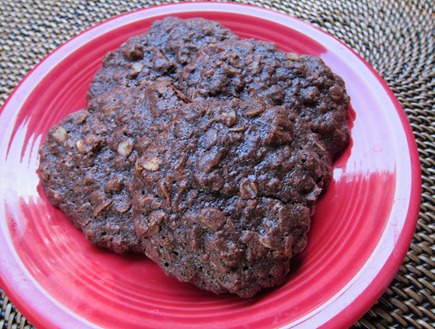 To be totally honest these cookies tasted a lot like brownies. They were dense, rich and totally satisfied my chocolate craving.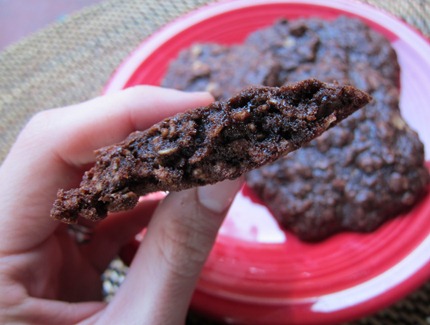 (Note: I followed Kalyn's recipe, but subbed real sugar in place of the Splenda and used canola oil in place of the olive oil that she used in her recipe.)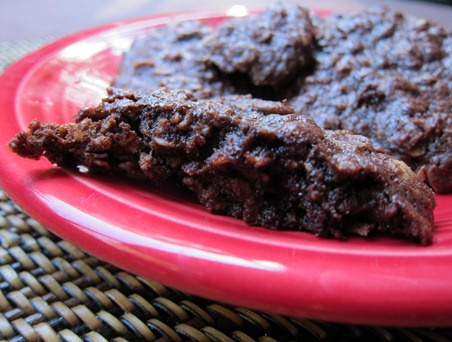 The cookies were seriously amazing! I am thinking of making another batch to bring to work tomorrow with pink and red heart sprinkles for a little Valentine's Day flavor.
Since today has been full of playing, it's time to hunker down and accomplish some Sunday chores:
Dishes
Laundry
Grocery shopping
Gotta get to it!