I worked through the morning, ate lunch, worked some more and then finally decided that a workout just isn't happening today. If I don't make it to the gym or take Sadie for a run before noon, a rest day will more than likely take the place of a workout.
Rest days are important, too!
Lunch
Lunch today revolved around one thing: Caesar dressing.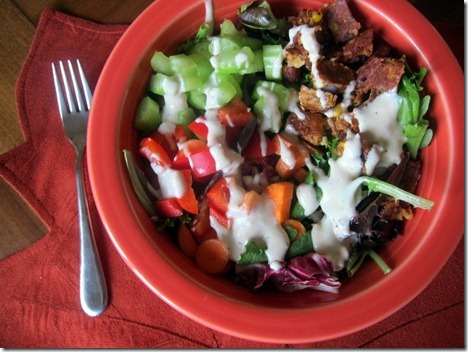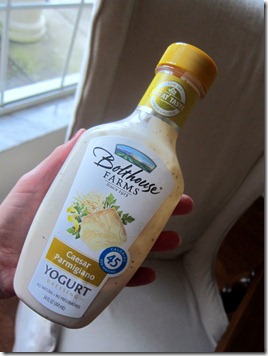 I bought this Bolthouse Farms yogurt-based Caesar-Parmigiano salad dressing a little while ago and when I tried it, I was instantly smitten!
I usually prefer vinaigrette dressings to creamy dressings, but something about the parmesan flavor of this Caesar dressing called to me. It ended up being a great impulse buy, Yes, it was the dressing that motivated me to eat a salad for lunch today! 
Today's salad included:
Spring mix
Carrots
Celery
Red pepper
2 MorningStar Farms spicy black bean burgers
Caesar dressing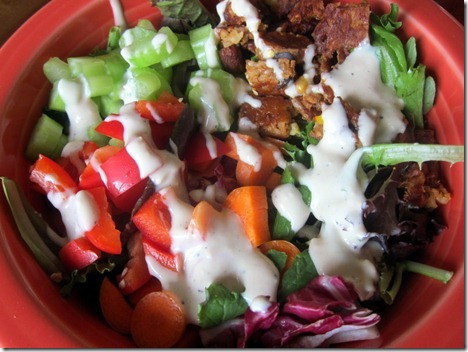 Friendsgiving Menu Planning
Since I sent out the invitation to our Friendsgiving party early last week, we've heard back from everyone and it sounds like we're going to have a full house next weekend!
Now the pressure is on to have good food for our friends to enjoy!
As we watched a DVRed episode of New Girl last night, I grabbed a pad of paper and began jotting down menu ideas.
(I love how turkey didn't enter my head right away. A girl needs her sweet potato casserole and stuffing!)
So far we're planning to make the following dishes:
Turkey
Pioneer Woman's mashed potatoes
Peas (I like to stir them into my mashed potatoes. I get it from my dad.)
Gravy
My mom's homemade stuffing (Hands down my favorite dish of Thanksgiving!)
Cranberry sauce 
Bubbee's glazed carrots (Ryan's favorite!)
Green beans with caramelized onions and slivered almonds
Diane's pineapple souffle (I need to get this recipe from my mother-in-law and share it with you guys because it is unreal.)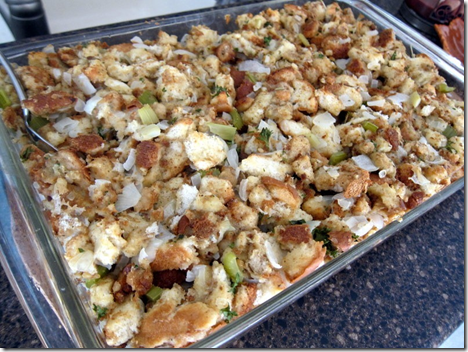 Am I forgetting anything major?
I am also hoping for your help when it comes to dessert!
Neither Ryan nor I have any strong associations with fabulous Thanksgiving desserts. (Remember the year of the ice bath pumpkin mousse!?) When I think of Thanksgiving dessert, I think of pumpkin pie and apple pie, but I feel like you guys might have some fun suggestions for slightly more decadent and creative sweet treats. (No Cherpumple, please!)
Right now the only dessert I have in mind is the pecan cake with caramel mousse and brown sugar topping that I saw in the latest issue of Cooking Light magazine. 
Suggestions (and links!) are welcome!
Question of the Afternoon
What is your all-time favorite Thanksgiving dish? Favorite Thanksgiving dessert?
For me, it's all about the stuffing! As for desserts, I'll go with pumpkin pie a la mode… with extra whipped cream.