Thank you so much for your comments on my last post. You guys had some amazing advice and wonderful ideas. Many of you advised me and Ryan to take a moment to be alone at some point during the wedding really soak in the wonder of the day. I love that idea and will be sure to have that private moment with him during our big day.
I also wanted to share one comment that stood out to me that seems like such a neat idea:
Blog reader Holly said, "I just got married three months ago…My husband and I didn't want to see each other before the wedding, but there was a picture that I wanted. It was us standing on either side of the door to the "bridal suite," unable to see each other, but holding hands through a small crack in the door. The photographer was able to capture pictures of both of our faces, and then our hands together. It was at this moment that I became so excited and realized how much I missed him and couldn't wait to see him at the end of the aisle about thirty minutes from that point. My voice was shaky when I responded to him saying "Hey, babe" which is what he always says, and I became all teary. I will remember that moment as long as I live."
How cool is that!?
Dinner
After work today I took Sadie on a nice, long walk around the lake near our apartment. I wish this gorgeous fall weather could stick around forever. There's something about perfectly temperate weather that just makes me smile and feel relaxed.
When we got home, I started on dinner. Ryan was running late again but guessed what we were having for dinner right when he walked through the door.
Apparently salmon has quite the distinctive smell!
I prepared our salmon by broiling it after sprinkling the fish with a Chinese five spice rub that included fennel, brown sugar, sea salt and other spices.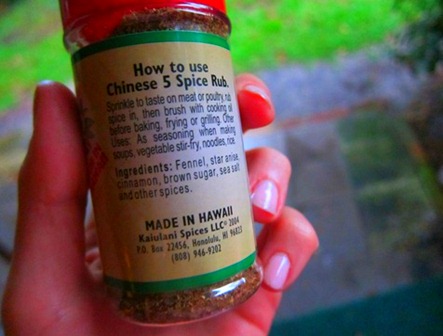 Along with the salmon we enjoyed roasted Brussels sprouts seasoned with garlic salt and a slice of whole wheat garlic bread with a little bit of butter.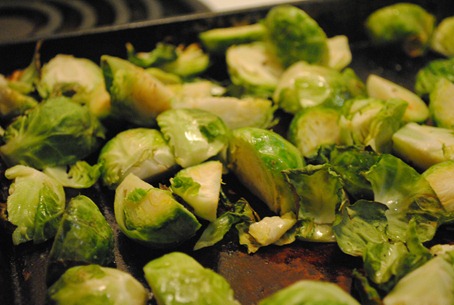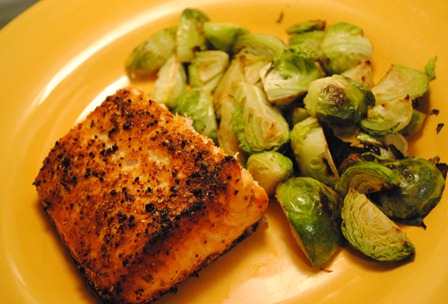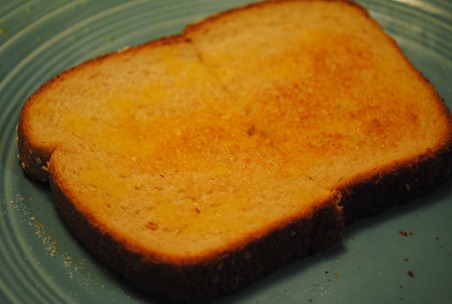 Ryan laughed when I made the garlic bread by sprinkling garlic salt onto a slice of buttered toast.
Apparently he thinks garlic bread should be made with real roasted garlic. After taking a bite of my bread, he changed his mind and agreed my super fast and simple version was quite tasty!
How do you make garlic bread?
Now I'm off to do some last-minute wedding crafts! We're putting stickers on bags tonight. Fun! 😀