Hello and Happy Monday!
The workweek started extra early for me since I had to be at the gym when it opened. My shift today was busy from start to finish. I had several appointments, including one follow up appointment with a women I met with several weeks ago. After never working out in her life before, she has been coming to the gym three times a week and said her energy level is dramatically improving. Exciting!
Before I left for the day, I sat down with my boss to discuss the water fitness class I will be teaching… tomorrow. I'm beginning to realize things happen fast at our gym and I will be teaching my first group exercise class tomorrow afternoon. I am nervous and plan to spend some time today downloading energizing music and planning out my class. The instructors who previously taught this class said that the participants seem to enjoy music from the '50s, '60s, '70s and '80s. Time to download some upbeat classics!
Workout
After I was done at work for the day, I changed clothes and hopped on the stair master to kick off my workout for the day. After 20 minutes, I decided to follow the functional training workout that one of the trainers at the gym detailed on the whiteboard.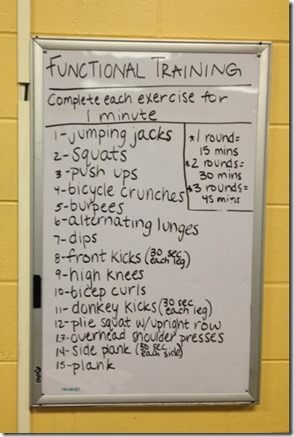 I did two rounds for a total of 30 minutes. Since I only had to spend one minute doing each exercise, the workout was the ultimate boredom-fighter. It was great!
Before I left, I pulled up the FitnessGlo website on my phone and did a 5-minute express stretch workout video. It was a fabulous way to cool down.
And speaking of FitnessGlo, the winner of yesterday's free FitnessGlo 90-day trial is…
Steph: "I work from home and live in a rural area- ok pretty much out in the woods. Driving to a gym at lunch or after work not really an option 25-40 minutes away in either direction but it is nice to run for almost an bour and not see a car or human!! Just me and my running buddy, Harley my black lab!! I would love to try barre, yoga, or core since I don't get much of those on my own."
Congratulations! Please email me at pbfingers@gmail.com with your mailing address and we'll get you access to the site right away!
Lunch
Lunch today came together quickly once I arrived home.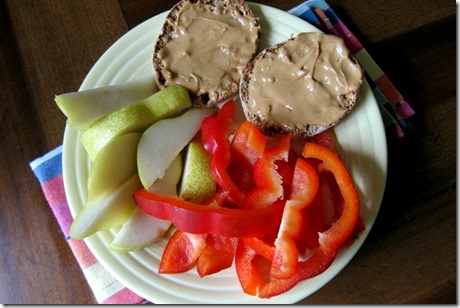 I made myself a peanut butter-topped English muffin and served it with raw red pepper and a sliced pear.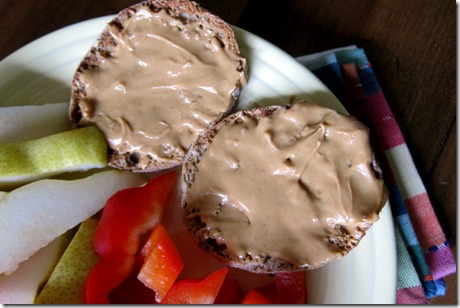 Simple and satisfying!
Question of the Afternoon
Name a few of your favorite upbeat songs from the '50s, '60s, '70s or '80s that you think would make great workout songs! I'll be sure to share my playlist with you guys once I have it assembled for those of you who love throwback tunes!