At long last I'm finally creating a post about grocery shopping for healthy food on a budget! Woohoo!
This is something Ryan and I do every single week, but I've never taken the time to snap pictures, save our receipt and make mental notes about what we do to save money while buying healthy food week after week.
When we arrived home from Sanibel and our fridge was all but empty, I figured this evening was a great time to finally put this post together.
Let's break it down, shall we?
Coupons
First things first, I am a big fan of coupons. I have no shame handing over a small stack to the cashier upon checkout.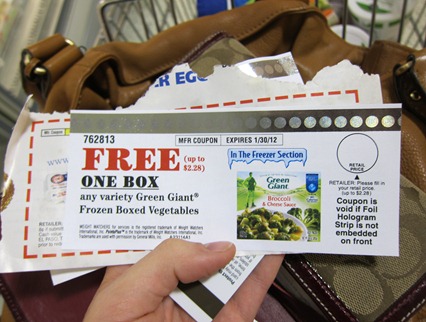 This evening we saved more than $5.00 by utilizing coupons! I clip coupons from local papers and also print great deals off of various coupon websites. For example, through MyBlogSpark, I learned about more than $9 worth of savings available at Publix, my grocery store of choice in the southeast, available on the Great Meals Great Deals site.
Plan Ahead
Ryan and I also try to arrive at the grocery store with a general idea of items we need. I jot down items we run out of through the week and try to have a rough idea about the meals we'll create through the upcoming week so we can buy the necessary ingredients.
The two of us also try to limit impulse buys and avoid purchasing household essentials like toilet paper and paper towels at the grocery store because they are often overpriced and can be found much cheaper at stores like Big Lots or Target.
Take Advantage of In-Store Deals
While at the grocery store, Ryan and I make sure to take advantage of buy one get one free deals that occur weekly at our local grocery store.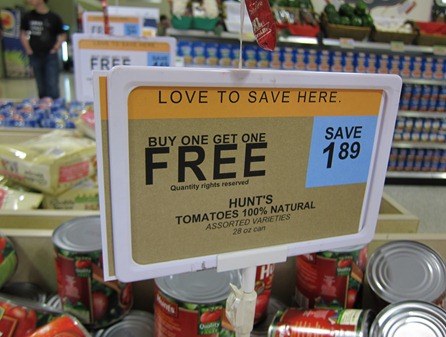 I used to be really funny about freezing bread products, but now I don't hesitate. We currently have four packages of Alternative Bagels, one back of bagel thins and two packs of sandwich thins in our freezer because we stocked up when the items were buy one get one free. I also came home with eight packs of whole wheat tortillas one time because I knew I'd use them and wanted to take advantage of the amazing savings.
Buy Generic
Ryan and I are definitely not label snobs. We often buy generic products and think they taste just as good! Buying generic can often save you a ton off your final bill.
Saving on Produce
Unfortunately fresh produce can often be quite expensive. Ryan and I try to head into the produce section with an open mind. We don't walk in saying we need broccoli. We'll buy it if it's on sale, but won't if it's not.
This evening we purchased cauliflower, celery, broccoli and a red onion because these items were on sale. We didn't buy kale or asparagus though we initially thought we would because they were not discounted.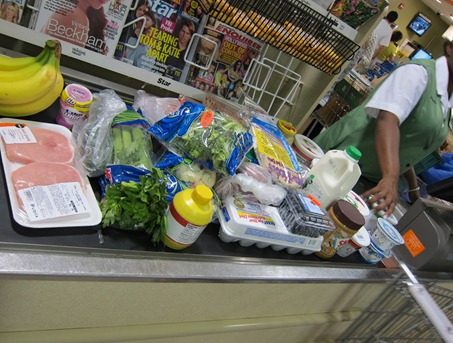 When it comes to fresh fruit, bananas are always a good buy! Berries are more of a "special treat" since the price of blueberries, strawberries and raspberries vary so much. Today I purchased a pint of blueberries because they were on sale, but when they're not marked down, I will opt for frozen fruit instead.
Final Cost
In the end, Ryan and I spent $102.17, or roughly $51 per person, for this week's groceries.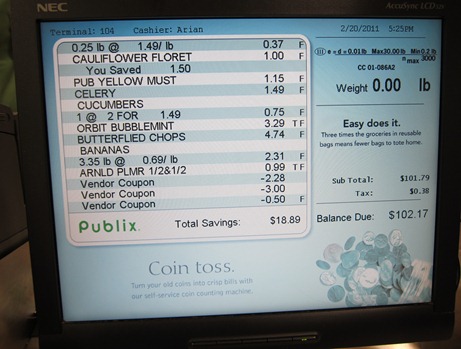 I pack my breakfast, lunch and snacks daily and typically eat dinner in. This means I typically spend around $7.20 per day on food. Of course we'll go out to eat on the weekends on occasion (typically no more than once or twice a week), so this is obviously a rough estimate.
Here's a list of the groceries we purchased this week:
Fruits and Veggies
1 package Eat Smart broccoli florets
2 packages Eat Smart cauliflower florets
1 bunch celery
1 red onion
1 pint blueberries
1 jar Mott's natural applesauce
1 box Green Giant healthy vision frozen vegetables
2 nectarines
5 apples
1/4 lb. red potatoes
1 large cucumber
6 bananas
Yogurt, Cheese and Dairy
6 strawberry banana Chobani Greek yogurt
3 plain Chobani Greek yogurt
1 large container plain Chobani Greek yogurt
3 large containers Publix blueberry yogurt
3 large containers Publix fat-free cottage cheese
1 package Publix muenster cheese slices
1 package Publix Swiss cheese slices
1 large package Publix mozzarella sting cheese
1 can Carnation evaporated skim milk
1/2 gallon Publix 2 percent milk
1 package Yoplait Delights yogurt (I had a coupon for a free sample)
Meat and Eggs
8 oz. lump crab claw meat
1 lb. pork chops
1 carton Eggland's Best eggs
1 lb. deli turkey meat
Additional Items
1 package Tam-x-ico's whole wheat tortillas
1 package Monterey Pasta Company ravioli
1 large jar Skippy Natural peanut butter
1 Reese's peanut butter big cup
2 Sweet Riot dark chocolate squares
1 can Arizona tea
1 60-piece container Orbit bubblemint gum
1 bag Publix all-purpose flour
1 jar Publix yellow mustard
Coupon savings: $5.78
In-store savings: $13.11
Total savings: $18.89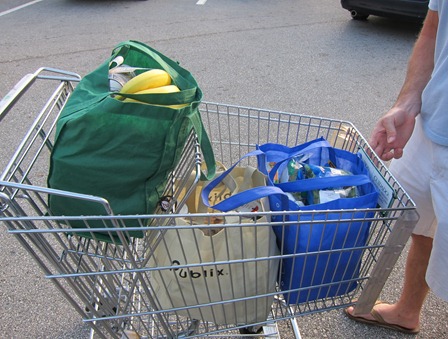 So there you have it! Our attempt at healthy grocery shopping on a budget in a nutshell.
Off to make dinner. It's ravioli time!