Today began extra early since I worked the early shift at the gym. I'm not sure I will ever adjust to waking up at 4:20 a.m. At least getting ready for a day of work at the gym is really simple.
Black spandex capris + Gym polo + Gym shoes + Ponytail = Easy peasy!
Lunch
Work today passed quickly and I followed my shift with my own workout before driving home and eating a late lunch.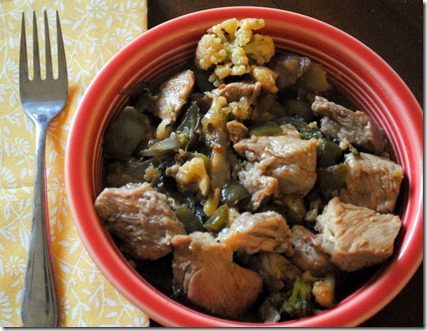 I reheated a bowl of leftovers from last night's dinner that included pork, onions, green pepper, broccoli and cauliflower in a sweet chili sauce. (The vegetables were a lot prettier last night!)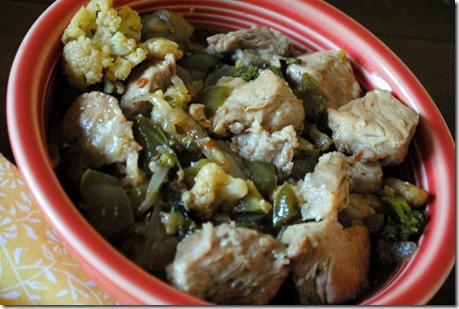 Then it was off to the dermatologist!
I was just there for an annual check up (I have a family history of melanoma) and the doctor said everything looked okay! Ryan had an appointment right after me and he checked out alright as well. Hooray for healthy moles!
On my way home from the dermatologist, I swung by Earth Origins and bought some juice made with beets, carrots, kale, ginger and apple.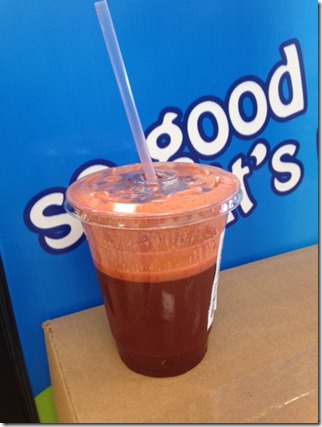 Ever since my visit to Kure Juice Bar in Portland two weeks ago, I've been craving it like mad! I just wish fresh juice wasn't so darn expensive. It may be time to research juicers. There are a bunch on sale through RueLaLa right now but the one that caught my eye had pretty horrible reviews on Amazon. I know a bunch of you are really into making your own juice, so if you are in love with your juicer, please let me know. I'm looking for recommendations!
Question of the Afternoon
Have you ever made your own juice?
Do you own a juicer? If so, what kind do you own and do you love it?