Ryan and I went out on a fondue date last night!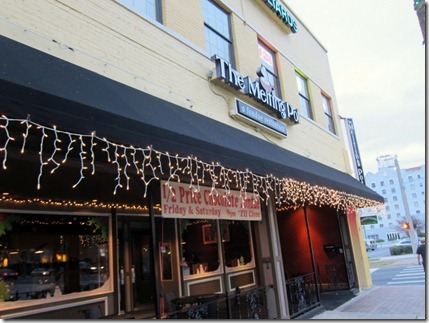 Our first date night of 2013 took us to The Melting Pot in downtown Ocala.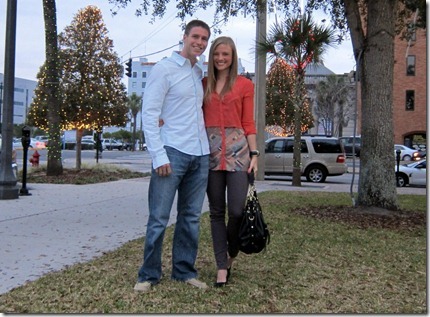 Downtown Ocala is still decorated for the holidays, so we had fun walking around the square before dinner and taking in the holiday sights before they're put away until next year.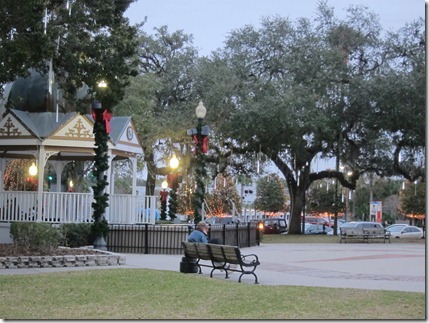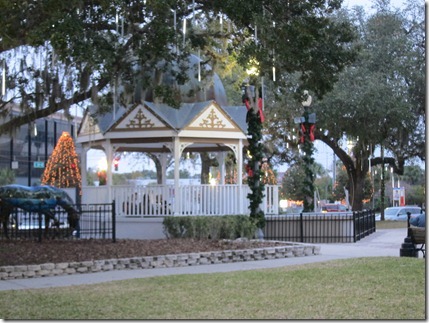 Once we meandered over to the restaurant, we were immediately greeted by the hostess and escorted to a cozy booth.
Drinks!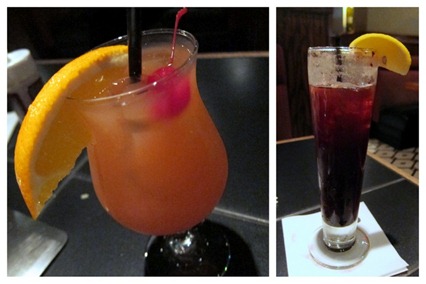 Tipsy Turtle + Blackberry Bourbon Bramble
Ryan and I planned our date night after I received a press release from The Melting Pot inviting me to try some of the dishes on the restaurant's new Skinny Dipping menu. The Skinny Dipping menu features three courses – a salad, fondue entrée and dark chocolate fondue dessert – for less than 700 calories. I selected a salad and entrée off the Skinny Dipping menu last night and loved both of my choices! (I veered off the Skinny Dipping menu for the cheese and chocolate fondue courses.)
Our meal began with the cheese fondue!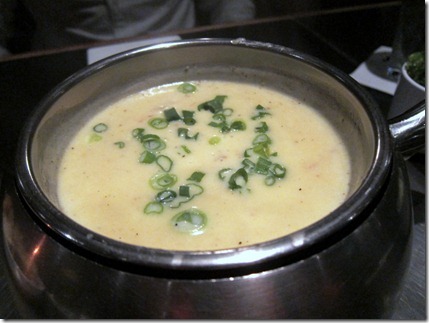 Ryan and I selected the special of the day which included a big pot of brie and bacon cheese fondue, served with bread, tart apple slices and fresh vegetables for dipping.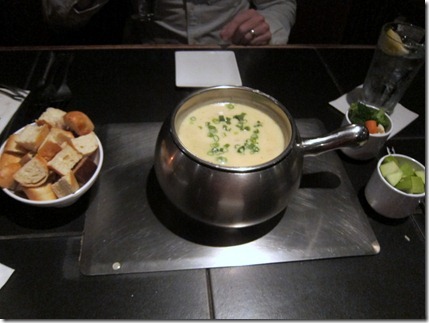 Oh cheese fondue, you are so fabulous!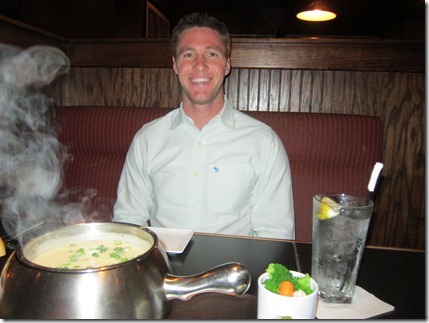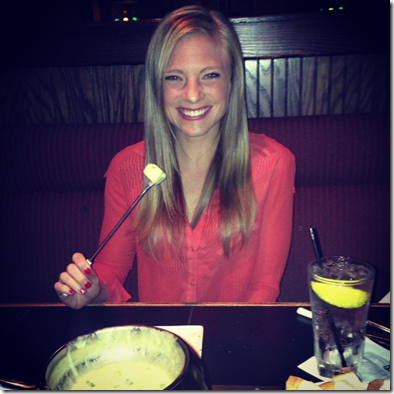 Our waitress suggested placing a piece of bread and an apple slice on our fondue forks at the same time before dipping it into the cheese and the flavor combination was fantastic!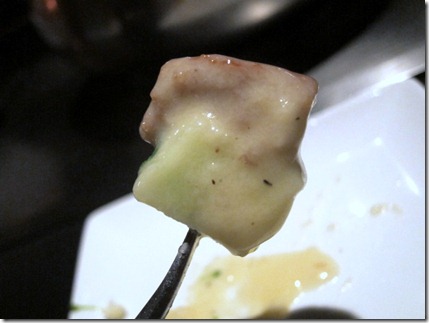 Salads were delivered to our table shortly after we finished the cheese course.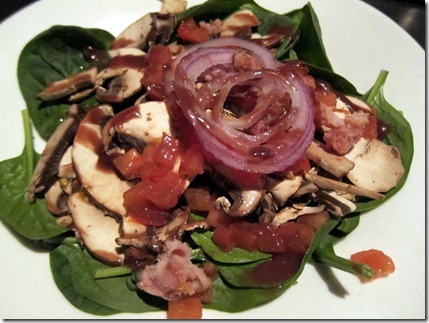 I ordered the spinach salad topped with baby Portobello mushrooms, red onion, chopped bacon, Roma tomatoes and a warm burgundy shallot vinaigrette. Though this salad came off the Skinny Dipping menu, it didn't taste lightened up at all! The toppings were quite generous and the dressing was delicious.
When it came time to order our entrees, I decided to go for a combination of shrimp and teriyaki-marinated sirloin.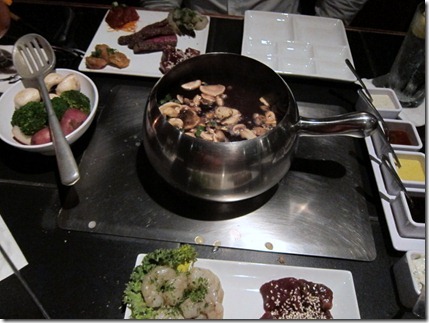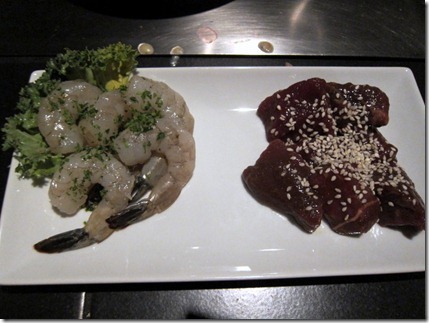 At first I thought the portion looked rather small, but as I started eating, I filled up fast. (I think I had a head start on filling my belly with the cheese course!)
Every entrée comes with fresh vegetables to cook in your fondue pot and I couldn't get enough of the mushrooms! They were the best, especially when dipped in the various sauces.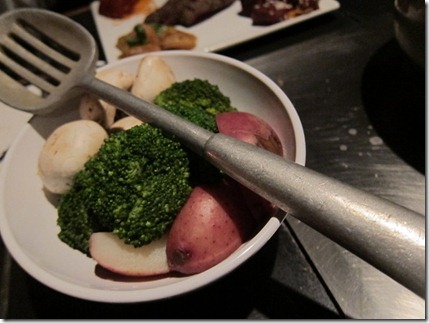 Ryan and I both agreed that the five dipping sauces that came with our entrees added so much to our meal. My favorite two sauces were the teriyaki and the mild, yogurt-based curry sauce.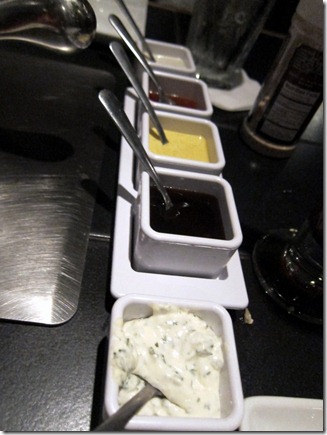 And then it was time for dessert! The shining star of any fondue experience!
It didn't take much convincing from our waitress for us to order the crème brûlée white chocolate fondue for dessert.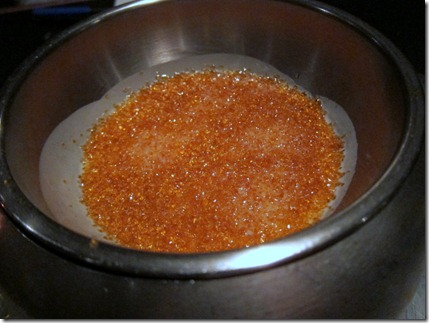 Caramel shavings were sprinkled atop creamy white chocolate and set afire before we cracked the caramel coating with our fondue forks and dipping items.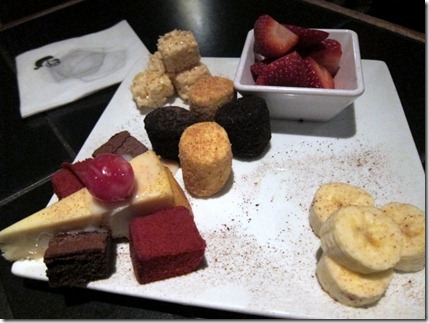 I am normally not a huge white chocolate fan, but the caramel component of this fondue took it to another level. Ryan and I used our spoons to get every last bit of chocolate out of our fondue pot. Incredible!
And now here's the really fun part!
One of YOU will win a $100 gift card to The Melting Pot to enjoy your own fantastic fondue experience! (To find a location near you, you can visit The Melting Pot's Locations page.)
To enter this giveaway, please tell me what course you would look forward to enjoying the most if you won the gift card. Cheese? Chocolate? Entrée?
I will randomly select a winner on Tuesday.
Good luck!!!