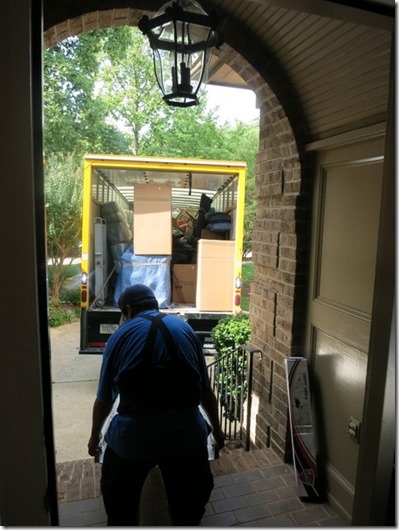 I wish I had a fun weekend recap to share with you, but unless you want to see tons of pictures of boxes, protective wrapping paper, miscellaneous junk and stuff splayed out all over every table and countertop in our house, I don't have much!
The movers arrived later than expected on Friday (around 11 a.m.) but they worked like crazy and had everything in our new house by 6:30 p.m. I spent the entire day helping with the move and unpacking. I didn't sit down or take a break until close to 8 p.m. when I basically collapsed in a heap on the floor and inhaled a burrito from Chipotle.
I know this may sound strange, but I kind of like unpacking and organizing. It gives me a chance to thoroughly sift through our stuff and determine what we need or should donate. Ryan laughed at me last night when it took me a solid 20 minutes to organize my "gift wrap" box where I store wrapping paper, gift bags, ribbon, etc. Our house may still be in shambles but now our tissue paper and gift wrap container is nice and tidy!
Our main goal for the weekend was to unpack everything, take things out of boxes and get the kitchen set up. I am happy to report that everything kitchen-related has a home in a drawer or cabinet!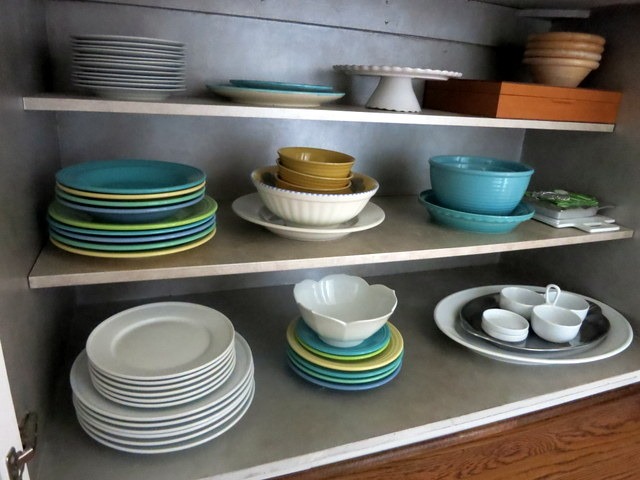 Ryan also did bit of closet deconstruction yesterday and took out some shelving units and added more hanging racks which allowed us to unpack and organize our clothes. The master bedroom is also almost done which is a great feeling. We just need to hang some pictures.
We've been unpacking and organizing ever since the movers arrived and there is still a lot of work that needs to be done. For those who have asked, yes I will definitely share some pictures as rooms start to come together a bit!
My mission for today is to get the internet set up (I'm currently blogging from a coffee shop), organize my home office (easier said than done) and work on an outside project.
Oh! And I cannot sign off this morning without giving an update on Sadie! She seems to be loving her new home but she proved, yet again, to be the least helpful little creature during moving day. She did serve as comic relief for the movers, Ryan and me, though!
I think I've mentioned this before, but Sadie is super weird about sitting on hardwood or tile floors. Ever since she was a puppy, she has refused to sit down on hard surfaces and will only sit on carpeted or soft surfaces (or, preferably, our laps). We don't understand why, but it's one of her many goofy quirks that amuses us.
The entire downstairs of our new house has hardwood flooring and an hour or so into the move, I looked over at Sadie as I unpacked a box in the kitchen and saw her pitifully looking at me in downward dog (butt in the air, paws on the ground). She would not put her butt on the ground and naturally I babied her and put a towel on the floor. She instantly sprawled out and relaxed on the towel like a little princess.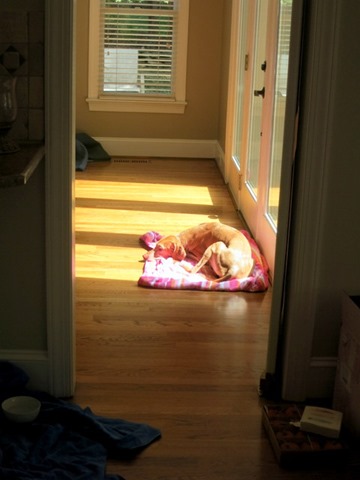 Once we unpacked a box with blankets, she got upgraded to a quilt.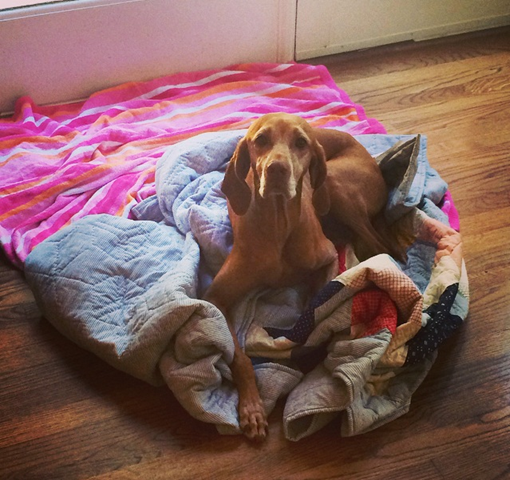 I love that crazy little lady.
Questions of Morning
Pet owners: Do your pets have any ridiculous quirks that you don't understand?
Any amusing moving-related stories out there?
We are officially all moved into our new house!