Let's breeze through dinner tonight because I am excited to talk about my first experience at a chiropractor's office today!
After making my long lost squash casserole last week and falling in love with it all over again, I told myself to put it into my recipe rotation and made it again this evening.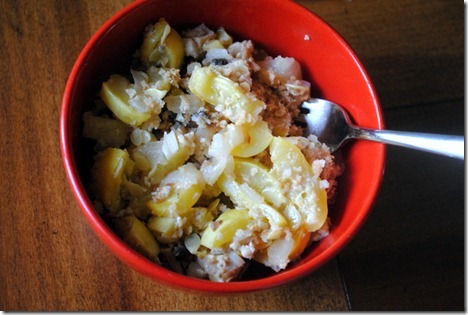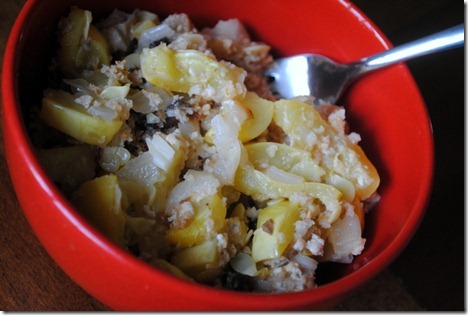 Love it!
I also had a few small handful of cashews while waiting for the casserole to cook in the oven because I was getting antsy.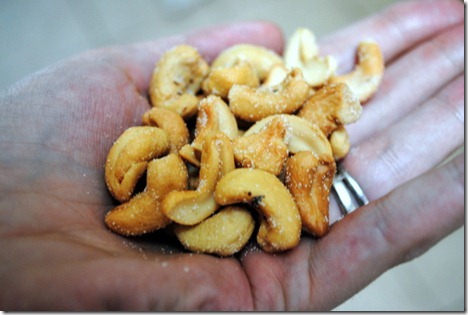 Guess: Salted or unsalted? I'm pretty sure that I actually ate salt with a side of cashews. And it was glorious.
Moving on to the good stuff!
My First Chiropractic Experience
My first appointment with a chiropractor went really well. I learned a lot and had fun speaking with the chiropractor about overall health and wellness and her personal philosophies.
As I mentioned this morning, I bought a Groupon last week for a chiropractic consultation, treatment and massage at a local chiropractor's office in Ocala. Though I'm always excited for a quality massage, I was actually more intrigued by the appointment with a chiropractor since I've never been to one and was curious about chiropractic care.
When I first arrived, I filled out a form and was asked a series of questions about any aches and pains I might have (none) and whether or not I experience regular headaches (I don't).
I then had my massage which was glorious! I actually promised myself a massage once I was done training for the Savannah Rock 'n' Roll half marathon back in November, but never got around to booking it. The delayed reward was worth the wait!
After my massage, I waited to speak with the chiropractor. The doctor was very friendly and when I explained that I was a first timer and was excited to learn more about chiropractic care, I could see her eyes light up. (I got the feeling that she may be used to people with Groupons who come in just for the massage and don't really care about speaking to a chiropractor.)
She took time to explain her personal philosophy to me. She said she believes in care from the inside out, not from the outside in. She said that while she knows that there is a time and a place for outside medicine, she primarily believes in treating and caring for our bodies from the inside first. Mentally and physically.
I nodded my head because while I also think medicine can be fabulous, I tend to shy away from personally taking medication unless I really feel like I need to do so (with the exception of birth control which I'm still a little uneasy about due to the hormones – I've read a lot about the pros and cons). This is just my personal style and I know everyone is different. I definitely understand the need for medication!
After we chatted for a bit, it was time for my adjustment. I laid on a table and the doctor lightly wiggled my feet and adjusted me in two different places.
She said I looked healthy and didn't think I needed to come back anytime soon unless something happens and I experience pain of some sort.
Right before I was about to leave, I wanted to run something by the doctor. I told her that I typically notice dull hip pain when I run longer distances and was interested in her thoughts.
I once suffered from hip bursitis and take a lot of care to stretch out my hips before and after runs, but it's still something I deal with on occasion. She said that made total sense because the first place where I received an adjustment was basically between my hips (my sacrum) and she said that she wouldn't be surprised if the pain is gone or not nearly as bad for me following the adjustment. Now that piqued my interest! I am planning to go for a five-mile run on Saturday and will be curious to see whether or not I notice a difference.
Overall I really enjoyed my experience and am glad I went! While I don't think I'll be going back anytime soon since I don't personally have a need or troubling aches and pains, I had a good time learning a little more from the doctor I spoke with and definitely thought it made for an interesting afternoon!