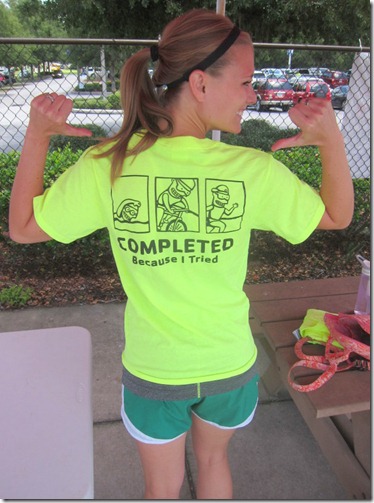 How cute is the race shirt!? They're just about the least hardcore race shirts I've ever seen and I think the "completed because I tried" message is adorable. It's like having "everyone's a winner" on the back of a race shirt or something. As someone who isn't competitive at all and loves participating in races just for the fun of it, the message suited me quite well and made me smile. Gold medals for all!
Indoor Triathlon
As I mentioned before, Ryan and I found out about this triathlon a few weeks ago and didn't really have much of a chance to train. Normally I am a big advocate of training, but since this triathlon was scheduled to take place indoor and didn't require a fancy bike or intimidating transition stations, it sounded right up my alley.
The triathlon included the usual swim, bike, run segments, but people started at different stations since there obviously weren't enough bikes, treadmills or lanes in the pool for everyone to go in the traditional triathlon order of swim, bike, run.
Ryan and I were assigned the same group and order:
Bike: 15 minutes
Swim: 15 minutes
Run: 15 minutes
Bike
Before the triathlon began, Ryan and I set up our bikes in the gym's spinning room.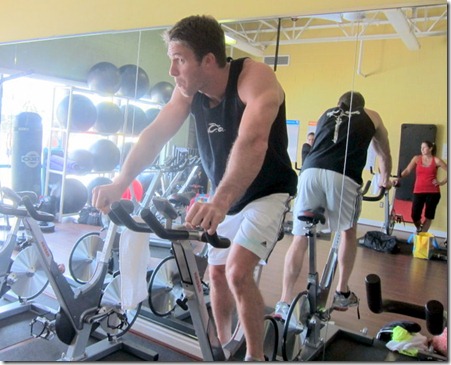 Once all of the participants were seated and ready to go, we were off!
The race coordinator blasted awesome music as we pedaled away which made the bike portion of the triathlon a lot of fun. I found myself singing to "We Didn't Start the Fire" and "Ain't No Mountain High Enough" as the sweat dripped off my face. My initial goal was to average a 20 mile per hour pace (I honestly had no clue what a good pace on the bike would be!), but I surprised myself and ended up biking 8.3 miles in 15 minutes.
The bike, swim, run order ended up being absolutely perfect for me. Running immediately after the bike would've been killer. My legs were like jello!
Swim
Next up was the swim. This was the area of the triathlon where I felt the most nervous, not because swimming intimidates me (I love it!), but because I haven't hopped in a pool and swam laps in well over a year (maybe even two)?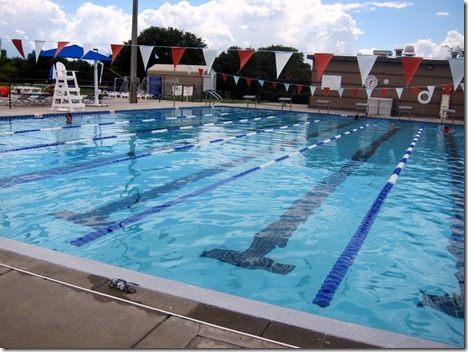 (The swim was the only part of the triathlon that was outside.)
Ryan and I were assigned to a lane together which was awesome. There was a volunteer stationed at the end of each lane to count laps and keep everyone honest.
I was surprised at how quickly I fell into my groove on the swim. I concentrated on my breathing and my stroke and felt good. It felt great to simply be in the water again.
In the end, I swam 897.6 yards (.51 miles) in 15 minutes.
Run
After slipping my sneakers back on and throwing on a pair of shorts, it was off to the treadmills for the run!
My initial goal was to keep the treadmill at 6.5 miles per hour and I was excited to find myself feeling comfortable running at 7.5 miles per hour for most of the run. I was especially excited to watch Ryan run more than two miles in 15 minutes on the treadmill beside me, especially since I think the swim took a lot out of him. He was flyin'!
For the run portion of the triathlon, I covered 1.84 miles, with an 8:04 pace. I felt like I could've booked it a bit more, but I was happy with my distance in the end.
Final Thoughts
When we were done with the triathlon, I was so pumped. I really had a fantastic time and felt like the experience of today's indoor triathlon was one of the best race experiences I've had. I know it was different than most triathlons and a lot of other races out there since everyone simply did what they could in the time given, but I liked that aspect of the triathlon.
I felt like the atmosphere wasn't crazy competitive and more laid back and fun, especially since you stuck with your same group and cheered each other on.
The winners of the triathlon were calculated simply by adding up the distances covered by each triathlon participant. While this meant that the crazy-good bikers were at a pretty significant advantage since you can cover a lot more ground on a bike, it wasn't a big deal and everyone seemed okay with the tallying method. Again, this was a fun race not a crazy-competitive race!
After snacking on some bagel halves and a banana, I found out some pretty cool news.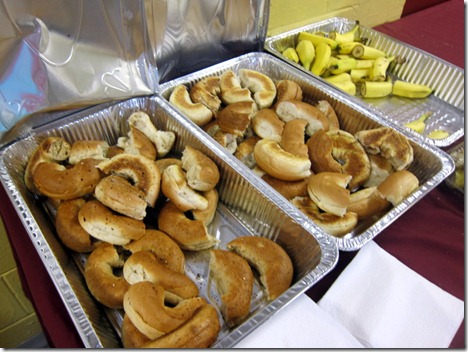 I ended up placing second place in my age group (there were about 40 participants in the triathlon), and covered a total of 10.65 miles over the course of the triathlon.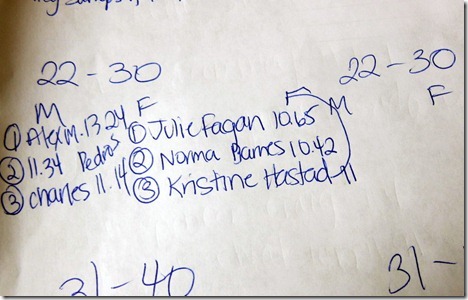 The triathlon was honestly such a fun experience and I will definitely sign up again next year. I wish more indoor triathlons existed out there, especially for people like me who would love to do a triathlon, but don't have a fancy bike or are intimidated by certain aspects of a triathlon that may take place in open water or on real roads. I know that's a big part of the sport, but for beginners, this was a really neat way to experience a triathlon in a different, comfortable format.

I had a blast!

This afternoon I completed my first indoor triathlon!