Lunch today was nice and easy thanks to weekend leftovers.
I ate two thin sautéed chicken breasts with a side of mashed (overly liquidy and gross-looking) sweet potatoes and a toasted English muffin topped with strawberry preserves.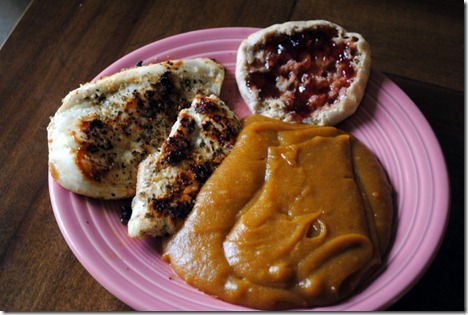 Half of the English muffin was inhaled before the picture was snapped.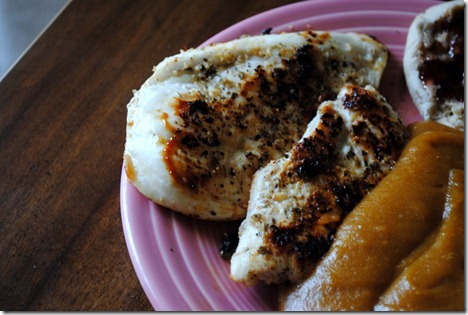 I ended up whipping out some ketchup to use as dipping sauce for the chicken because it needed a little more oomph. Much better!
My Personal 2012 Goals
Yesterday I realized I was feeling a little "meh" about the new year. Usually when a new year arrives, I am filled with a sense of motivation to achieve new things. I love having goals and working toward something but this year I didn't really take time to sit down and think about what I'd like to accomplish this year until last night as I was drifting off to sleep.
Then the ideas started flowin'!
I came up with a list of personal goals and figured I'd share some of the items on my list on the blog just in case any of you out there are in the mood for some goal-setting and are looking for some ideas. Feel free to share your 2012 goals in the comments section as well! I'd love to read what you hope to accomplish in the coming year. 
Volunteer. This year I hope to give back and spend time volunteering with a local organization. I already found a bunch of different organizations I'm interested in reaching out to and hope to dedicate time to lending a hand in my new community.
Bring Back Date Night. Ryan and I were so adamant about taking turns planning a special date night for each other once a month when we lived in Orlando, but when we moved, we seemed to have a lot more travel and commitments on our calendar on the weekends and date night fell to the wayside. We're bringing back Date Night in 2012, baby!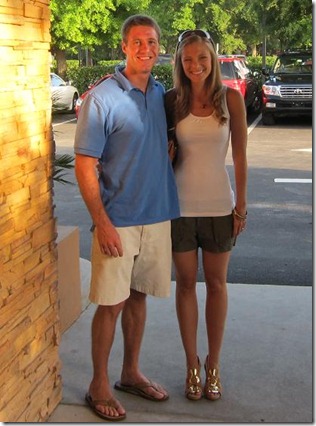 Find a New Church. I mentioned this before, but we loved our church in Orlando and are hoping to find one that fits us perfectly in Ocala. It's a work in progress! 
Take a Special Vacation with Ryan. Another one I briefly mentioned on the blog! Ryan and I went on a few little weekend road-trips last year, but this year we're hoping to take a week-long vacation somewhere exciting.
Put Myself Out There Socially. Ever since we moved, I feel like we've been out of town on the weekends, back in Orlando or bustling about and haven't really found a good group of friends here in Ocala. The community is older than Orlando by nature and the social scene isn't nearly as vibrant, but that's not an excuse not to try to meet new people and make new friends in our new hometown. Hopefully some of my goals mentioned above will help us meet people our own age.
Question of the Afternoon
What is one of your goals for 2012?