Tonight we made an official New Year's Day dinner!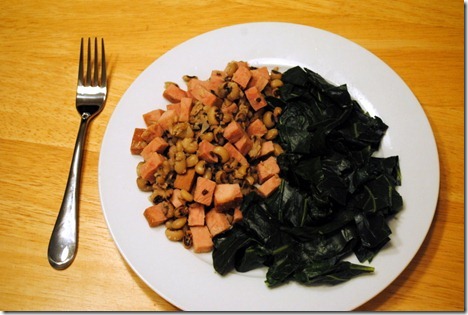 My mom and Ryan's mom both always made me and Ryan traditional New Year's Day dinners when we were kids to ring in the new year with a little extra luck!
Ryan and I figured we'd give the special meal a go for the first time this evening.
Our meal included the following foods for the following reasons:
Ham (pork): Wealth and prosperity; "Keeps you humble" because pigs can't fly; Pigs root forward (like chickens scratch backward), signifying looking forward into the new year and progress
Cooked greens: Good fortune
Black-eyed peas: Good luck, Wealth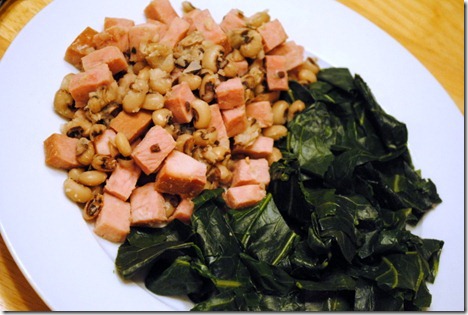 According to some Googling, other foods we didn't include in our feast that are often enjoyed on New Year's Day include:
Cornbread: Happiness
Peach cobbler: Health
Rice: Riches
Hominy: Humility
Ring cake: Prosperity
Fish: Abundance, Health
Next year I want to be sure to include cornbread and peach cobbler because a.) they're delicious and b.) I love what they symbolize!
I wonder if there is anything the accident-prone can eat to encourage safety in the new year?