Last night during dinner Ryan asked me whether I cooked the asparagus differently than usual.
Nope! I roasted it the same way that I always do.
Apparently someone's taste buds are coming around and beginning to like asparagus. My taste buds had a similar revelation a couple years ago and now I thoroughly enjoy the vegetable that would once cause me to shudder if my mom made it for dinner. Growing up, the simple thought of asparagus and broccoli made gag. I guess our tastes change!
After enjoying last night's asparagus, I told myself I would roast a big ol' plate of veggies to eat with lunch today.
Well, lunchtime rolled around and I wasn't in a vegetable-eatin' mood, nor did I feel like taking the time to cook something.
Plus, I wanted something cold and chocolaty.
I made myself a big bowl of overnight oats, but added a ton of chia seeds and cocoa powder to the mix before topping them off with banana puffs cereal so the oats were extra thick and satisfying.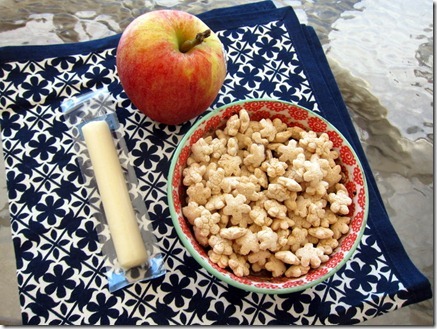 Served with a cold, crisp apple and a stick of string cheese.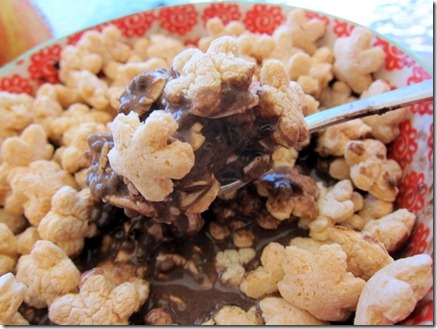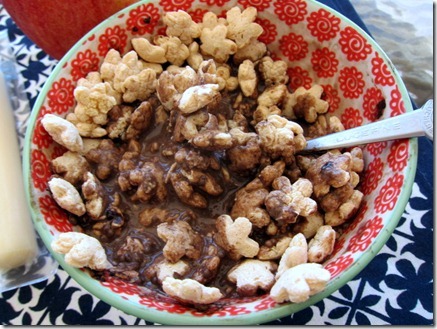 I made the overnight oats about 20 minutes before eating them and let them soak in the fridge while I worked away. I guess overnight oats don't really have to sit overnight.
Question of the Afternoon
Was there a certain vegetable that you hated growing up that you now really enjoy? What is your favorite way to eat it?
Like I said, I hated asparagus  and broccoli and now I love them both simply roasted… or with hollandaise sauce.
Of Possible Interest