I had a lunch meeting early this afternoon with one of my local freelance clients. We met up at Earth Origins, a local health food store, and ate at the little tables set up inside the market.
The salad bar intrigued me, but a wrap sounded better, so I bought a tuna salad wrap from the prepared foods section to eat.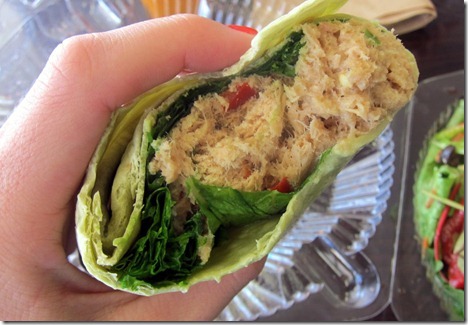 It was a great choice!
I typically steer clear of store-bought tuna salad because I don't really love mayonnaise (I'm a Miracle Whip girl – don't hate) and feel like many store-bought versions of tuna salad overuse mayo which creeps me out. This version had just the right amount of mayonnaise and incorporated some unexpected Asian spices that I liked a lot!
After lunch, the two of us walked next door to grab cookies at Betty Cakes.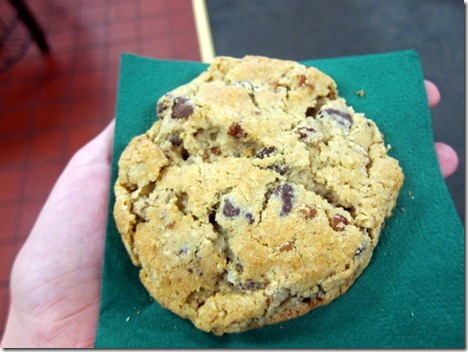 My cookie was packed with chocolate chips and pecans! Fantastic!
Obstacle Course Races
During lunch, our conversation strayed from work-related talk to an obstacle course race that's coming to Ocala. Last night I attended a meeting for the Junior League of Ocala and a bunch of the women are forming a team for the same race. Ryan's work also has a team. Apparently it's going to be quite popular!
The Hero Rush obstacle course 5K race is coming to Ocala on November 3 and sounds like a blast!
According to the website, the Hero Rush is "a challenging, tough, heroic and fun 5K+ race with 17+ totally unique firefighter and hero-themed obstacles, entertainment, food, drink, kid's races and more."
(Source)
I've heard a lot about obstacle races, mud races, color runs and more and they all intrigue me and sound like so much fun!
The Color Run, in particular, sounds like a blast! During a 5K race, each kilometer of the event is associated with a designated color. As runners pass through each color zone, they are splattered in color and cross the finish line looking like a rainbow!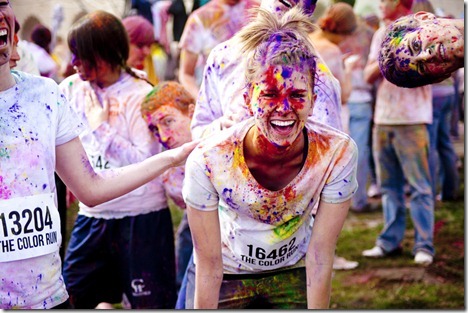 (Source – Can we take a moment to recognize the two hilarious guys in the background of this picture!?) 
The Color run is coming to St. Pete and Orlando in December and my sister and I are thinking about signing up for the St. Pete race if we have that weekend free. Doesn't it look like fun!?
Questions of the Afternoon
Have you ever done an obstacle course race, a mud run or The Color Run? Would you want to?