Temperatures today are stuck in the mid-80s which is quite a nice little breather from the excessive heat for the Okie Dokies.
When Ryan and I moved to Ocala from Orlando last year we tossed around different names for our fellow Ocala folks. Though "Ocalan" is probably correct, we decided that was way too lame and brainstormed a few different names like "Ocalites" before finally settling on Okie Dokies. Do you guys have a random nickname for yourselves and those who live in your city or town? We can't be the only ones who do this…
When I lived in Palatine, Illinois as a kid, we were "Palatinians" which always sounded so goofy to me.
Anyway, with the somewhat cooler temperatures outside, we figured a short hike with Sadie would be bearable and took her to the nearby trails for a three-mile trek through the forest.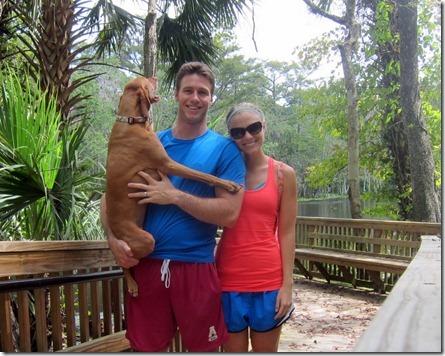 Sadie is always the best part of any Fagan family picture. She's ridiculous.
Apparently it was deer day in the woods because we saw three different small herds of deer on our hike. 
Once we arrived back home and took a much-needed shower, it was time for lunch.
Lunch
I cooked up a batch of my lean meatballs, but made them a little bigger than usual so they would be perfect for meatball subs.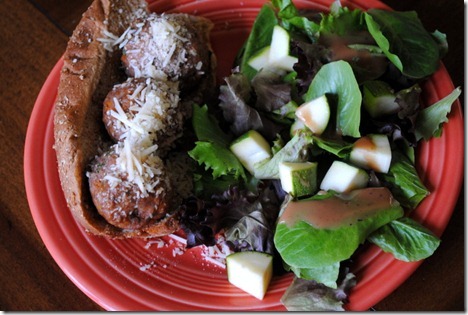 I used all the marinara sauce we had on hand last night when I made Elaine's eggplant rollatini so unfortunately I didn't have any sauce for on my sub. At least it was still tasty topped with parmesan cheese!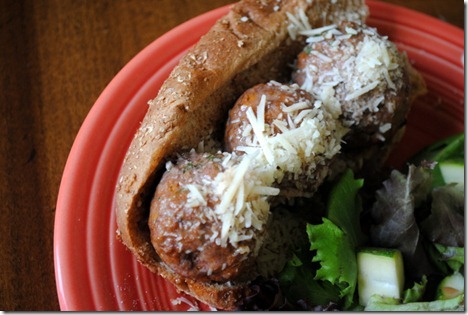 Time to start getting ready for Taste of the Nation this evening! Orlando, here we come!
P.S. I will definitely record Ryan doing his box jumps for you guys soon. Your comments on my morning post made me laugh!