Apparently passports can take a long time to receive after you send away for them. There is an option to expedite the process, but that costs extra moolah!
Since we're leaving on a cruise with our friends at the end of April, I wanted to be sure to give my passport a good seven weeks to process since my old one expired and I need a new one.
I headed to Walgreens to get my passport picture taken right before lunch this afternoon. After talking with my friend Michaela in Colorado about heinous passport photos, I was worried that the photographer wouldn't let me smile. Michaela said they didn't let her smile in her passport photo, which resulted in a horrific convict-esque non-grin.
Since Michaela and I both have a hard time not smiling when someone says to "be serious" in a picture, I feared that my picture would also be a weird closed-mouth awkward grin.
Fortunately my passport photographer didn't say anything about not smiling, so I bared my teeth and gave her a grin!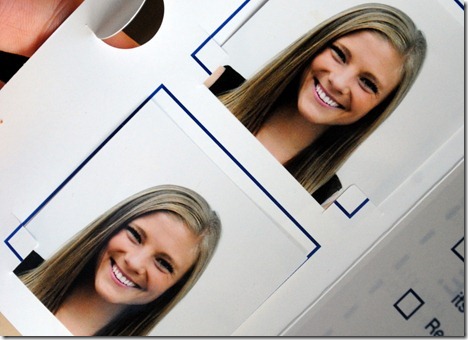 Even though it looks like my eyes were blacked out, that's infinitely better than my "serious" look would've been.
Our wedding photographer took one serious photo on our wedding day (I told her ahead of time that they weren't our style) and it still cracks me up.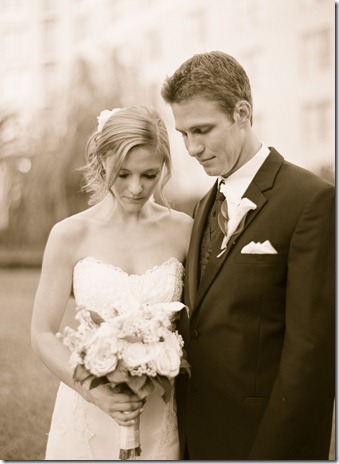 It looks like we were mourning the death of our singles lives.
I remember the photographer who took our school pictures during my senior of high school made everyone do a "serious" picture. Mine was so hysterically awful that my family put it on the fridge immediately to taunt me when we got the photo proofs. A model, I am not!
I actually had something kind of funny happen to me when I asked to change my last name from Bream (my maiden name) to Fagan in the Walgreens system while I was waiting for my passport photo to print. The woman asked whether or not my first name was still the same.
Do people often change both names?
I wanted to tell her that yes, in fact, I did change my first name and am now Princess Consuela Bananahammock, a la Phoebe Buffay. (There will never be a show better than Friends, I am convinced.)
Lunch
Today's lunch repurposed the salmon leftover from last night's dinner.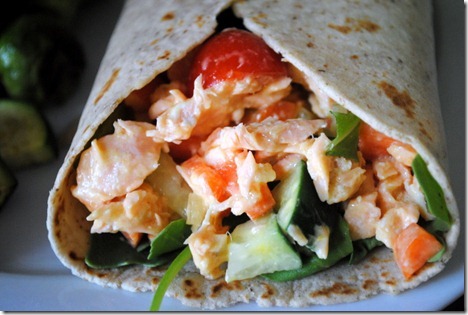 I made myself a salmon salad wrap by combining the following:
Salmon
Light Miracle Whip
Mustard
Relish
Chopped cucumber
Chopped carrot
Sliced grape tomatoes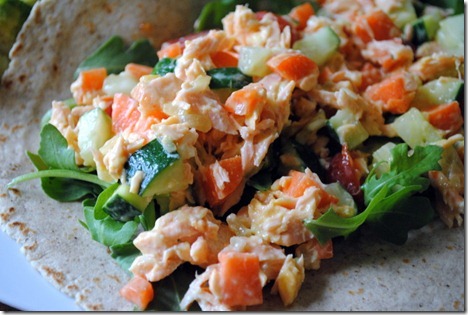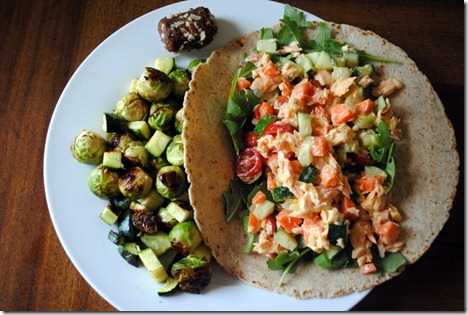 I also ate roasted Brussels sprouts and zucchini on the side.
Dessert was a speckled piece of poo.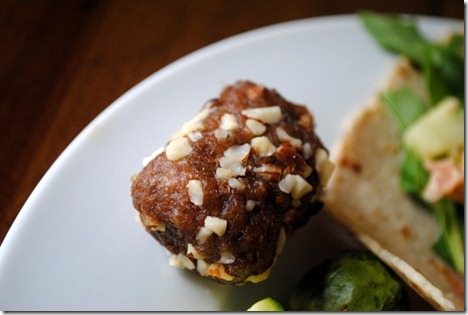 Or a date rolled in chopped almonds.

Off to do some editing!