Today is one heck of a rainy day in Ocala. It has been pouring on and off all day and when it's not pouring it's drizzling.
My afternoon water fitness was once again canceled and when I drove home, I was greeted by a very frustrated pup. With no outside playtime on the horizon thanks to the rainy weather, I fear for Sadie's sanity.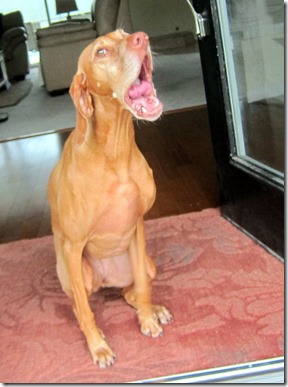 I foresee lots of indoor playtime this evening.
Lunch
Lunch today featured Kashi BBQ chicken pizza paired with leftover roasted asparagus and fresh tomatoes.
It was delicious!
This evening, I am hoping to crawl into bed a little early and finish reading If I Stay which I'll be reviewing on the blog tomorrow. I don't have too much left to go and I'm not overly enthralled with it, though I am curious to see how it ends. More on that tomorrow!
Of Possible Interest