A new toy arrived today!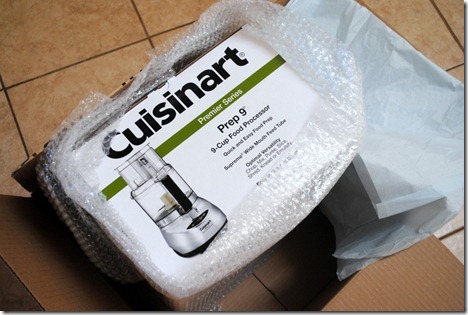 I ordered a new Cuisinart 9-cup food processor when I saw it on super sale through Hautelook a couple of weeks ago and have been anxiously awaiting its arrival.
Now I want to process something!
Ryan and I already own a tiny food processor that I've been using for years. Its been great for making a small batch of homemade healthy banana custard (<— perfect for breakfast!) or my three-ingredient dark chocolate avocado mousse, but when it comes to larger recipes (or larger food), the small food processor just doesn't cut it.
When we were registering for our wedding, I remember Ryan kept saying we should probably register for a new, larger food processor.
(Flashback photo from that lovely day!)
I told him that we had a perfectly good mini food processor that worked just fine. He said a bigger one might be a good idea and I brushed him off saying, "Yeah, yeah, maybe…" and surreptitiously made a mad dash toward the non-stick pans. See ya!
Well, it looks like someone was right, and now, a year and a half later, we're finally in the food processor big leagues. Actually, they make a 14-cup food processor, so we're probably just sitting on the bench in the big leagues, but we're getting there.
I can't wait to put it to use, so if you have any recipes that you love that require a food processor, please, please share and link to 'em in the comments section!
Dinner
Dinner didn't use the food processor because I had a one-track mind when it came to our evening meal. I wanted pizza and I wasn't budging.
Using premade multigrain pizza dough that we bought from the Publix bakery, Ryan and I made semi-homemade pizza topped with cheese and turkey pepperoni.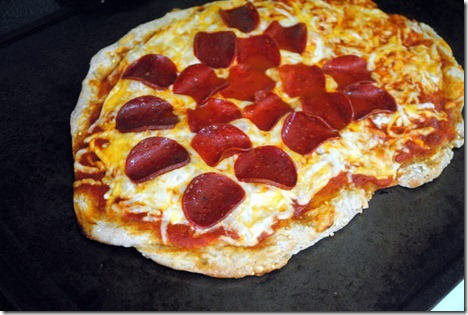 It turned out fantastic.
For my fellow Publix shoppers, if you've ever made pizza with their bakery dough and it came out way too thick and doughy, leave the dough out on the counter for an hour before baking. It makes such a difference and after eating more than our fair share of crazy-thick pizza, Ryan and I are happy to finally follow instructions, plan ahead and let the dough sit for a solid hour before topping it with sauce and cheese.
And for dessert…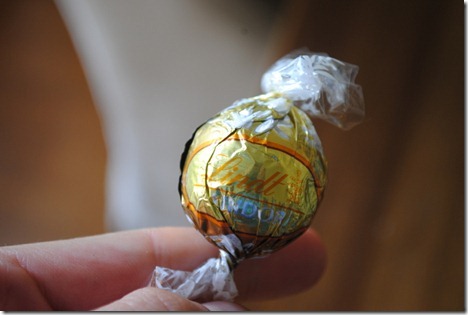 The last truffle from our Easter candy collection. Sad day.
See ya in the morning!