The three of us had a great Fourth of July and spent most of it at Brittany and David's house on the lake. They have the most gorgeous home and Ryan and I have told them that they're selling North Carolina lake life pretty hard!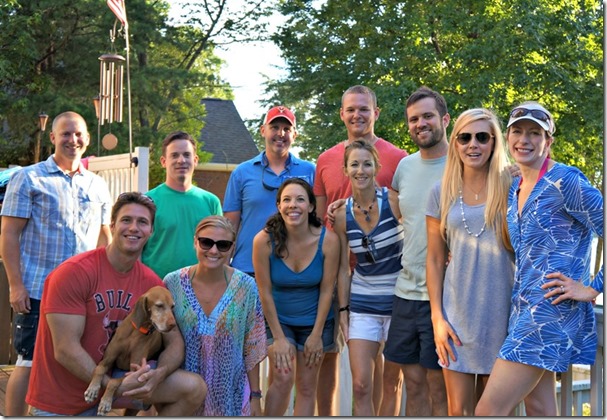 We've been to their house twice now and both times we left wanting to move in.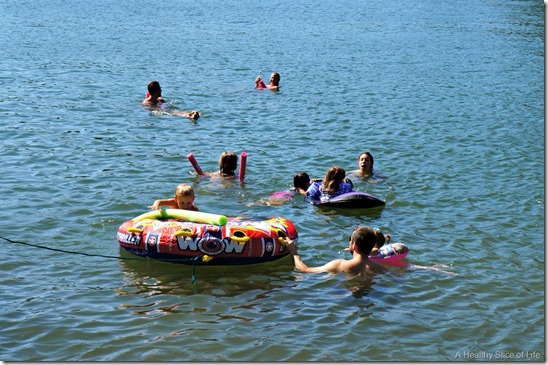 (Picture from Brittany)
They had a good group of people over for the holiday and all of the kids who came to play seemed to have a blast in the lake. And so did Sadie!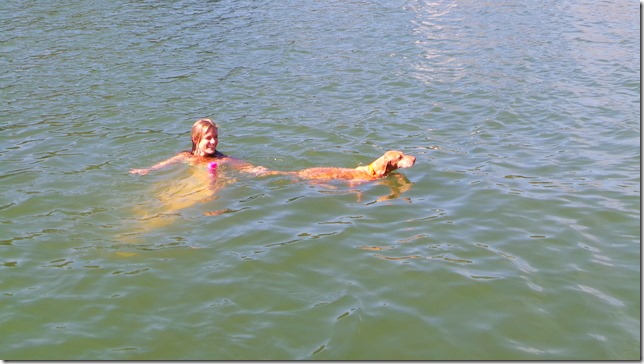 She probably jumped off their dock 20 times throughout the day and swam her little heart out as she doggie paddled back and forth between me and Ryan. She was one tired pup by the time we drove home after the fireworks and we considered that a victory!
As for the fireworks, we took Brittany and David's boat out on Lake Norman and had one heck of an awesome view of probably six different firework shows happening all over the lake. As the finale of the final firework show lit up the sky, I leaned back into Ryan's chest on the boat and told him, "I just feel so happy." (Sadie, on the other hand, did not. She was shaking up a storm but did better than expected.) It was one of those rare rush of emotions that happen when you feel like you're fully in the moment and realizing your happiness as it's happening.
This may sound goofy, but after reading The Happiness Project, one thing that stuck out to me was the author's views on happiness and happy memories. She wrote that all too often while we're making the actual memory, we know we're having fun, but sometimes we get more happiness out of remembering the experience than we do from actually living it. She said this realization made her want to focus on in-the-moment happiness.
Her example was vacations. Yes, we have a blast on vacations, but sometimes remembering the vacation brings about even more joy than the actual activities themselves. I totally got where she was coming from and it really made me want to focus on my happiness and recognize and appreciate happiness in my life as it was actually happening. This may sound a little out there to you guys, but after struggling a bit during our time in Ocala, I feel like I am truly grateful for the changes this move to Charlotte has brought into my life and I'm trying to focus on appreciating little sources of joy that seem to pop up daily right now.
Question of the Morning
Do you feel like you recognize "in the moment" happiness or do you think you often realize how happy you were after the fact?
When was the last time you felt truly happy in the moment?
One of the best things about the Fourth of July falling on a Friday is that the fun of the holiday seems to continue through the whole weekend. Ryan's friend Eric drove in town from Ocala on Thursday night and stayed with us through Sunday morning. Our first visitor!