Today, after quite a long hiatus, I enjoyed a workout in the pool!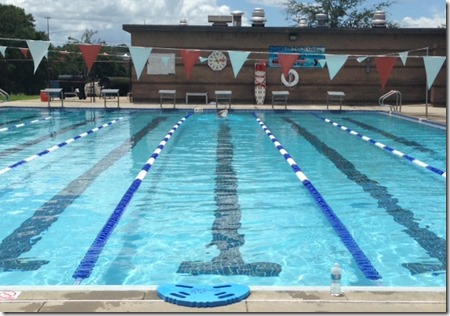 During my lunch break, I headed outside for a run. I didn't bring a watch to track my pace or time and set out to run around a giant loop, unsure exactly how far that would take me.
I ended up running for right around 40 minutes before I made it back to the gym and I was so ridiculously sweaty that the only thing I could think about was jumping into the pool to cool off. I changed into my bathing suit and grabbed the goggles I packed in my bag and figured I could tack a half mile swim onto the tail end of my workout. I haven't swam laps in what feels like forever, so I loved getting back in the pool and swimming my little heart out.
My dad was the one who inspired today's return to the pool. He completed his very first sprint triathlon on Saturday last weekend and raved about the experience.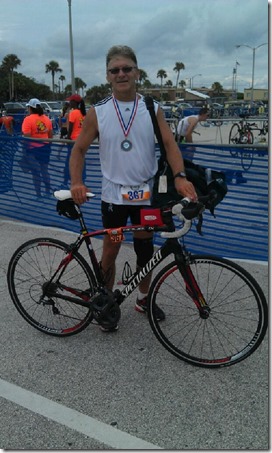 My dad said it was really challenging, but he's been training for it for a long time and finished in less than two hours without walking one time. I'm so proud of him! He is also seriously encouraging me to do one. I'm tempted, but still freaked out about the bike. Clipping into a bike? Riding super fast in big groups? It's intimidating!
Lunch
Once my workout was done, I dried off and opened up the fridge in the break room to dig into the meal I packed last night.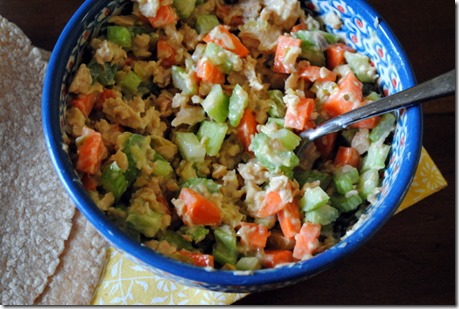 I made a batch of salmon salad and wrapped it in a tortilla to eat along with a cup of unsweetened applesauce and almonds.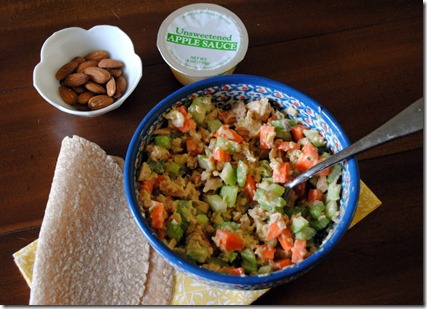 It was great and fueled me through the rest of the work day, including a HOT water fitness class.
Hope your Tuesday is going well!
Question of the Afternoon
Have you ever done a triathlon? Would you want to?
What part of a triathlon – swim, bike or run – intimidates you the most?