Room
, the first book we selected to read as part of the
PBF book club
.
Discussion questions will be posted after my review and I hope those of you who read the book will enjoy participating in a discussion in the comments section of this post.
Additionally, feel free to post your own review and thoughts about the book in the comments section as well. I love reading book reviews!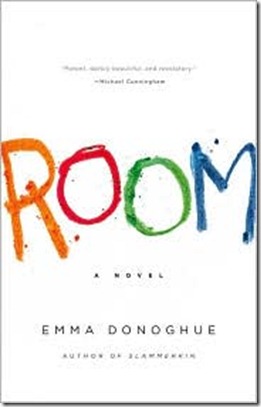 My Review
I heard a lot about Room before I dove in an started reading. I heard it was dark, hard to get into, hard to put down, compelling, chilling, intriguing.
I must admit, I was a little unsure how I would like the book when I heard that it was written from the perspective of a five-year-old boy, Jack. I read a couple reviews where people said they had a hard time getting over his narration, but I didn't really struggle with his voice. I found his storytelling adorable, innocent, imaginative and easy to read.
Jack is a young boy who lives in an 11 by 11 foot room with his mom. He was born in the room and has never stepped foot outside. The book follows Jack's thoughts as he slowly learns that there is life outside the room.
Though Jack and his mom are being held captive in the room in a situation that would obviously be traumatic and terrifying,  I didn't find the book dark and menacing.
I know many people feel that Room is disturbing, but I enjoyed reading it for the amazing love and bond between Jack and his mother. His "Ma" managed to make the room a home for Jack and a place where he looked forward to daily activities, stories, crafts and games. I honestly felt inspired by Jack's mother's creativity and intense desire to help her child learn and grow despite such dire circumstances.
SPOILER ALERT
Do not continue reading if you haven't already finished the book!!!
The second half of the book was very different from the first. (I personally preferred the first half.)
While I was compelled to sit with the book for hours in the second half as well as the first, I found myself frustrated in the second half by Jack's mother's decisions and his grandparents' actions. (Loved his stepdad though!) 
But what I found myself thinking about most during the second half was whether or not the room was such a bad place for Jack to grow up in after all. Jack was immersed in imagination, love, attention, and stimulation.
I loved how the author didn't make Jack's transition into the outside world seamless. I thought it was great that she made it clear that Jack liked his time in the room. While the room was a prison to Ma, the room was home to Jack. 
Discussion Questions
Feel free to answer one or all of the questions below or post your own review of the book in the comments section of this post to begin a discussion about Room.
What would you do differently if you were Jack's parent? Would you tell Jack about the outside world from the start?
Do you think Jack benefited in some way from being raised in the room for so many years?
If you were Ma, what do you think you would you miss most from the outside world?
What would you ask for, for Sundaytreat?
I am excited to finally be able to discuss