Hello from St. Pete!
After my dad's surprise retirement party last night, my mom and I spent the night at my dad's interim apartment. (Just in case you're confused, my parents' house in St. Pete sold faster than expected, so my dad has an apartment in the area through the end of the year before he officially retires and lives with my mom in their new condo in Jacksonville. You can read more about the backstory here if you'd like.)  
I am staying in St. Pete through tomorrow since I already had plans to fly out of the Tampa airport tomorrow morning. I figured it made more sense for me to stay here rather than drive two hours back to Ocala only to return to the Tampa Bay area a day later.
So where am I going?
New York!!!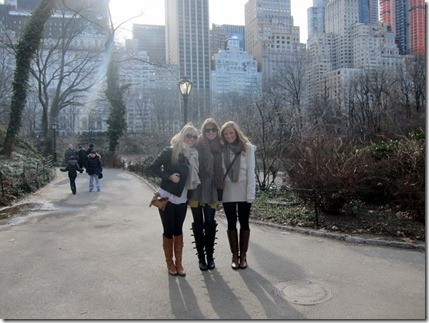 My friend Leah and I are flying out of Tampa tomorrow and meeting up with our friend Ashley who flew to NYC from Chicago today. We're all staying with my friend Merri, the bride-to-be!
Merri and her fiancé Pete got engaged back in August and Leah, Ashley and I planned a trip to the city to visit her and help her go shopping for the perfect wedding dress. To say that I am excited would be a huge understatement. I cannot wait to see three of my favorite girls!
I've heard such wonderful things about New York City during the holidays and hope to soak up all the festive fun I can in three days. Woo!
Someone was less than excited when I brought my suitcase out of the closet to pack yesterday.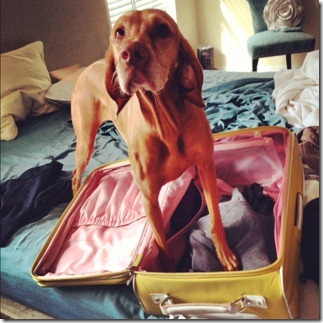 I felt bad saying goodbye to her and even worse leaving her looking like a vizsla martini in her little cone.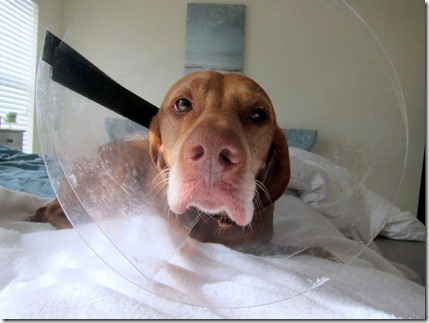 At least she doesn't seem to mind it too much!
Speaking of Cone Dog, we heard back from the vet about her biopsies and everything looks a-okay! Hooray! He said the lumps were papillomas, which he explained are nothing to worry about, calling them "benign wart-like growths." Phew.
Today
After a quick breakfast at my dad's apartment, I headed out for a run around the water in downtown St. Pete.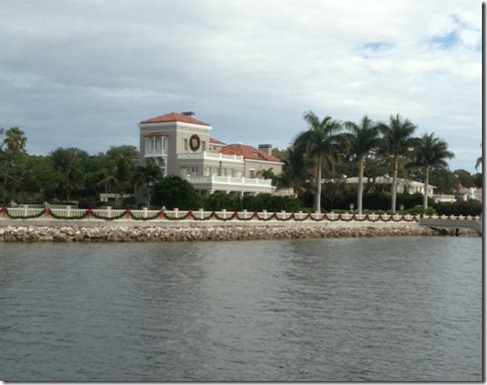 I enjoyed checking out the festive decorations in the city as I set out to complete seven miles.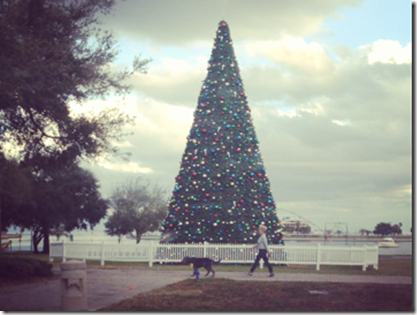 Even though my half marathon training plan had five miles on the agenda for today, I have a feeling a long run won't be happening in New York this weekend and wanted to make sure to accomplish my long run for the week beforehand.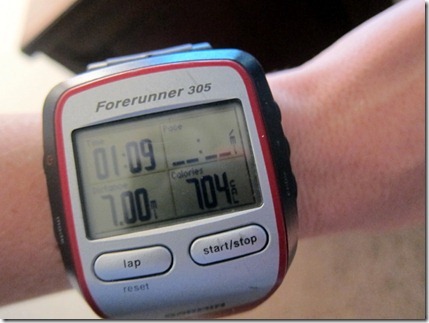 I felt pretty overheated on today's run and rather sluggish, but when I was done I felt fantastic. Seven miles!? Yes!
Lunch
After my run, I made myself a small peanut butter smoothie and worked for a few hours before taking a break for lunch.
I ate an apple while assembling my main meal.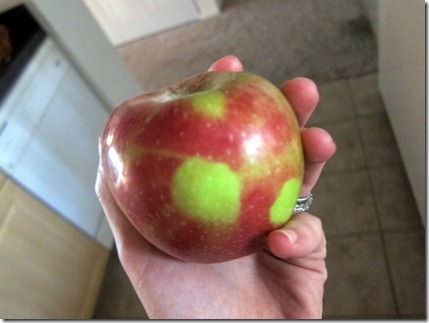 Today's lunch included a bowl of leftover chopped salad (half eaten before I snapped a pic – oops!) that included bacon, lettuce, peas, shredded cheese, hardboiled eggs, onion and Italian dressing, paired with Terra Mediterranean chips and a cup of peach Greek yogurt.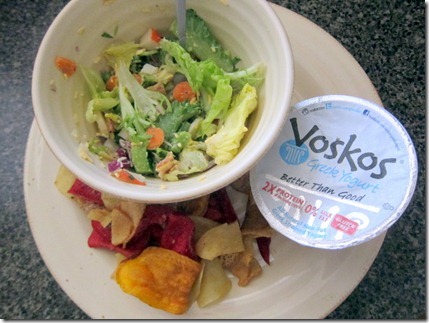 And two Godiva chocolates for dessert!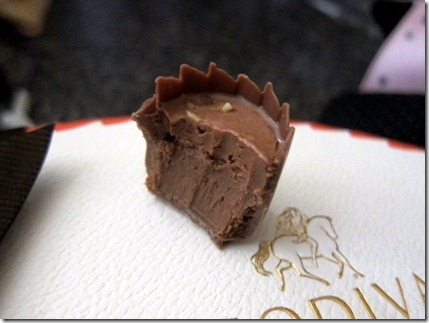 Yum!
Now I have a few work-related loose ends to tie up before dinner and then it's off to NYC in the morning.
Enjoy your night!