Have you guys heard of the Shazam app?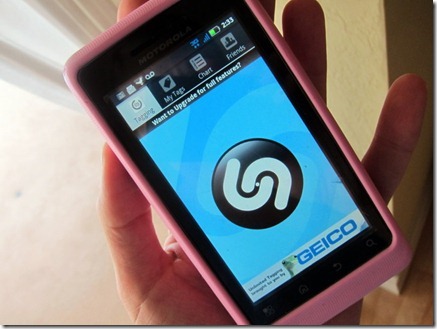 My sister added it to my phone when she was in town last weekend and it is so freakin' cool (and free!).
If you hear a song on the radio and want to know who sings it or simply the name of the song, you tap a button (that swirly button in the middle of my phone's screen) and the app listens and identifies the song and even brings up lyrics!
It's ridiculous.
Shazam came in particularly handy on our road trip from Ocala to St. Pete this afternoon. I could've sworn I heard a random song on the radio singing the words "camel toe" and just to make sure I wasn't crazy, I Shazamed the song and found out I wasn't losing my mind.
Oh, camel toes.

Lunch
Ryan and I drove to St. Pete this afternoon to beat some traffic, though we both have work to do before we can relax for the weekend.
We're in town for the Women's Half Marathon in St. Pete on Sunday and I'm still waiting for the excitement of the upcoming race to set it like it did when we arrived in Savannah for the  Savannah Rock 'n' Roll half marathon two weeks ago. I'm thinking that the race weekend excitement will hit me when we head to the race expo tomorrow!
(Side note: I used Thesaurus.com to try to find another variation of the word "excitement" for the above sentence because I can't stand repeating words and could not think of an alternative word for excitement for the life of me. Thesaurus.com's suggestions were basically amazing and I was quite tempted to used "titillation" and "hullabaloo" but inevitably decided to just do a word repeat. <—Stuff you never needed to know.)
When we walked into my parents' house this afternoon, I immediately fixed myself a lunch that included tuna salad, raspberries and ginormous pretzels.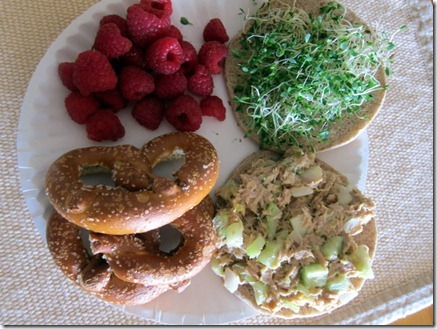 I love hard pretzels. They remind me of the pretzels I eat when I visit my grandmothers in Pennsylvania!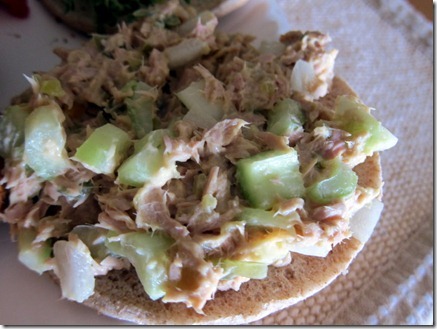 Time to work!
My mom also requested that I go through some of my old books and clothes in the closet in my bedroom, so that's also on the agenda for today. Last time we went through a box of my things from childhood we had a good laugh, so I wonder what will turn up this time!