Mother's Day Gift Guide
.
Now onto our weekend recap!
Saturday
After a couple months of major sleep progress with Chase, I think the trifecta of his first earache, teething and dropping his Magic Sleepsuit fouled us up a bit so I'm back to nursing Chase in the night. We're hoping to work to change this but I don't plan to do anything about it until we get back from Florida next Sunday because if travel has taught me anything, it's that a lack of routine can foul up a baby's sleep and I don't want to have to tackle the sleep beast two times in two weeks.
Anyway, I share all of the above information with you to say that I was up at 4:45 a.m. on Saturday. Why? Well, Chase made a little noise that I heard on the baby monitor and when I glanced over, I totally forgot we put him to bed in a long-sleeve onesie and no pants since our upstairs air conditioning was acting a little funky this weekend. (We didn't want Chase to get overheated in his normal zipper footie onesie.) Seeing Chase's bare baby legs set my overly-tired mind spinning and I threw off the covers, loudly whispered "Chase got out of his pajamas!" to Ryan and ran into his nursery, expecting to find some horrible loose-pajama hazard surrounding my baby boy.
I flipped on the light and was greeted by a giant smile and a baby fully-dressed in a onesie with no pants, just the way we left him.
Well, once my crazy mom brain flips on, it doesn't flip off, so I was up for the day before 5 a.m. and headed downstairs to make some coffee and work for a few hours before the rest of the Fagan family was up and ready for fun. (Even Sadie stayed in bed!)
Eventually 9 a.m. rolled around and I headed off for a speed and agility workout at Burn Boot Camp.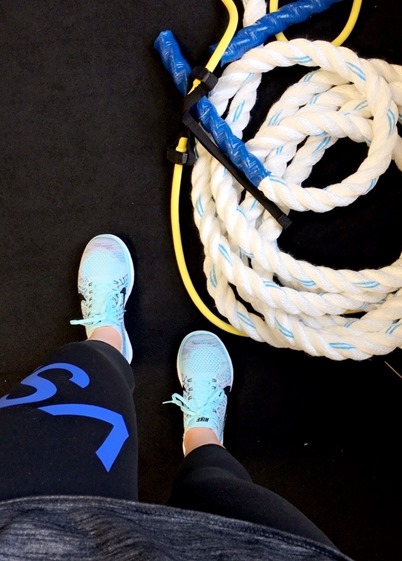 (Big thanks to my mom and sister for my new birthday sneakers! Love them!)
Truthfully, I kind of wanted to skip it, but since I knew Ryan hurried home from his workout so I could make it to the class in time, I felt like I should go and ended up feeling so glad I did! You know that saying, "You never regret a workout?" So true! It was a great one.
On my way home, I swung by the grocery store for some healthy essentials, including a giant tub of cookie dough. I bought an overload of cookie dough to make a cookie cake for an afternoon family play date we had on the agenda and cookie dough ended up being my post-workout snack.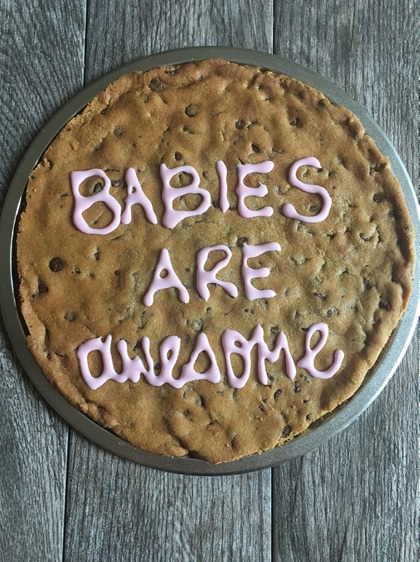 I used icing to write "babies are awesome" on the cookie cake because that's the name of the photo stream our group of friends has set up to share pictures of all of our play dates/random baby photos.
Ryan, Chase and I were supposed to arrive at Melanie's house around 3 p.m., but ended up getting there closer to 4 p.m. due to napping baby delays. We arrived with a cookie cake in hand and had fun chatting with friends over drinks and a delicious spread of appetizers. (I went to town on a cheesy spinach artichoke dip and the most adorable ladybug caprese salad.)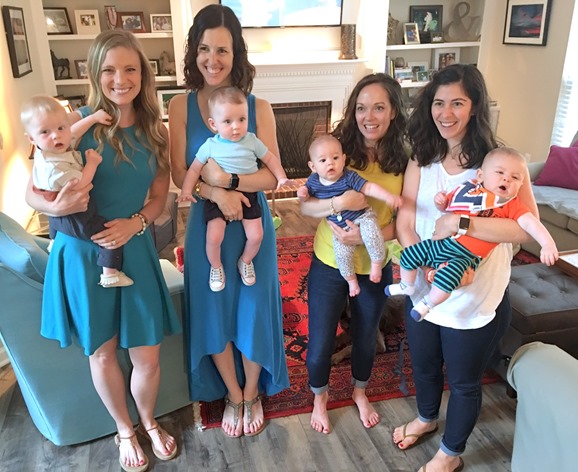 (We missed you Carrie and Casey!)
We ended up leaving when Chase started to get fussy which was thankfully right at the time two of my other girlfriends' babies told them it was bedtime, too. After we put Chase to bed, the rest of our Saturday night was low key. We got in bed early as well and I started reading The Girl With All The Gifts which is a bit disturbing so far. (I'll report back with more thoughts once I get a little farther in.)
Sunday
Sunday morning was cloudy and rainy in Charlotte and I awoke feeling very sleepy. I think Saturday morning's sleep fiasco caught up with me because I felt a little foggy all day on Sunday.
We spent most of our Sunday around the house, cleaning, meal prepping and working during Chase's morning and afternoon naps, but managed to make it out of the house for a trip to Discovery Place KIDS. We bought a membership to DPK last week when we visited with my mom and the dreary weather inspired us to put it to good use on Sunday afternoon.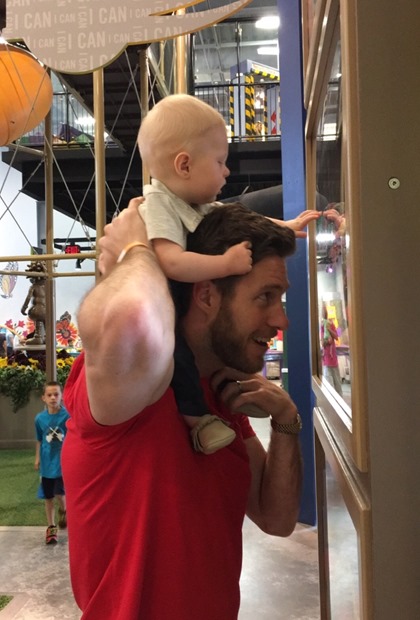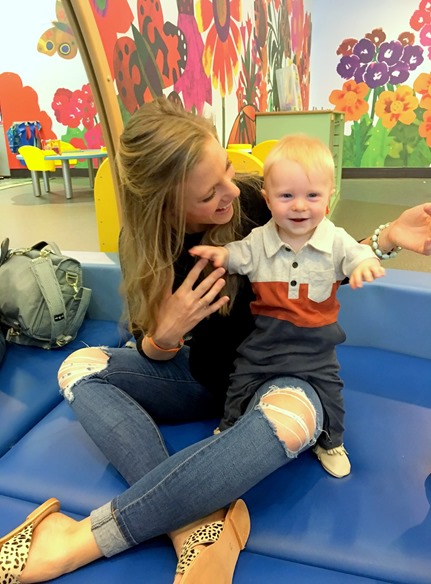 (Yes, Chase most definitely is in the same outfit he wore to Melanie's house on Saturday. He was in it for less than three hours on Sunday = Clean.)
We had fun watching Chase observe everything with wide eyes and an open mouth and spent most of our time at the water table and Lego station. While I am absolutely not wishing the months away (believe me, I tell Ryan on daily basis how I cannot believe Chase will not be a baby for much longer!), I am looking forward to seeing him run around and play in some of the more interactive exhibits at Discovery Place one day!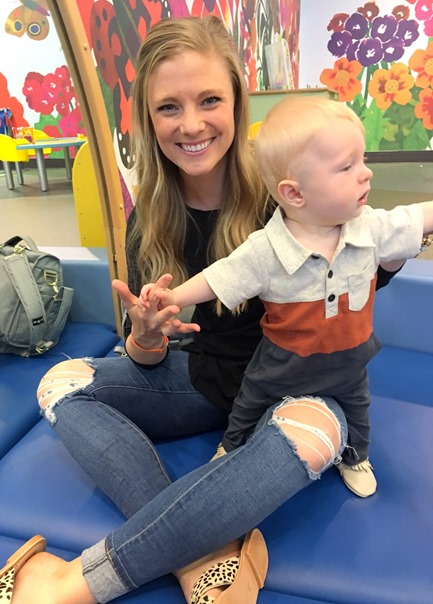 After a quick trip to Whole Foods for a late lunch at their hot bar, we made it back home in time for Chase's afternoon nap which awarded me two hours of work time at the computer and enough time to make an early cheesy chicken pasta dish for dinner. (FYI, if you're looking for more food photos on a daily basis, I share a lot of of them on Snapchat at juliepbfingers!) Once Chase was up, we spent the rest of the time we had with our energetic little man before bed at a local park where we played fetch with Sadie and enjoyed relaxing on a blanket in the sun that finally decided to come out to play.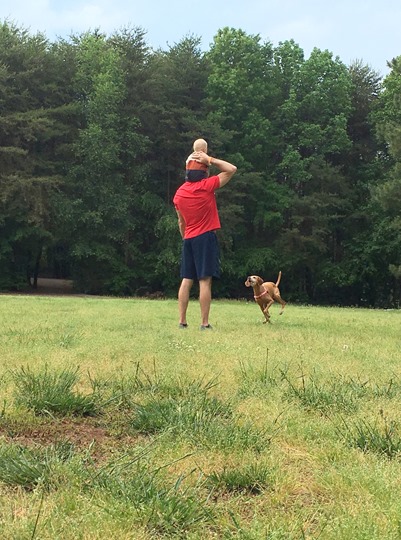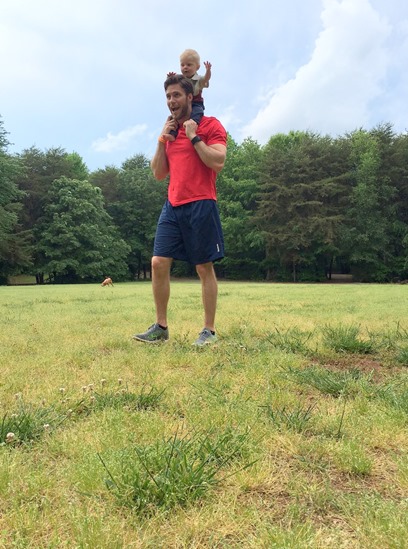 After bath time and nursing, I put Chase to bed and prepped a blueberry casserole for breakfast (recipe coming soon!) before I could barely keep my eyes open and Ryan and I headed upstairs to bed. We spent some time talking about vacation ideas since we're starting to feel the itch to travel again before I told him I couldn't stay awake any longer and fell into a deep sleep before it was up to nurse my little man again a few hours later.

And I think that catches us up. I hope you guys had a great weekend and that this week is going well for you so far!

Good morning to you! I hope your Tuesday is going well so far and that you were able to get a Mother's Day gift idea or two from yesterday's