Today's PBF reader volunteer stories come from three wonderful women who wrote to me about their involvement with an organization that I'm sure many of us have heard of at one time or another: Special Olympics.
The mission of Special Olympics is to provide year-round sports training and athletic competition in a variety of Olympic-type sports for children and adults with intellectual disabilities. Special Olympics aims to provide continuing opportunities to develop physical fitness, demonstrate courage, experience joy and participate in a sharing of gifts, skills and friendship with families, other Special Olympics athletes and the community.
To learn more about Special Olympics, you may click the link below:
Brenna's Story
Hi PBF readers! My name is Brenna and I want to share about my experiences with a fantastic organization: Special Olympics. Many people have heard of Special Olympics, an organization dedicated to improving the lives of those with intellectual disabilities. However, few people are aware of depth of Special Olympics and all that it entails.  There are several million athletes who participate in the United States and they play about 30 different sports!  There are thousands events that happen all year long at the local, state and national level.
I first dabbled in volunteering for Special Olympics while in college but it was not until more recently that I became much more involved.  I have volunteered at sever local and state wide competitions, including bowling, basketball and aquatics. Volunteer roles vary, but my favorite is handing out awards. The athletes are so thrilled to receive their awards and their smiles are contagious as they give you handshakes and hugs.  They are a true inspiration and provoke overwhelming feelings of joy, awe and respect.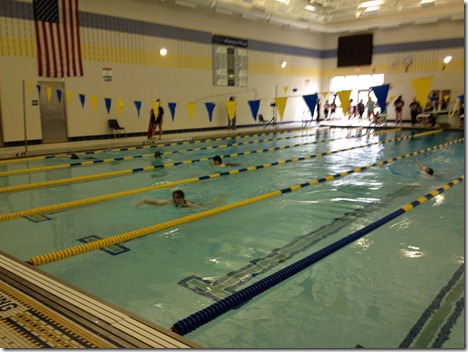 I could on and on about all of the positive aspects of this organization.  It is changing lives for all of those involved, not just the athletes.  Interacting with people with intellectual disabilities is an incredibly enriching experience that puts an entirely new perspective on life.  I can assure you that you will walk away with a huge grin on your face and a bunch of new friends!
Devyn's Story
I began volunteering for Special Olympics in the fall when a friend recommended it to me. Specifically, I volunteer with gymnastics but there are over 32 individual and team sports available to volunteer with in 220 worldwide locations!
This was a great volunteer opportunity for me personally because I have been volunteering with children with special needs since I was young, and I have a love for athletics as I am sure many PBF readers share!
Something special about Special Olympics is the pride, teamwork, and time the individuals with developmental and intellectual disabilities put into their routines. A lot of the disabled members of Special Olympics are not involved with their peers at school and have no other opportunities to hang out with their friends, as so many of us take for granted, so these work outs teach them the necessary social skills to work in a group and also to overcome hurdles individually.
If you are interested in volunteering with Special Olympics I would recommend going to one of their local meets to check things out, I know that I was inspired by the energy and pride each individual emitted after showing off their accomplishments.
Laurel's Story
In May, I had the awesome opportunity to volunteer at the Special Olympics- Florida. I volunteered back in January for the Disney Marathon and by doing so I was added to the Disney Enthusiasts mailing list. When I received an email from Disney soliciting help for the Special Olympics I knew it was an opportunity I couldn't pass up. I called up my sister and we signed up right away.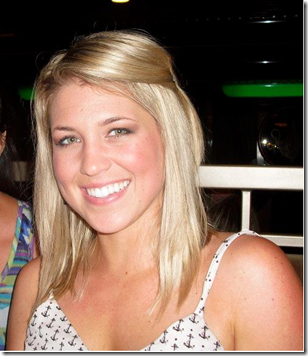 Why I Wanted to Volunteer:
More than 30 years ago my cousin was paralyzed during a high school field day. Since he was 15 he has had no use of his legs and has been completely wheelchair bound for most of his life. Despite his inability to walk, he lives on his own, drives a car and most impressively he earned a place on the USA Paralympic Rugby Team. In the Atlanta 1996 summer Paralympics, my cousin, along with his teammates, brought home the gold for the USA. He is truly an inspiration and an amazing athlete. His participation with the Paralympics was my main motivation for volunteering with the Special Olympics.
A Little History on the Special Olympics:
The Special Olympics began as a summer day camp for young people with intellectual disabilities. In July 1968 the first International Special Olympics was held. Now there are 32 Olympic-style summer and winter sports and Special Olympic Games in over 170 countries around the world. There are more than 3.7 million Special Olympic athletes-ages 8 years old and up across the globe.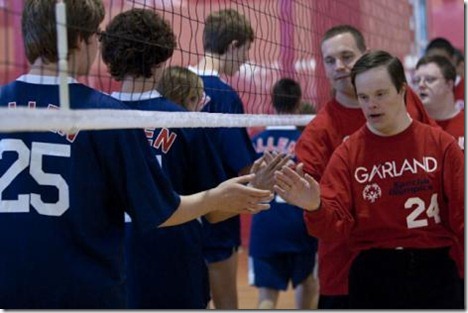 My Experience:
When we arrived at the ESPN Wide World of Sports at Disney World-Orlando we were assigned to a sporting event. My sister and I were sent to the indoor courts where the Special Olympic Volleyball teams from all over Florida would be competing.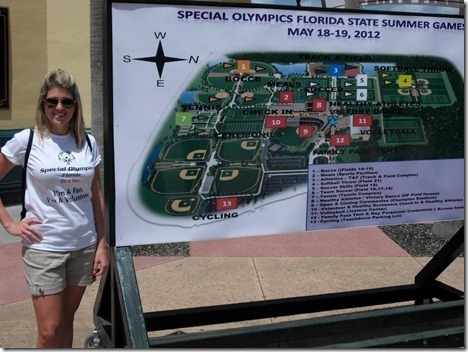 Our job was pretty simple; make sure spectators don't walk on the courts. Basically we were bouncing the sidelines. Although our task was hardly rocket science it was such a great experience watching the athletes warm-up, compete and show such exceptional sportsmanship. Having no knowledge of the rules of volleyball, and not realizing when the teams switch sides the scoreboard doesn't change with them, I spent the better part of an hour cheering for what I believed to be the "underdog" team. My sister, who had dabbled in volleyball back in middle school, made me aware that I was actually cheering for the team who had won every match. Oh well! Go Dolphins!
My sister and I got to meet some of the athletes and talk to them about their experience with the Special Olympics. One man we met had been participating in the Special Olympics for fourteen years and had played everything from volleyball, to bowling, to basketball. He told us about his weekly practices and all the different teams he's been on. I never realized what a huge commitment being on a Special Olympic team was for the athletes and coaches.
There were so many sports I would have liked to have seen. There was cycling, track and field, tennis, soccer, softball and bocce. I will definitely be looking for the next opportunity to participate with the Special Olympics. North America is home to athletes from Canada, to the Caribbean and the U.S. Visit the Special Olympics website to find out how you can volunteer with this amazing organization.
***
Additional reader volunteer stories: