First things first, check out the newest design feature on the blog!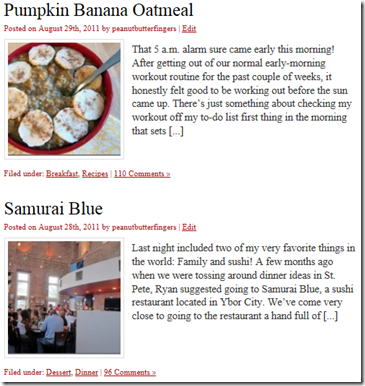 Now, after my most current blog post (which will be displayed in its entirety), you will be able to see previews of the five most recent posts I published.
I know that with my three-times-a-day blogging schedule, it's really easy to miss posts and not even realize it, so I'm hoping this little preview system will help you catch up on posts that may have slipped through the cracks.
I owe the biggest thanks in the world to Savvy Julie for setting this feature up on my blog. It took her like 2.5 seconds to do because she's a computer wiz and basically rocks at life. If you're in the market for some blog assistance, I highly recommend her services.
Play Time
I have a feeling that evening play time with Sadie in our backyard will become a staple. This dog loves to sprint her little heart out, and with three acres of running space right outside, Sadie has more than enough room to run!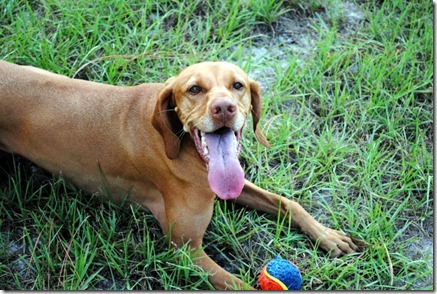 The ball in the above picture has officially been banned from inside our house. Sadie brought it inside after our afternoon fetch session and dropped it on the clean carpet and it left quite a mark. I will now be buying carpet cleaner ASAP and Sadie will no longer be carrying the Chuck-It ball around indoors.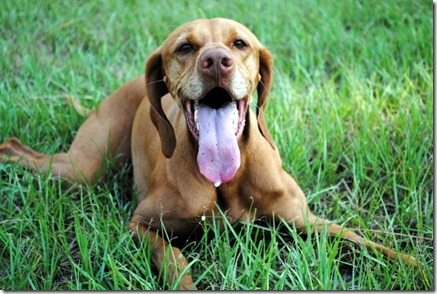 Check out Sadie's spit wad in the above picture. Nearly every picture I snapped of her outside had a string of doggy drool in it…
That one is a loogie in motion!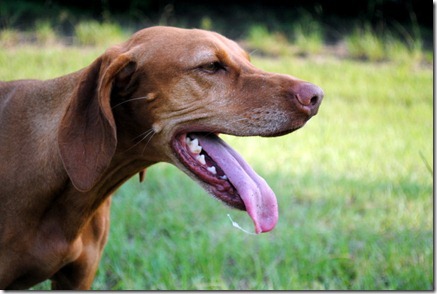 Weee!
I think it's safe to say that none of these pictures will make it into a frame.
Dinner
Dinner tonight was super simple. In fact, it cooked itself while play time was goin' on out back.
I chopped up a head of cauliflower to make roasted curried cauliflower which I served alongside salmon seasoned with McCormick lemon herb seasoning.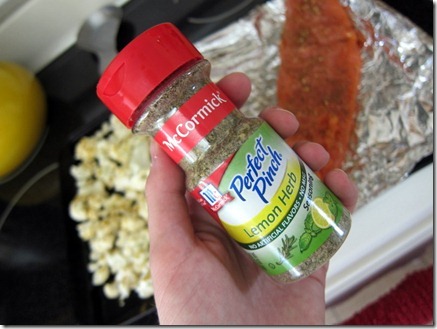 (If you're intimidated by cooking salmon, don't be! Check out this post: How to Cook Salmon. It's easy peasy!)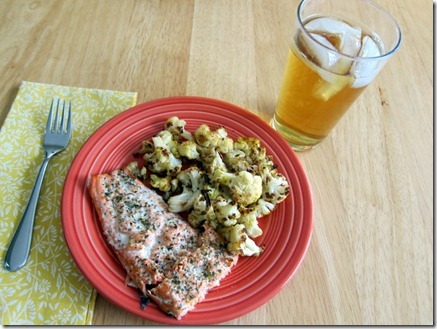 Dinner was enjoyed with a cup of Mighty Leaf sunburst green iced tea. About a month ago, I was sent samples of the iced tea to brew and try, but the tea bags have been hiding out in storage. I was so happy to finally have the chance to sip up the good stuff! It was very refreshing and the perfect summer beverage.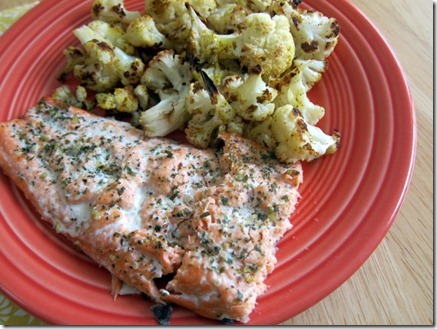 Seriously guys, I'm waaay too excited to be back in a real kitchen. Hooray for healthy dinners again!

Off to watch Bachelor Pad!