This morning I am excited to share another PBF reader volunteer story with you guys!
Krista emailed me about her experience with Team Rubicon, a non-profit organization that unites the skills and experiences of military veterans with medical professionals to rapidly deploy emergency response teams into crisis situations, and I thought the organization was so interesting.
I hope you enjoy reading Krista's story as much as I did!
To learn more about Team Rubicon, click the link below to visit their website:
Krista's Story
A Call for Veterans – My Day of Volunteering with Team Rubicon
Since a young age my parents instilled in me to always try and help others that are less fortunate, and to this day I volunteer with this in mind. When I was little my mom would bring me along to drop off gently used clothing, toys, and household items to a local women's shelter Hope House. In college I joined my sorority Zeta Tau Alpha where we hosted and participated in several fundraising events for our philanthropy, Breast Cancer Awareness and Education, as well as helping the other Greek organizations.
After college, and in my first job, I was able to attend a USO stuffing party where you get to stuff care packages for the troops! Having grown up next to a military base and having several close friends in the military, my desire to help our troops is close to my heart. When I moved to the DC metro area a few years ago I continued to volunteer with any event I heard of for our troops, including joining the Wounded Warrior Project and volunteering on a local military base for USO.
Thanks to social media, a twitter friend of mine that knew my love for helping out our troops informed me of a community service project organized by the newly created Veterans Service Initiative (VSI) established by George Washington University. In coordination with Team Rubicon, students from local universities and members of similar veteran organizations came together for a day of service. Coincidentally, I had just read an article about TR and the amazing work they do. Established in 2010, "Team Rubicon (TR) unites the skills and experiences of military veterans with medical professionals to rapidly deploy emergency response teams into crisis situations."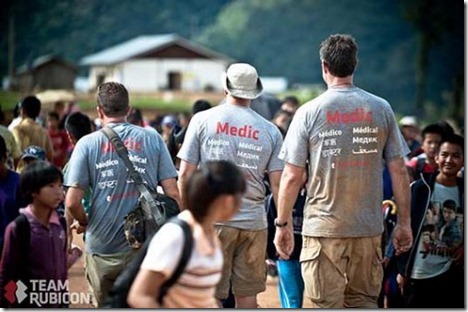 (Photo courtesy Team Rubicon)
So many of our veterans return from deployments (multiple ones, too!) with unique and extremely valuable skills they still want to utilize. TR organizes these veterans and 'deploys' them to disaster areas to assist with the immediate needs for medical skills and emergency response experience to help the affected people and area until larger aid can arrive- in essence, to 'bridge the gap' between emergency and federal aid.
(Photo courtesy of Veteran's United Foundation)
The day began with a welcome meet-n-greet breakfast, followed by an information session about all the organizations linking up with VSI for the day of service. After the kickoff inspirational speech from Sgt. Major Bryan B. Battaglia, Senior Enlisted Advisor to the Chairman of the Joint Chiefs of Staff, we boarded the busses to our respective sites. My Twitter friend R and I headed to a local park where half our large group cleaned up a creek while the other half planted trees and flowers for the neighborhood park. I was able to chat with a few former military members explaining their eagerness and willingness to utilize their medical and military training, and how they look forward to deploying with Team Rubicon to help our nation as well as other countries in crisis.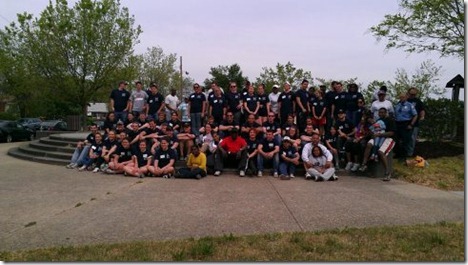 Working side-by-side with people with so many different backgrounds- civilians, students, and military and veterans alike- who had the same desire to help our community was awe-inspiring. The collective altruism was truly moving and was celebrated at the reception afterwards. I made some amazing connections and friends that day with people that have genuine hearts of gold. This experience was amazing I cannot wait to work with all of them again!
To see more about Team Rubicon (Veterans – want to apply your skills and help when crisis calls?) check out their website!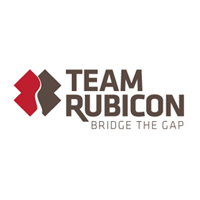 And of course, to check out my blog post on Team Rubicon and see all my volunteer work, head on over to Tiny N Fit or follow me on Twitter @Shortqtpie
Rock on Lovers! – Krista
***
Additional reader volunteer stories: