Tonight's hotel buffet dinner was meatballs and mashed potatoes… only the meatballs were swimming in gravy and not marinara sauce. Ryan and I took one look and turned right around and headed back to our hotel room to make a meal from the random food we have on hand.
Fortunately I had some more homemade veggie lasagna that I nabbed from my parents' freezer stashed away in our freezer, so I fixed myself a big slice and dug in!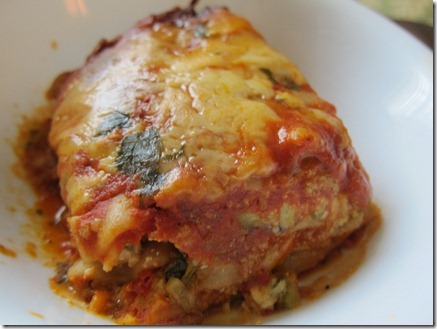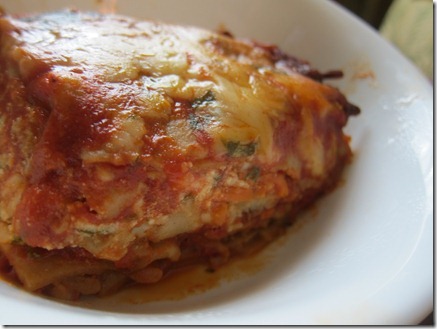 Much better than gravy meatballs.
After dinner Ryan and I went on a walk to explore the area and got a kick out of the swirly sidewalks.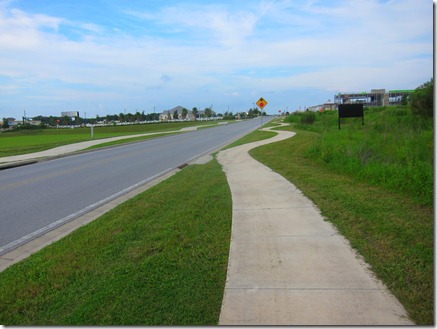 They look like they should be covered in brick, painted yellow and placed in The Wizard of Oz movie.
Once we got back from our walk, it was time for us to hightail it to the movie theater!
The Help: The Movie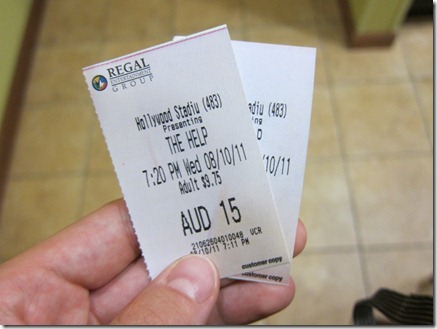 Ever since I read The Help and found out it was going to be made into a movie, I've been waiting for it to debut in theaters. (You may read my book review of The Help here.)
The Help is one of my all-time favorite books. Let's just say I had high expectations for the movie.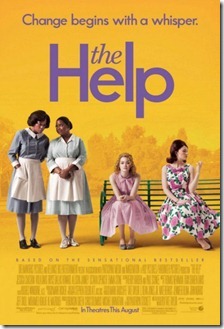 I thought the movie (all two-and-a-half hours!) was very well done. The characters were well cast and the movie was heart warming, funny and emotional. And it gave me the same sense of hatred I had for Hilly Holbrook that I had when I read the book.
There's so much to the movie – history, friendship, family, love and complete ignorance.
The movie did what the book did to me while I watched it: It made me think about how things were during that time in America. It's so hard to believe the kind of awful prejudice detailed in the movie existed so openly not that long ago. Segregated bathrooms? It's incomprehensible to me, but I am grateful for movies and books that take us back to this time to hopefully reiterate how far we've come and how crazy we once were.
I will say that the movie left out a lot of the back story and "behind the scenes" parts of The Help that really engaged me as a reader and helped develop the characters further. I found myself wishing more was included, but I think that happens anytime a book is made into a movie.
As a big-time lover of the book, I think I'm naturally overly critical of the movie. I really did enjoy it a lot and would absolutely recommend it to others, but the book still has my heart 100 percent.
And, for what it's worth, Ryan said he liked the movie a lot. He was surprised that it wasn't nearly as much of a "chick flick" as he anticipated and said it was really funny.
Now it's bed time!