If you read this blog with any regularity you know I'm a big-time animal lover. Pictures of Sadie are plastered all over the place and stories about people helping animals simply make my heart swell.
This post continues the series of PBF-reader submitted volunteer stories and highlights the experiences of three readers with The Humane Society.
The Humane Society is the nation's largest animal protection organization. The society advocates for better laws to protect animals, provides animal rescue and emergency response, investigates cases of animal cruelty, cares for animals through rehabilitation centers, emergency shelters and clinics, among other objectives.
To learn more about The Humane Society, you may click the link below:
Amanda's Story
This past fall, I had the honor of becoming a volunteer for the Washington Humane Society in Washington DC. The Washington Humane Society is the only open-shelter in the Nation's Capital. They accept all types of animals (including turtles!) that have been surrendered. Not only are they a shelter, they offer public education and training, they neuter feral cats, they organize group runs for shelter dogs around the capital, and organize many charitable events.
I have two dogs of my own, but decided to volunteer because I cannot get enough of them. First I had to become a 'shelter star' to learn the ins and outs of the shelter, then I became a dog specialist where I get to walk and play with the dogs.
Ninety percent of the dogs in the shelter are pit-bull mixes. Unfortunately these types of dogs get a bad reputation because of their strength and ability. It makes me sad to know this as I have had a pit-bull in the past, and they can be some of the most sweet and loyal dogs I have ever come across.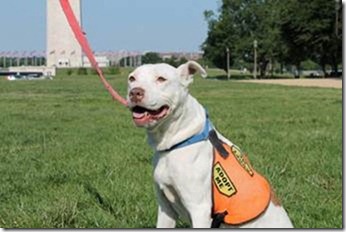 It is a wonderful feeling knowing that I am helping dogs have a better doggie life until they find their forever home.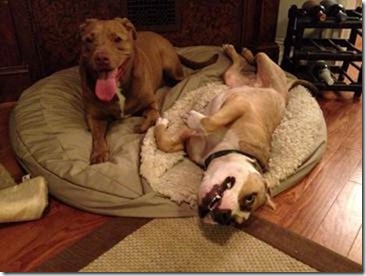 You may follow Amanda at her blog: VeggiesnDogs.com.
Jen's Story
Hi everyone!  I'm Jen from Daydreams and Shoestrings, and I volunteer at St. Tammany Humane Society. A lot of people ask me how I do it – how do I volunteer without bringing every animal home with me? Truth is…it does make me sad (and mad) to see so many beautiful animals without a loving home, but it also fills my heart with happiness to know that I am enriching their lives as they wait to find a family of their own.
Since the shelter is a no-kill shelter, they have a set number of spots available for the animals in need…so the more they interact with friendly faces (or humans in general!) the better off they are for being showcased to potential adopters!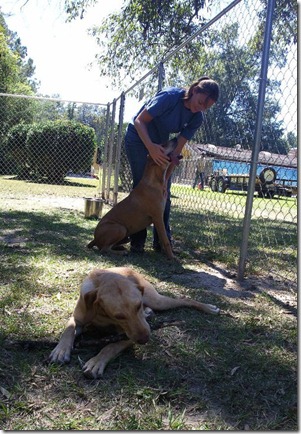 I prefer to volunteer my time at the shelter walking the dogs and socializing the cats. I soon realized that I was hooked – the excitement and happiness the dogs exuded when I approached with a leash in hand was so fulfilling. How could I refuse the happy yips as they all clamored to be chosen to get out in the fresh air for some exercise? Some dogs were playful – nudging your hand to throw a stick, while others just wanted to stretch out their legs – running endless loops around the dog path. But one thing they all had in common was fierce appreciation – shown in the forms of doggy kisses of course!
And I fell in love with the fact that the primary duty of the Cat Cottage is just to give the shelter cats some much-needed love and attention.  I found that the more time I spent with them, the more I began to learn their quirks and attitudes.  There are the ones who shy away – pretending not to notice you – but then boldly swat at your feet if you don't pay attention to them.  And then there are the ones who plop into your lap like a princess and nudge for hidden kitty treats.  In all honesty, even though I don't get to take them home with me, they are still my pets.
If you love animals, becoming a volunteer at your local shelter is definitely something you should consider. You will be making a difference not only to the animals that reside there, but also to the shelter and to your community. Words can't adequately describe the rewarding feeling you get from helping these beautiful four-legged souls.
Nicole's Story
Hi there! I'm Nicole, and I volunteer at the San Diego Humane Society.
When I moved 2,500 miles away from my home base to San Diego a few years ago, I knew I wanted to somehow get involved in the community. Being a huge animal lover, I was drawn to the idea of volunteering at an organization dedicated to helping animals. I immediately sought out Humane Societies in the area, and have had the pleasure of volunteering ever since then.
My volunteer role is to care for the adoptable dogs. I take them for walks, play fetch, attempt to teach them tricks, and give them love and attention. It can be a little heartbreaking to see the unfortunate circumstances that have led some dogs to the Humane Society, but I love being part of an organization whose mission is to end animal suffering. I find comfort in knowing that once animals are in their hands, the Humane Society does everything in their power to give them the best lives possible and find their "forever" homes. 
Volunteering is such a rewarding experience, whether I'm playing with an overly excited puppy whose trying desperately to lick my face, or attempting to win over a scared and timid dog with treats. I've fallen in love with more than a few dogs, and enjoy the time I spend helping out such a wonderful organization. 
***
Additional reader volunteer stories: