Some of the most meaningful experiences I've enjoyed during the wedding planning process occurred unexpectedly.
A memory I will treasure forever involved my mom bringing out an old folder full of papers and notes to share with me.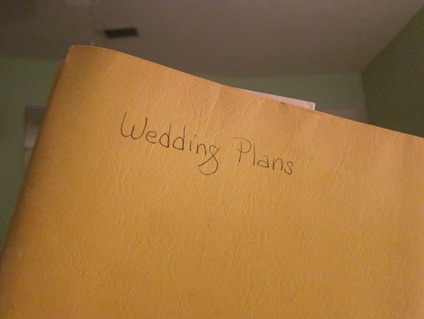 The folder, labeled in my grandmother's fantastic handwriting, included page after page of diligent notes and details about my parents' wedding.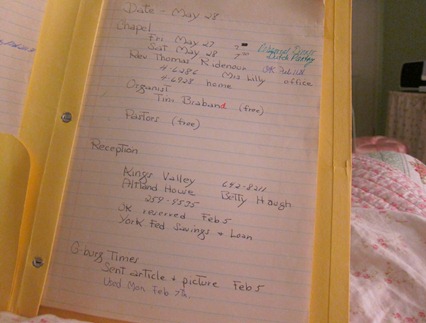 When I opened the folder, I smelled my grandmother's house.
I was instantly transported to her kitchen in Gettysburg, Pennsylvania. I imagined myself sitting in one of her hard chairs, with one leg curled under my body, eating one of my grandmas' gigantic sugar cookies. 
My favorite find in the folder was the correspondence between my mother and grandmother. They had a note pad they would use to write questions or ideas to each other whenever the other one was out. The person who was away would then respond in the notepad when they arrived home.
I loved reading my mom's words and picturing her as an excited bride-to-be. It was also humorous to see my grandmother's lengthy paragraphs full of questions and my mother's one-word answers. 😀
The bond between a mother and a daughter is unlike anything in the world and I am so grateful to have my mother with me during this unforgettable time. She has been beyond helpful and I will treasure the memories we've created together throughout the past year forever.
Mother Daughter Baking
My mom and I made some more memories tonight while making the classic peanut butter Hershey kiss cookies.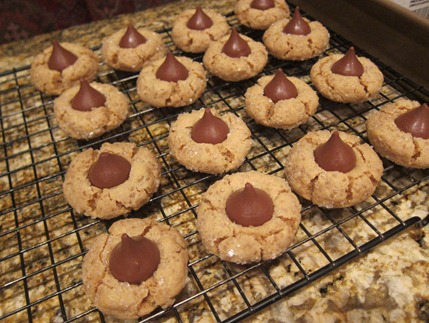 I think I ate my bodyweight in cookie dough. Phew!
The cookies will make a debut at our wedding reception, so we made a ton. Let's just hope I don't eat all of them before Saturday! 
Now it's time for bed. I am pooped!