I have a few unimportant things to cover today before getting to lunch!
First, guess who turned 30 today?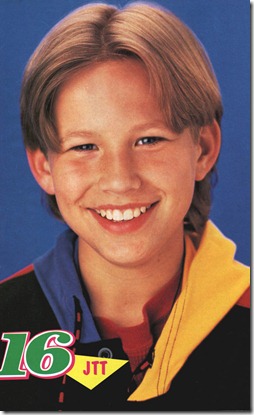 (I love how Colleen tweeted to me about this, two of you – Heather and Laural – emailed me and Stephanie commented to tell me about his birthday. Long live Tiger Beat!)
Well, I don't know about you, but I refuse to believe that JTT is any older than 15. He is solidified in my mind as the Randy from Home Improvement, Ben from Man of the House and as the voice of Simba, of course.
***
The next completely unimportant order of business is the two horrendously scary obstacles Sadie faced today.
The weather in Ocala is absolutely gorgeous, so I've been working from our screened in porch and Sadie has been having a field day.
First, she had a run-in with this beast.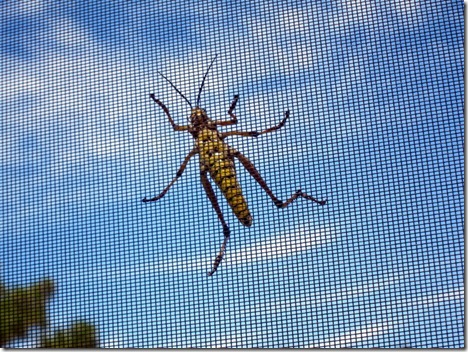 Apparently the bugs mean business in Ocala.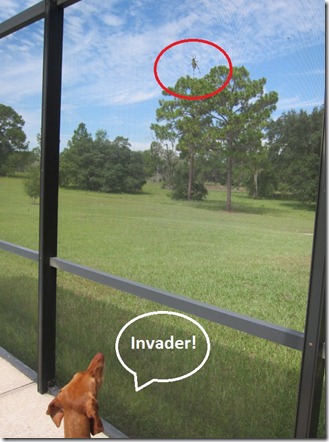 Then, the pool cleaner vacuum thingy (that's its technical name) gave her the heebie jeebies.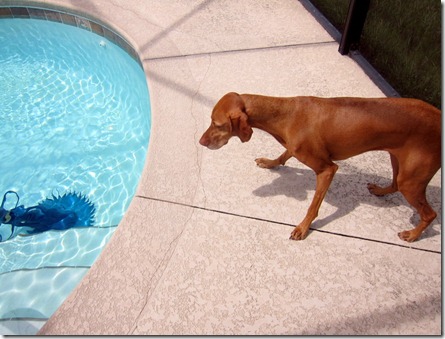 Every time it would suction something up, I swear Sadie almost dropped a turd.
Her life is so stressful.
She's currently chasing the shadows of dragonflies as I type this post.
***
And our final order of business is some news for my fellow Bachelor Pad fans out there.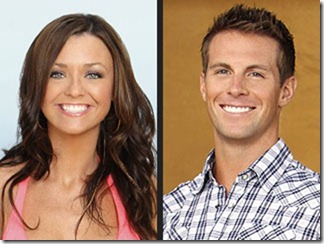 Poor Michael. One of you nice girls out there needs to go date that sad, neglected boy, STAT… and then report back, please. 
Lunch
I was planning on having a leftover chicken apple sausage for lunch today but Ryan (and Sadie) were hungrier than I anticipated last night, so leftovers were not available.
I honestly didn't know what I wanted to eat when lunchtime rolled around and eventually I settled on pancakes.
Random, I know, but I really wanted to take another stab at perfecting the pumpkin protein pancakes I attempted yesterday.
Well my second attempt failed miserably. The pancakes weren't as dry as yesterday's 'cakes, but they totally fell apart when I tried to flip them.
My pancakes quickly became a pumpkin protein pancake bowl, topped with honey Greek yogurt.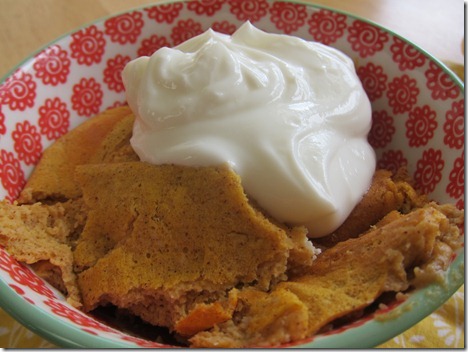 It looked pretty sketchy, but it tasted fantastic!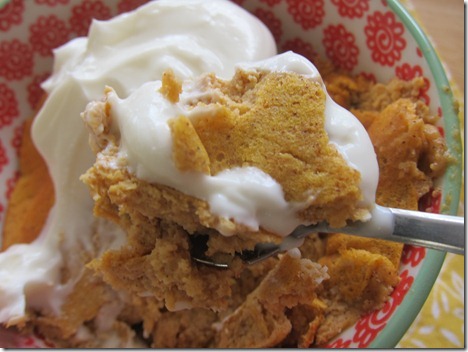 I also ate a whole wheat tortilla on the side.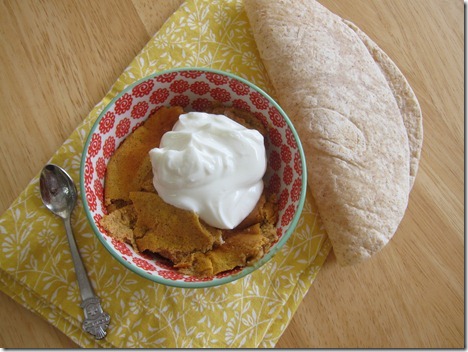 Of Possible Interest