This week is officially "update the blog week" for Peanut Butter Fingers.
I've been meaning to update some of the pages on this blog for quite some time, so each day this week I'll be allocating some time to updating various pages. The recipe pages definitely need my attention since they haven't been updated in far too long!
Today I updated the following pages:
The travel page is rather self-explanatory and simply highlights my travels, but the Orlando & Florida Travel page is a little more detailed. My hope is that the page will act as a decent resource for those of you who have emailed me in the past looking for restaurant or activity recommendations in my home state (and, specifically, Orlando).
More updates to come!
Dinner
Dinner tonight began with the roasting of broccoli, Brussels sprouts and sweet potatoes.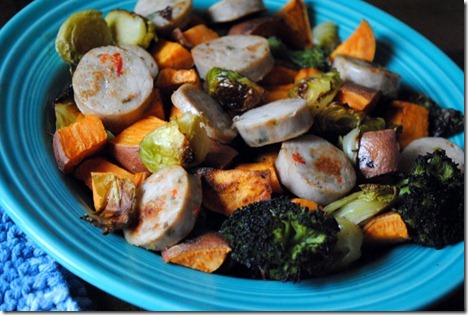 With the vegetables roasting away in the oven, I knew I had the base of my meal covered and opened the fridge in search of a source of protein.
I chopped up a few al fresco chicken sausages and sautéed them on the stovetop before adding them to the roasted veggies and calling it a meal.
So simple and so colorful!
Off to watch The Bachelorette! I love yelling out a Bachelorette countdown to Ryan as though he cares.
Four minutes!!!
Also, for my fellow Bachelorette and food blog-reading fans, apparently super-sweet bachelor Sean's sister has a food blog, which you may see here: Mix and Match Mama. Neat, huh?