Sadie is, without a doubt, the most famous Fagan in our household.
Just look at her little mug featured on the homepage of Garden & Gun magazine's website!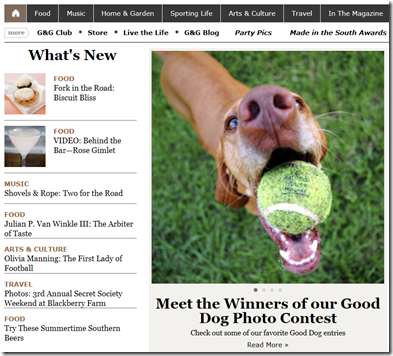 I'm afraid she's gonna get a big head. It's very clear that she already thinks she's queen of our house. Check out what happened within five seconds of me placing freshly cleaned sheets on our bed last week: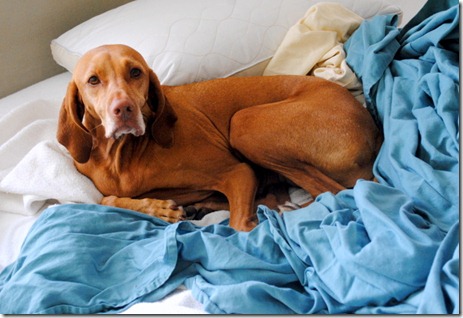 Obviously Sadie thinks the bed is better with a big pile of sheets on top of the mattress and sees no need for me to get all fancy and actually make the bed. With the way she loves to burrow, sometimes I think she's part hamster.
So why was Sadie featured on Garden & Gun's website?
A few weeks ago, at the urging of a blog reader, I submitted a picture of her in the Good Dog Photo Contest through the popular southern sporting magazine. I was shocked when I got an email telling me that her picture was selected as the winner in the Dogs at Play category. Sadie will receive a prize pack from the magazine for her little victory and I am pretty sure I know what she's hoping will be in it…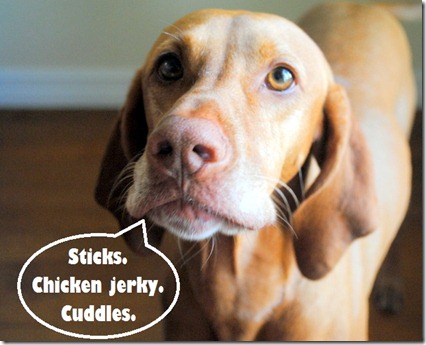 We're awfully proud of our crazy lady. She's the Fagan family's best shot at glory.
My biggest brush with fame occurred when I was in a local commercial as a toddler for the credit union where my dad worked. Talk about hitting it BIG. Ryan's mega moment occurred when he was featured in his hometown newspaper throwing out a casting net at a local fishing show. Let me know if you want our autographs. We're obviously on the fame train. Choo, choo!
Workout
My workout this morning was kickin' thanks to day two of Tina's Best Body Boot Camp. It began with 20 minutes of steady state cardio on the elliptical before I headed into the weight room to complete a leg workout that took me a little less than 40 minutes.
The leg workout didn't use crazy-heavy weights but it definitely challenged me in a new way. Jello legs! 
Breakfast
Breakfast = Bagel with cheese + Scrambled eggs with veggies
Yum! 
Question of the Morning
What moment in your life has been your biggest brush with fame? Featured in the newspaper? On TV? Share!