When it came time to make dinner this evening, I wanted comfort food. It was pouring outside and a warm, cozy meal sounded appealing.
I put on my pajamas, headed into the kitchen and got to work.
Hello, chili!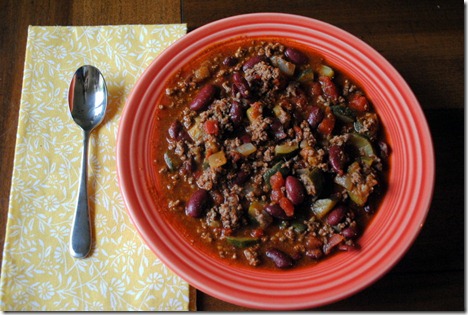 Tonight's chili came together quickly and didn't require too much work. We let it simmer on the stovetop while doing some stuff around the house, but other than waiting for the chili to soak up all the yummy spices, this dish didn't require too much time to make.
Simple Summer Chili
Ingredients:
1 tablespoon olive oil
1 onion, chopped
1 zucchini, chopped
1 pound lean ground beef
1 can low sodium kidney beans, drained
1 can diced tomatoes
1 1/2 tablespoons chili powder
1 1/2 tablespoons cumin
1 teaspoon garlic salt
Directions
Pour olive oil into a large pot on medium heat and add onion and zucchini
Allow vegetables to sauté until onion becomes opaque, about 5 minutes
Add ground beef to vegetables and stir until meat is browned
Drain any excess fat from pan before adding remaining ingredients
Allow to simmer on low for approximately 45 minutes
Enjoy topped with shredded cheese, plain Greek yogurt, sour cream or simply as is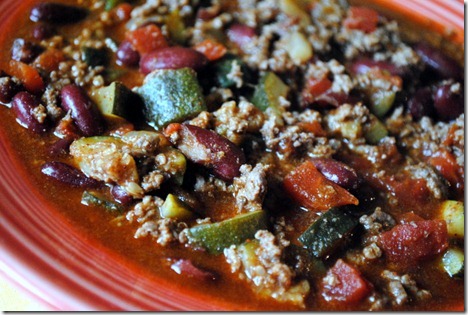 Now that our bellies are full of chili, Ryan and I have plans to be lazy and watch a movie. That's what you're supposed to do when it's raining like crazy outside, right?
See ya in the morning!