Good morning, my friends!
How was your weekend? We had a lot of fun and spend most of our time outside which is just the way I like it! 
Here are some highlights: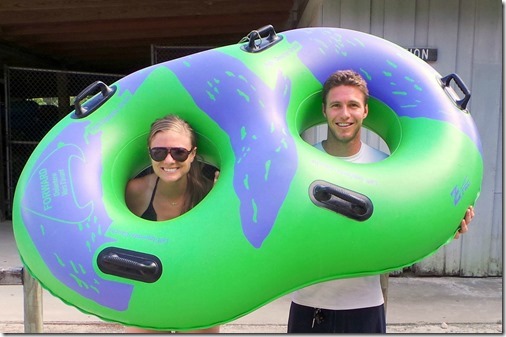 Before I moved to Florida, whenever I thought of tubing, I always thought of a boat pulling a tube behind it. We'd go tubing all the time in high school at my friend Ryan's lake house in Wisconsin in the summer and it was one of my all-time favorite activities! Well, there's a different kind of tubing you can do in High Springs, Florida at Ginnie Springs and it involves floating down the Santa Fe River!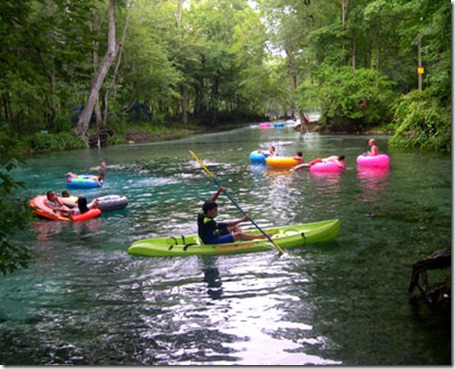 The Santa Fe River provides a natural lazy river and you can slowly float down it in tubes, kayaks, canoes or paddleboards for an hour surrounded by gorgeous greenery! Ryan and I rented a double tube to share and had a blast relaxing on the water and watching some pretty impressive tubes float by! People go all-out with their tubes and buy rafts that seat 6+ people that have built-in coolers and stereo systems. It's awesome.
We spent all day on Saturday in Cedar Key with friends and I tried fishing for the first time in a few years!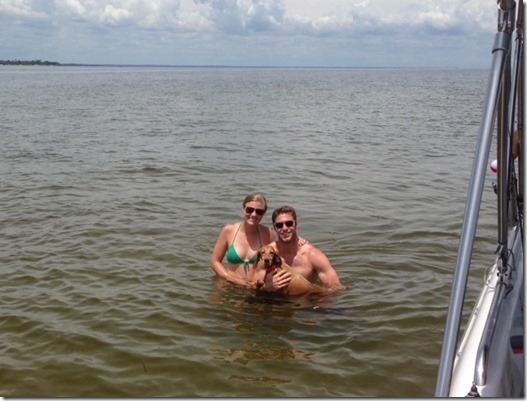 Our friend Eric has a boat and he drove all of us out to a sandbar where we were able to stand and fish. Naturally Sadie had to be part of the action.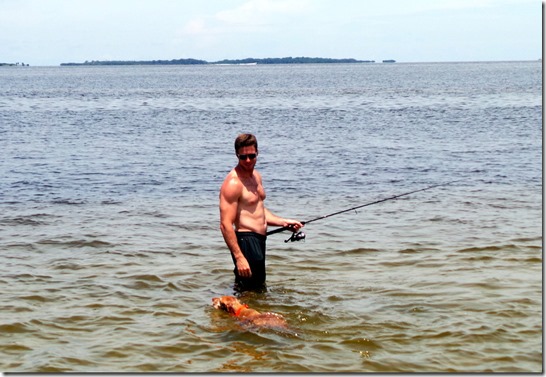 She's a water dog through and through!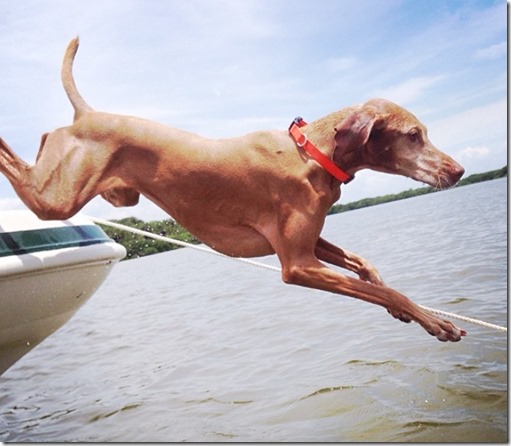 We caught trout, catfish (ick!) and a bunch of little fish. Around 4 p.m. the rain clouds started rolling in, so we made our way back to the dock before it started pouring. It was a fun day!
After a fairly active weekend, Ryan and I were ready for some couch time around 8 p.m. on Sunday night. Sadie was also more than ready to relax and could barely keep her eyes open once she snuggled up under a blanket and wedged herself behind my legs.
Going…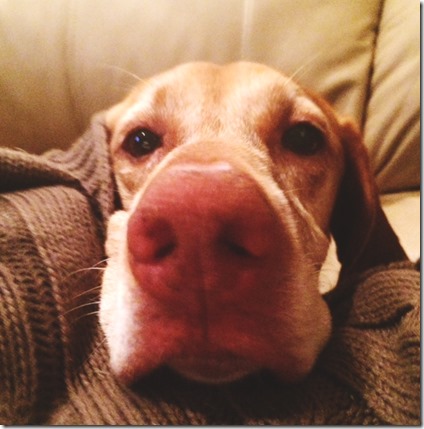 Going…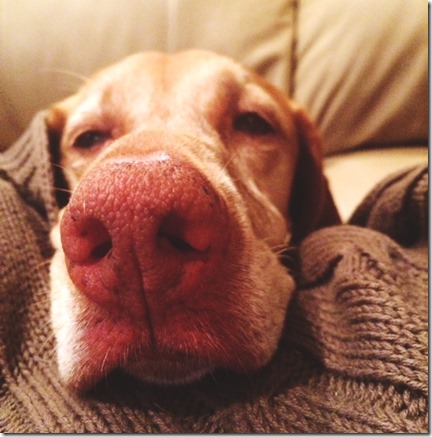 Gone!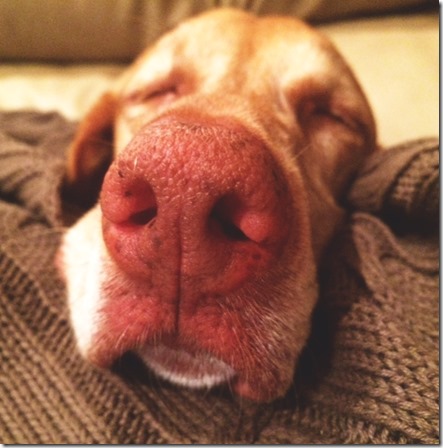 And now to explain the title of this blog post…
#30SummerDays Photo Challenge
Have you guys ever participated in a photo challenge before? I've seen the 100 Happy Days challenge floating around Instagram where people share photos of things that make them happy every day for 100 days straight. I think the whole concept is a lot of fun, so when Staples reached out to me about their summer photo challenge, I thought it could be a cool thing to share with you guys!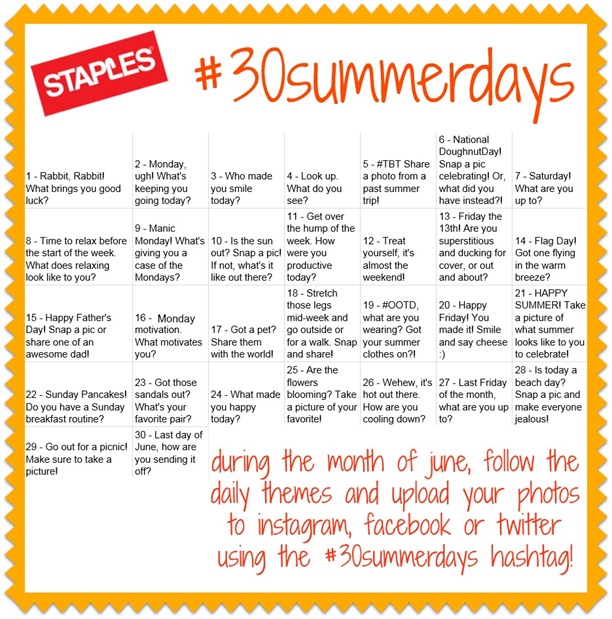 If you choose to participate in the challenge, simply upload a photo that follows the daily themes to Instagram, Facebook or Twitter and tag it using the #30summerdays hashtag so we can all follow along! It's supposed to be a fun challenge, so you can pop in and out as you choose and share photos that correspond with themes that intrigue you. (You better believe I'll be participating on June 17!)
At the end of the month of June, check back for an awesome giveaway featuring the camera Staples was kind enough to send me to use to participate in the challenge. (It's pretty sweet and has wifi capabilities!) The timing could not have been better since I lost my point-and-shoot over my birthday weekend. It feels good to have a camera again and I hope you guys will join me in this fun challenge!
Here are the daily themes once again just in case you have a hard time reading the small font in the above image I created:
Week One
1 – Rabbit, Rabbit! What brings you good luck?
2 – Monday, ugh! What's keeping you going today?
3 – Who made you smile today?
4 – Look up. What do you see?
5 – #TBT Share a photo from a past summer trip!
6 – National Doughnut Day! Snap a pic celebrating! Or, what did you have instead?!
7 – Saturday! What are you up to?
Week Two
8 – Time to relax before the start of the week. What does relaxing look like to you?
9 – Manic Monday! What's giving you a case of the Mondays?
10 – Is the sun out? Snap a pic! If not, what's it like out there?
11 – Get over the hump of the week. How were you productive today?
12 – Treat yourself, it's almost the weekend!
13 – Friday the 13th! Are you superstitious and ducking for cover, or out and about?
14 – Flag Day! Got one flying in the warm breeze?
Week Three
15 – Happy Father's Day! Snap a pic or share one of an awesome dad!
16 – Monday motivation. What motivates you?
17 – Got a pet? Share them with the world!
18 – Stretch those legs mid-week and go outside or for a walk. Snap and share!
19 – #OOTD, what are you wearing? Got your summer clothes on?!
20 – Happy Friday! You made it! Smile and say cheese
21 – HAPPY SUMMER! Take a picture of what summer looks like to you to celebrate!
Week Four
22 – Sunday Pancakes! Do you have a Sunday breakfast routine?
23 – Got those sandals out? What's your favorite pair?
24 – What made you happy today?
25 – Are the flowers blooming? Take a picture of your favorite!
26 – Whew, it's hot out there. How are you cooling down?
27 – Last Friday of the month, what are you up to?
28 – Is today a beach day? Snap a pic and make everyone jealous!
Week Five:
29 – Go out for a picnic! Make sure to take a picture!
30 – Last day of June, how are you sending it off?
Questions of the Morning
Share something fun you did this weekend!
Have you ever participated in a photo challenge before? If so, which one?
Which of the above themes from the #30summerdays challenge excites you most?
I'm most excited about the themes on days 17, 21, 22 and 24.