Hey, hey, hey! How are you guys today? All is well over here! Yesterday we celebrated Ryan's birthday and I hobbled around with a freshly broken pinky toe.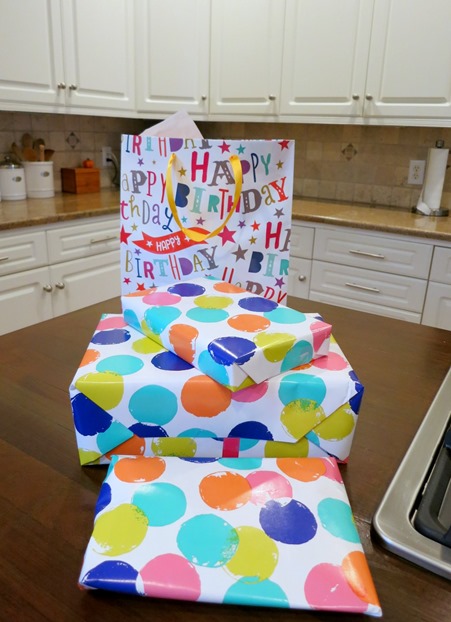 A lovely mix of fun and pain!
(Note: There's a  creepy pic of my toe below so you may want to skip this one if you are squeamish!)
As you may have seen on Snapchat (username: juliepbfingers), on Tuesday night, I ended up at urgent care after I seriously smashed my pinky toe in the door jam right off our kitchen. I was rushing to pick Chase up as he was crawling toward some blog photography stuff I had set up on the floor and according to the doctor at urgent care, I was one of two "motherhood related injuries" who came into see him that day. Eek!
When the injury happened, I don't remember feeling pain. It hurt but not horribly… The pain seemed to be delayed (thank you, adrenaline) and my toe began to throb a few minutes later. Honestly, the pain wasn't the biggest issue at first… It was the appearance of my toe that got to me!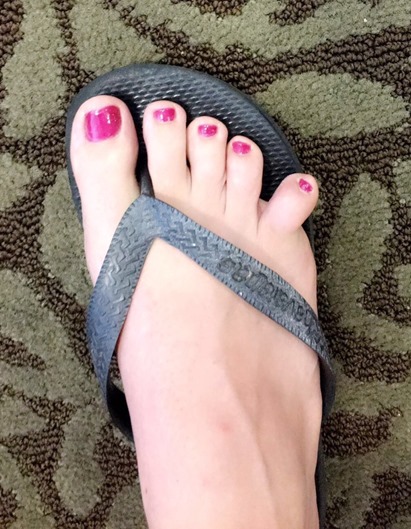 The moment I looked down and saw my pinky toe going rogue and pointing out to the right, I felt extremely light headed and thought I might pass out. Thankfully Ryan was home from work, so I laid down on the couch while he went into overdrive, grabbing Chase and bringing me my sandals (and a bra because who wears a bra at home?) so we could quickly drive to urgent care. They ended up taking X-rays of my toe (SO painful because they had to separate it for the side angle) and then said it needed to be reset. After two shots of anesthesia in my toe, the doctor reset it (thankfully the anesthesia prevented me from feeling any pain – bless that miracle drug) and taped it to its toe neighbor.
We made it home about 90 minutes later and even though I didn't sleep very well Tuesday night, I was happy to be on the road to recovery.
Wednesday
On Wednesday morning, I woke up to a throbbing toe but thankfully breakfast and coffee (and a side of Motrin) helped a bit. I ate a small bowl of overnight oats and made myself a mug of coffee with collagen and whole milk to enjoy while I caught up on emails.
When I heard Chase begin to stir upstairs, I quickly whipped up a smoothie for us to share (a big cup for me and a Lollacup for Chase) and combined whole milk, spinach, blueberries, almond butter, avocado and frozen banana. Chase wanted nothing to do with his highchair yesterday morning so he got breakfast on the go while I followed him around and gave him lots of sneaky smoothie sips until he was ready for a Greek yogurt whole wheat muffin in the high chair.
(Yes, I know we're overdue for Chase's first haircut but I just can't bring myself to do it yet and continue to swipe his bangs to the side all day long. Someday soon!)
I actually got the idea for this particular smoothie combination thanks to the smoothie bar at Whole Foods. I had a lunch date with some girlfriends there last Friday and Chase loooved the smoothie I ordered for him so I've recreated it at home a few times since! 
A workout wasn't in the cards for me yesterday so our morning was a bit more relaxed than usual. I honestly felt bad that Chase had to miss time with his gym childcare buddies (he seriously gets so excited to see everyone and smiles and waves as we enter BBC every morning) but I tried to make morning playtime at home fun with goofy games and several rounds of fetch outside with Sadie.
After two weeks of horrible naps, Chase's twice-a-day naps returned over the weekend and have been going strong throughout the week. I guess that means we're in for more naptime battles in the future but I'll take this brief reprieve while I have it! During Chase's morning nap, I took some time to do some behind the scenes blog work (invoicing, following up with contracts and spreadsheet stuff I hate) and then planned out a few workouts for a workout photo shoot I had the calendar with Stacey this afternoon. Apparently I was feeling optimistic about my toe's condition at this point yesterday but by the end of the day I had to cancel our shoot because reality set in and I realized there is no way I can do 95 percent of the exercises I had planned for her to photograph. Bummer!
Once Chase was up from his nap, we ate lunch together before it was time for Gymboree!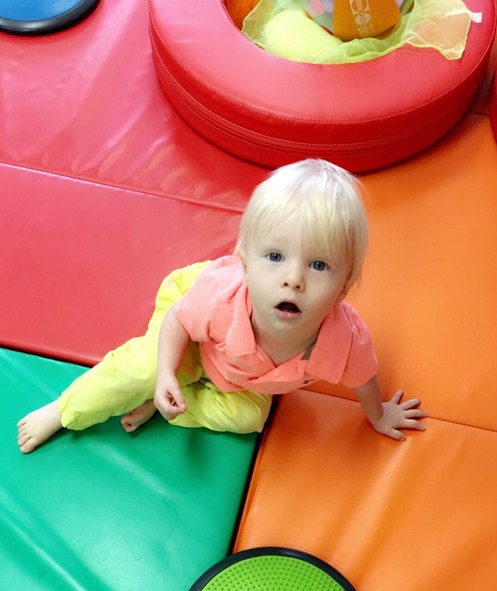 (Chase looks so guilty in the above pic! Guilty of what I have no idea, but it looks like I caught him red-handed doing something mischievous.)
I truly look forward to Gymboree every week because Chase seems to have the best time exploring and playing and I get to sneak in some quality time with my girlfriends who have little ones right around his age, too! Gymboree was a blast as usual and after class we hightailed it home for a snack before I had a 2 p.m. appointment with an orthopedic doctor.
Jacksonville, Florida was one of the areas evacuated yesterday due to safety concerns surrounding Hurricane Matthew (please, please stay safe out there, my friends!) and so my family is making their way up here to Charlotte a few days earlier than originally planned for our Asheville vacation next week. My mom arrived just before my doctor's appointment which was perfect timing. She stayed with Chase while I headed out for my follow-up appointment.
I thought I'd be in and out in no time but the appointment ended up taking a solid two hours and involved two additional rounds of X-rays and another resetting of my pinky toe. Not fun at all.
Apparently the resetting done at the urgent care clinic left a bit to be desired, so the orthopedic doctor did it again yesterday and even though I didn't watch (I don't have the stomach for that), I heard my toe click into place as he reset it again. Once again, I found myself feeling very grateful for the two shots of anesthesia I got in my toe. Ooph.
I was told to wrap my pinky toe to three or four other toes (apparently it REALLY wants to pull right) for four weeks and I have a follow up appointment in a week and a half. My road to recovery looks like it will be longer than anticipated but we'll get there. Who knew all this hullabaloo could surround a tiny toe!?
I'd show you a pic of the bruising and newly taped up toe but I think we've reached capacity for foot pics in this particular blog post.
I didn't make it home from the doctor until after 4 p.m. when Chase was just beginning to wake up from his 60-minute afternoon nap. My mom and I fed him dinner and entertained him until Ryan arrived home from work and the two of us took advantage of my mom's offer to babysit Chase and headed out on a birthday dinner date!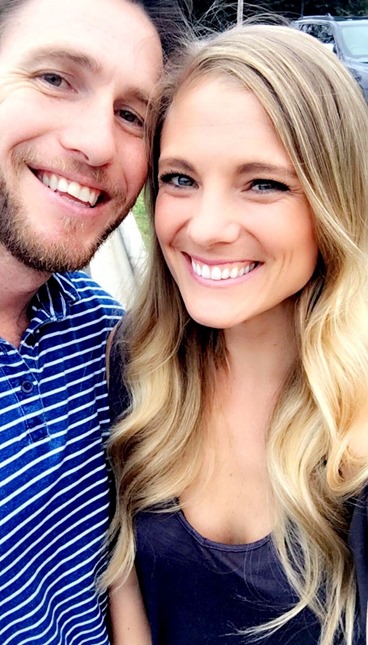 We began our meal with drinks at eeZ (wine for me and sake for Ryan) and shared an appetizer of tuna wonton nachos before digging into an assortment of sushi rolls for dinner.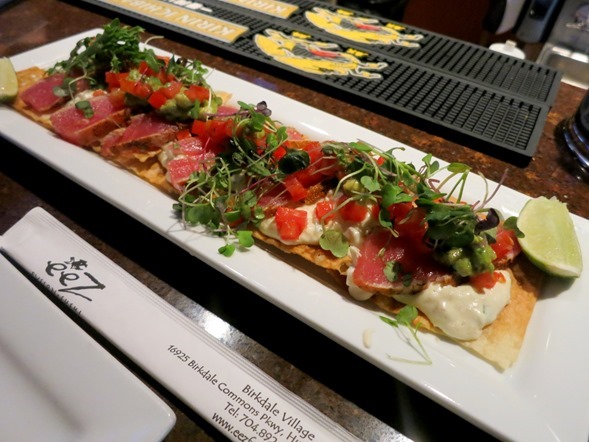 It was so nice to have a night out with the birthday boy and relax over drinks and dinner. We wanted to prolong Ryan's birthday date as long as possible and walked (well, limped in my case) over to Kilwin's for ice cream for dessert.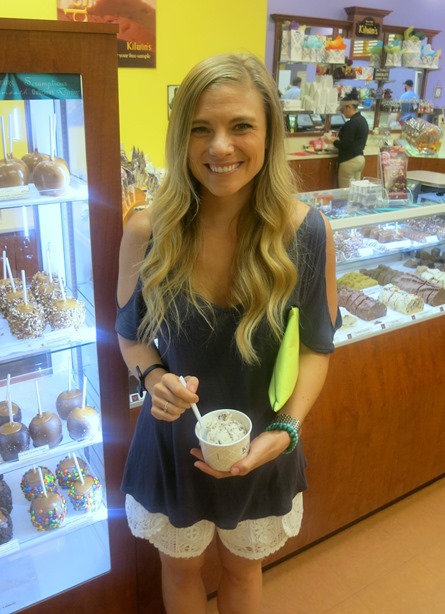 If you happen to live near a Kilwin's you must try their marshmallow s'mores ice cream. The best!
We made it home after the sun went down and wrapped up Ryan's birthday with presents! Happy Birthday, Ryan! I love you so much!