I think it's safe to say someone had a pretty fabulous morning.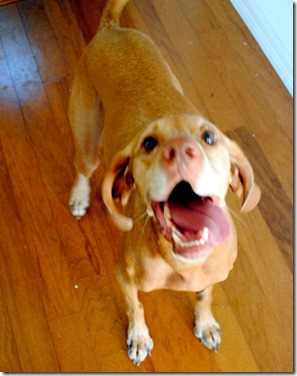 Sadie got to go on a five mile run and enjoy about 40 minutes of fetch… all before 8:30 a.m. Lucky girl!
First, she accompanied me on a hot and sweaty morning run around our neighborhood.
When our run was over, I was more than ready to immediately hop into the shower, but when I went to let myself back into our house, I realized I locked myself out. (Our front door currently cannot be opened from the outside – even with a key – and I totally forgot. We've had it fixed once before, but the problem surfaced again earlier this week.) Ryan was able to leave work and let us back inside and while we waited, I grabbed the Chuckit! and played fetch with Sadie in the backyard.
Apparently the five miles we ran together were child's play to Sadie because she sprinted all over our yard like she wasn't the least bit fazed. She had a blast and it was actually a really nice way to start the day. Watching a dog basically do back flips over something as simple as a tennis ball is a good reminder to enjoy life's simple pleasures.
Breakfast
Breakfast this morning included a toasted whole wheat English muffin, a cup of 2 percent Greek yogurt, a sliced banana and three dates.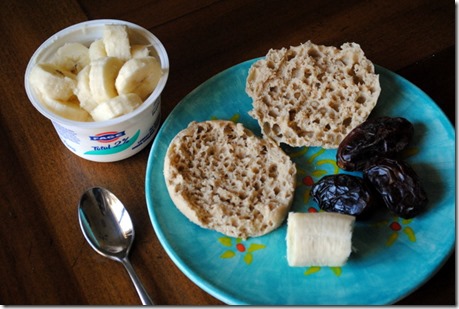 The creamy yogurt and banana slices stole the show!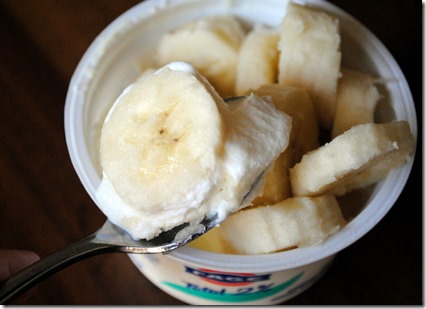 Of Possible Interest
You Choose: Reebok Shoe Giveaway Winner
Congratulations to…
Liz: "Hi – I'm a really big fan of your blog, you're really funny, and knowledgeable and I really like pictures of Sadie. I'm not sure which sneakers but I would like something for running!"
Please email me at pbfingers@gmail.com with your address, shoe size and a direct link to the pair of shoes you'd like from the Reebok website and we'll get them to you right away!