Good afternoon!
A typical Sunday for the Fagan family includes three things:
Church
Extra long walks with Sadie
Three things I enjoy very much! Although, if I'm being honest, I enjoy grocery shopping with Ryan only most of the time.
There's a small percentage of our grocery shopping adventures together that aren't all that fantastic. These grocery shopping trips occur when I am in a browsing mood and feel like taking my time wandering the aisles. This is basically Ryan's worst nightmare.
When I am taking "forever" (his words, not mine), Ryan stands at the end of the aisles giving me the "hurry up" eyes as I pick up fun foods and show them to him to try to get him excited about a new recipe idea that "just came to me" thanks to my browsing. He is not amused (unless it involves Oreos).
Fortunately, we've recently devised a new grocery shopping strategy. Ryan waits at the deli counter for deli meat while I get a head start on my browsing.
The Publix deli can be very backed up (waiting 10 – 15 minutes is normal on a Sunday after church), so the new plan is going very well so far. I take my time leisurely browsing for 15 minutes or so until we meet back up and it's go-go-go. We speed through the aisles, grabbing Greek yogurt and peanut butter and kicking up dust as we zoom past other shoppers, knocking their carts over and scaring small children.  
Lunch
After successfully grocery shopping this morning, we headed home ready for lunch.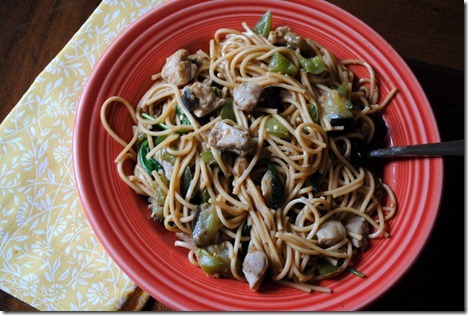 I used a box of Annie Chun's organic peanut sesame meal starters kit as the base for a pasta dish that included chicken thighs, green pepper, spinach and eggplant.
Ryan and I both loved the sauce… probably because the first ingredient in the sauce is peanut butter. Naturally.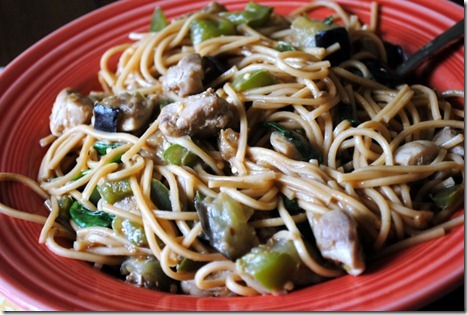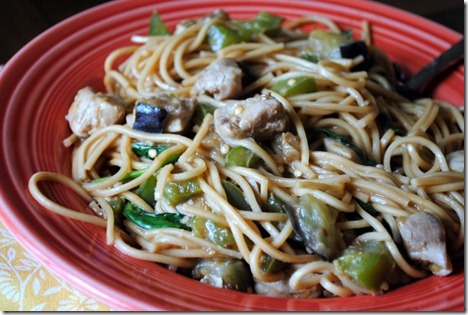 I wanted something sweet after I polished off my noodle bowl, so I also had a small apple.
And no, I didn't wear a Nike dri-fit tank top to church. Nor did I wear it to workout today. I just always throw my hair up and change into comfy clothes immediately when I walk into the door if I know I won't need to look nice for the rest of the day. Ryan is the exact same way. You'll never find us lounging in "real" clothes.  
Now I'm hoping to take Sadie on an afternoon hike with Ryan before doing some chores around the house and baking. Cocoa oatmeal cookies are sounding awfully appealing at the moment!
Questions of the Afternoon
Do you lounge in your "nice clothes" or change into comfy clothes immediately when you get home?
If you grocery shop with someone else, do you have any "shopping strategies?"