This weekend was a rejuvenating one. We stayed close to home and I enjoyed quality time with my mom, Chase and Sadie in the midst of cleaning up the house, eating good food, packing for an upcoming trip and getting a jump start on some work.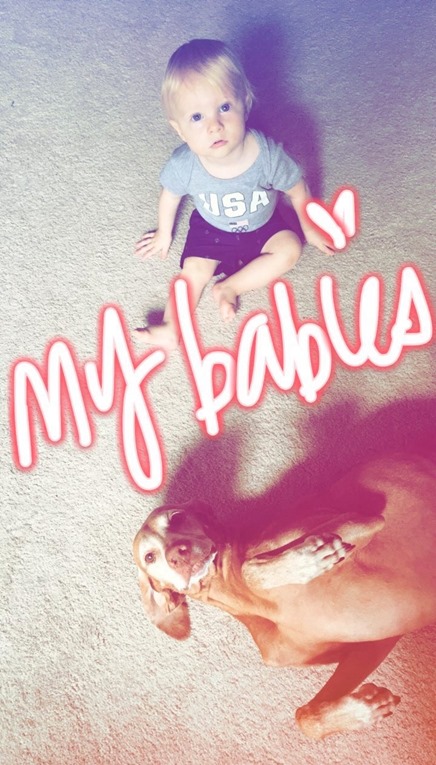 (Pic from my short-lived Instagram Stories share… Right now I'm not really feelin' it and definitely prefer Snapchat for sharing behind-the-scenes pics. Who knows if that will change in the future. We'll see! )
It was a low key weekend, but sometimes those weekends are the best, right?
Friday
Friday was a mix of work and play!
I wrapped up a bunch of recipes and photos for an upcoming project I cannot wait to share with you guys soon and squeezed in a brief afternoon play date with my friends Carrie, Casey and Elisabeth and their adorable babies.
Elisabeth and I were on the same page and dressed Chase and Oliver in USA-themed apparel in honor of the Olympics!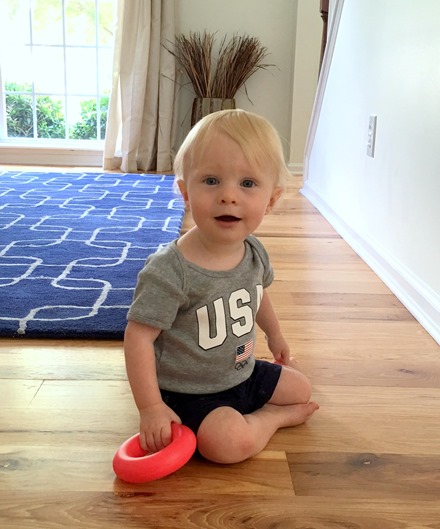 (Thank you to my Aunt Laurie for Chase's onesie!)
My mom and I were pumped for the opening ceremonies and loved watching the best athletes in the world compete throughout the weekend.
Chase clearly played hard during his play date, because he fell asleep on the way home but thankfully transferred well to his crib and continued a solid afternoon nap. Chase's sleep has been all over the place lately which, thanks to a lot of your comments, I realize can be quite common at this age. It's a bit maddening from a schedule standpoint – all predictability flew out the window last week – but by now I've learned to roll with the punches because everything always ebbs and flows. 
My mom and I played with Chase at home after he woke up from his nap and he ended up refusing to go to sleep until 90 minutes after his usual bedtime. Any plans for a relaxing dinner went out the window, so we ended up taking turns eating the delicious tinkerbell pepper quesadillas my mom whipped up thanks to a Blue Apron delivery I ordered and they hit the spot.
I could not get enough of the cherry tomato salsa in this recipe! It was so easy – simply combine halved cherry tomatoes, lime juice and fresh cilantro with a drizzle of olive oil, salt and pepper – and will absolutely be making it again soon to pair with everything from chicken and fish to eggs and more! SO good and so fresh!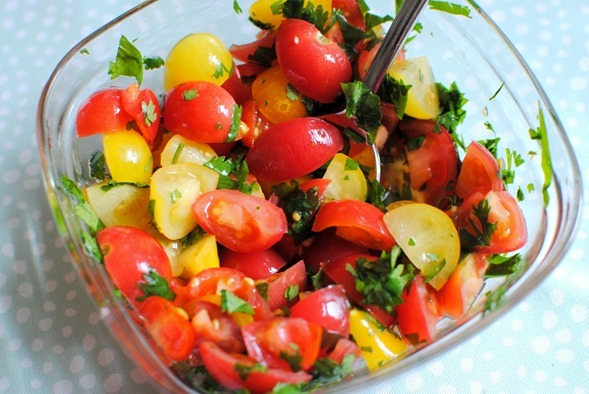 Once Chase was in bed, we flipped on the TV to watch the 2016 Olympic Opening Ceremonies and I my eyelids felt heavy by 10 p.m. so I put myself to bed early. Clearly some solid sleep was needed!
Saturday
Saturday morning began around 6 a.m. thanks to Chase's need for breastmilk, but his early wakeup time allowed me to make the early Burn Boot Camp class, so it wasn't too bad. We went through a gymnastics-themed workout and I was out of the house and back home within an hour.
My mom was hanging out with Chase when I arrived home, so I joined them for some seriously noisy playtime thanks to Chase's new birthday xylophone. I'm pretty sure I love Chase's xylophone as much as he does and pounded out the same two songs – "The First Noel" and "Do Re Mi" – over and over again since they're the only songs I know how to play by heart. Apparently it's Christmas in August in our house!
Eventually Chase went down for his first (and only) nap of the day around 10:30 a.m. and I headed out on a 45-minute walk around the neighborhood with Sadie.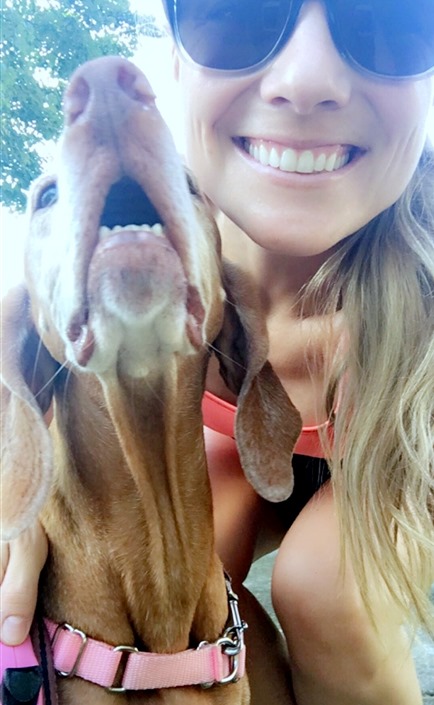 Once Chase was up from his nap, my mom and I had plans to head out to the local outlet mall to do some shopping and exchanges. After loading Chase up in his car seat, we were off!
The mall was absolutely SLAMMED, so we didn't end up browsing much and just headed into one store before making our way back home.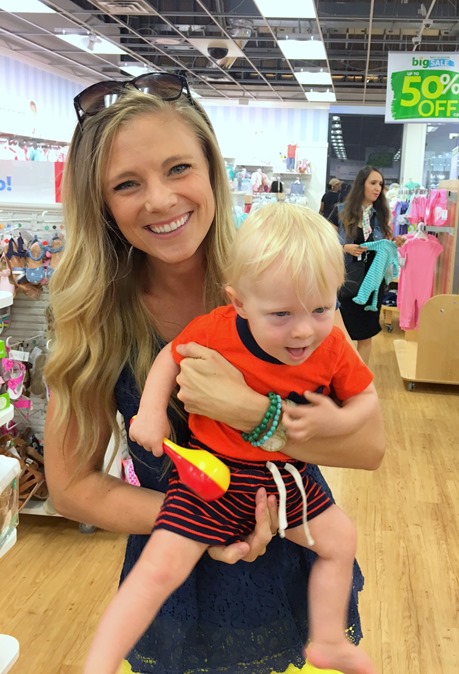 (Can you tell shopping with a very mobile one-year-old is quite an experience? Ha!)
I am not a fan of crowded malls and apparently the ridiculously hot weather made everyone want to spend the day in the cool air conditioned mall, so we cut our trip short and popped into Whole Foods for some groceries before driving home.
Chase was still going strong and ended up refusing his afternoon nap, so we played and played (and played) before he finally went down for the night around 8 p.m. What a goofball! I don't know where that little man gets his energy because my mom and I were pooped by the end of the day and Chase was still crawling, climbing and chattering away!
Once Chase was in bed, we flipped the TV back on and caught some more of the Olympics before heading up to bed just before 11 p.m.
Sunday + My First Orangetheory Fitness Class
I was really psyched for Sunday morning because I registered for my very first Orangetheory Fitness class! This class has been on my radar for YEARS ever since some of my girlfriends started raving about it when it first came to Orlando.
I signed up for the 7:30 a.m. class because I knew Chase would have me up early anyway and I arrived 20 minutes early as instructed to meet with the instructor to learn more about the workout, get set up with a heart rate monitor and go through the class format before it began. (FYI, your first Orangetheory class is free and I signed up for my free class on their website.)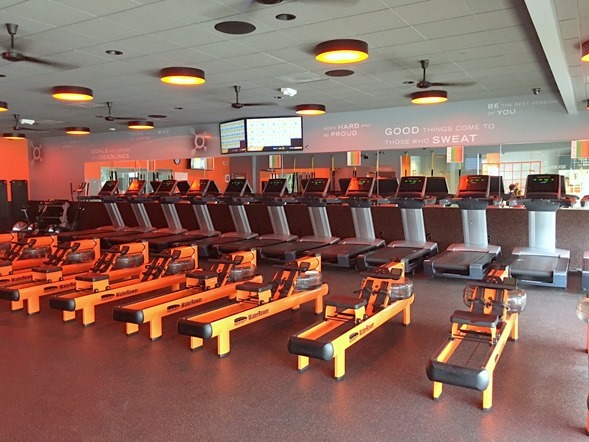 I shared a little bit about my first Orangetheory class on Snapchat and I received more messages from you guys than ever before (not counting Chase's birthday – thank you!) with your messages saying one of of two things: 1.) How much YOU love Orangetheory and 2.) Your requests for me to share my experience on the blog. Since I want to be sure to share more details with you than I would in a brief weekend recap, I'm planning to share a more extensive recap of my first Orangetheory class on the blog soon. Stay tuned!
After Orangetheory, I headed home to find my mom feeding Chase breakfast, so I joined them by toasting two waffles and eating them with two runny eggs on top. Love that combo!
After breakfast, Chase was ready for his morning nap, so once I put him down, I headed into my office to get crackin' on this weekend recap before popping in the shower and heading to a local nail salon to meet up with my girlfriend Casey for a pedicure date!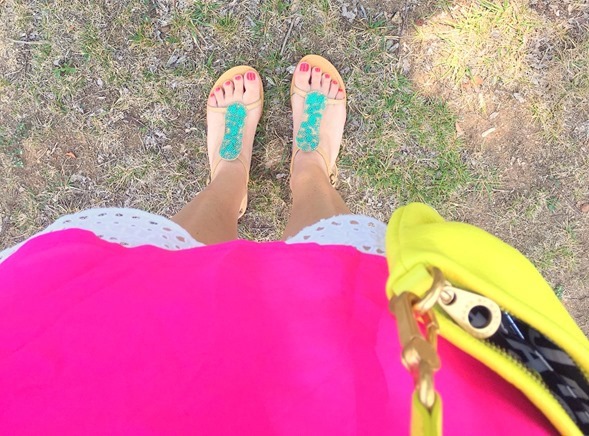 There's something about OPI Cajun Shrimp that simply calls to me because I seem to frequently randomly select that specific color off the nail polish shelves whenever I get a pedicure. I can't stay away and love the way it seems to perfectly blend coral, pink, orange and red in one polish.
Casey and I chatted away, staying at the salon for quite a while after our pedicures were done while we waited for our nails to dry and enjoyed some distraction-free conversation. (I think this may have been only been the third time we've hung out without our babies in tow!)
After saying goodbye to Casey, I headed home but couldn't resist popping into Baskin' Robbins for a small scoop of Snickers and chocolate chip ice cream.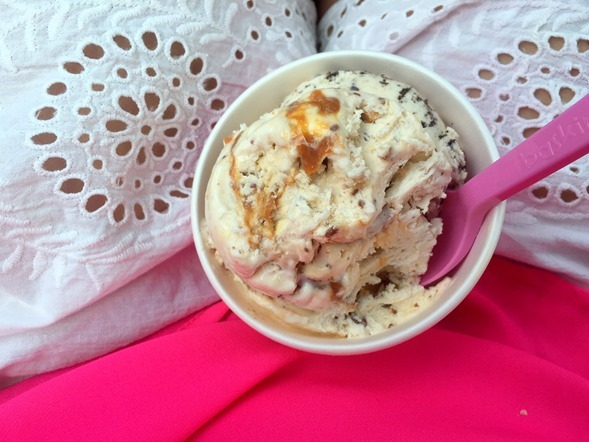 Is it just me or does ordering ice cream when you're out make you realize how ridiculously large your portions of ice cream are when you eat at home? Can't stop, won't stop.
My mom was kind enough to encourage me to enjoy some quality time away from mom-mode this weekend and I arrived home feeling rejuvenated and happy. It's amazing what a pedicure, quality conversation with a friend a cup of ice cream can do!
The rest of our Sunday passed by in a blur of baking up a batch of baked steel cut oatmeal, playing with Chase and Sadie, running out to Ulta for my favorite travel-size volumizing hairspray for an upcoming trip, making another Blue Apron dinner and watching the Olympics!
I hope you guys had a great weekend as well! Ryan gets home from the Keys today and we are pumped to see him again. Apparently his spearfishing trip with my dad went well and he had blast. I'm psyched for the fish and lobster comin' our way!