Saturday
On Saturday morning, we awoke to temperatures in the low 70s which was such a treat! It was foggy and not at all hot so we took full advantage and walked down to the marina near our house with the boys for some early morning fishing.
Chase and Ryan did most of the fishing while Ryder and I hung back with Sadie and played with monster trucks. Ryder has been in a huge monster truck stage lately so I almost always pack a few with us for him to play with during any adventure since they can drive all over rocks, sand, dirt, mulch, etc. much better than the other little matchbox cars the boys love.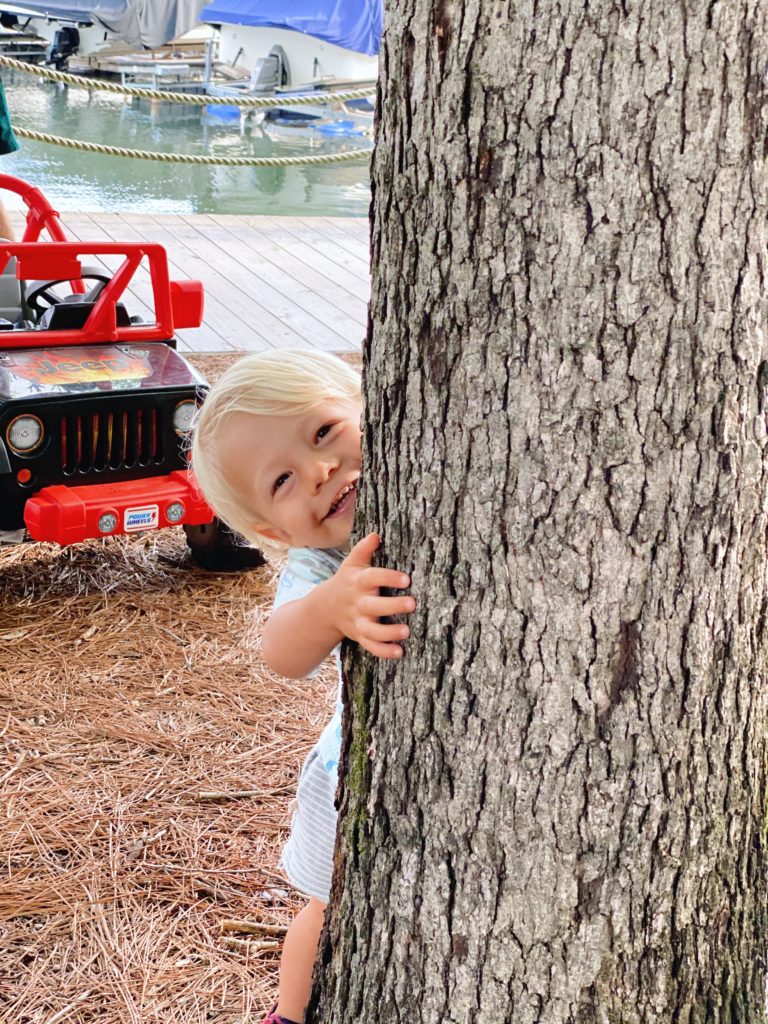 Though our fishing adventure wasn't exactly fruitful, the boys seemed to enjoy tossing little pieces of bread to the fish and eating lots of snacks.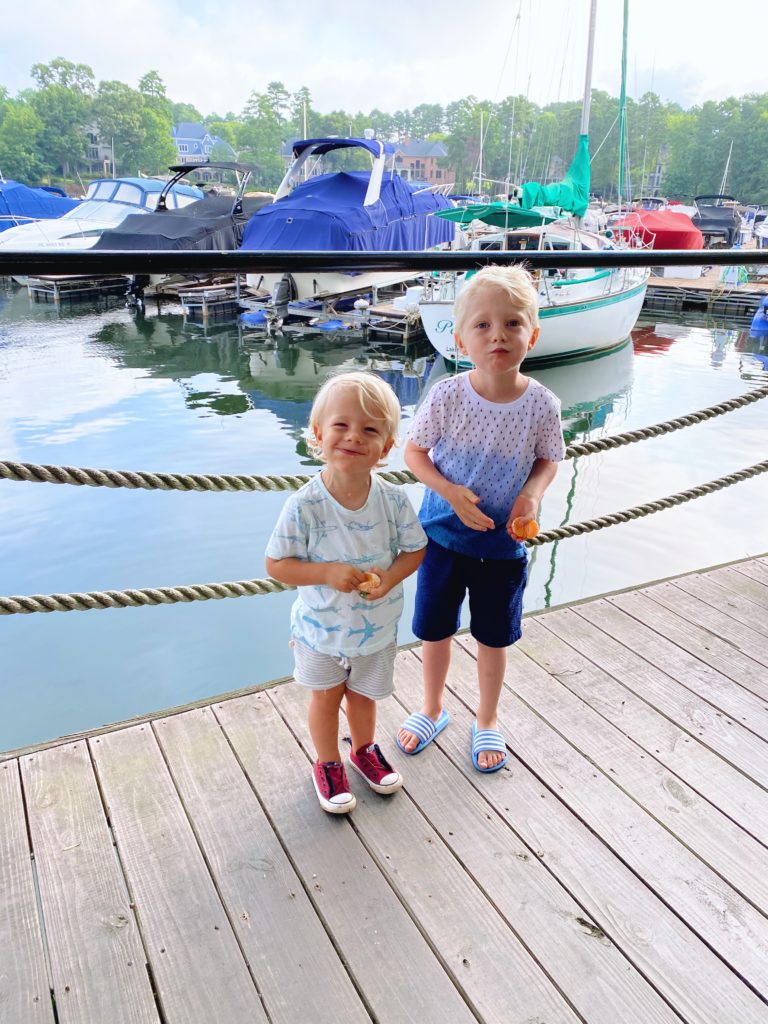 (Sporting mouthfuls of oranges!)
I swear the snack bags I pack for these two always get demolished during practically any activity we do these days!
We made it home a little after 9 a.m. and didn't have much time to spare before we had to head out for Tommy's rocket launch birthday party!
One of the boys' best friends turned three on Saturday and our close friends Carrie and Nick (Tommy's parents) planned a small gathering for three families at a local soccer field. (Longtime readers may remember when I hosted a baby sprinkle for Tommy when Carrie was pregnant with him years ago… before we even knew Tommy was a baby boy! Those pics take me back! I almost forgot what our kitchen and living room looked like before we did our kitchen refresh + our living room refresh a little more than a year ago.)
Tommy's party on Saturday may have been small but it was tons of fun! Each family came equipped with model rockets, picnic blankets, chairs and snacks and took turns launching rockets while the kids had a blast chasing after them and enthusiastically counting down before each launch. I am very happy to report that our rocket did, in fact, make it off the ground this time. Oh happy day!
We stayed at the park until lunchtime and had a lot of fun catching up with our friends and celebrating Tommy!
Once we made it home, I asked Ryan to snap a 35-week baby bump pic for me since it was literally the first time in five months I've actually done my hair and I wanted our little one to have at least one picture of Mom pregnant where I'm wasn't a complete sweaty mess. Ha!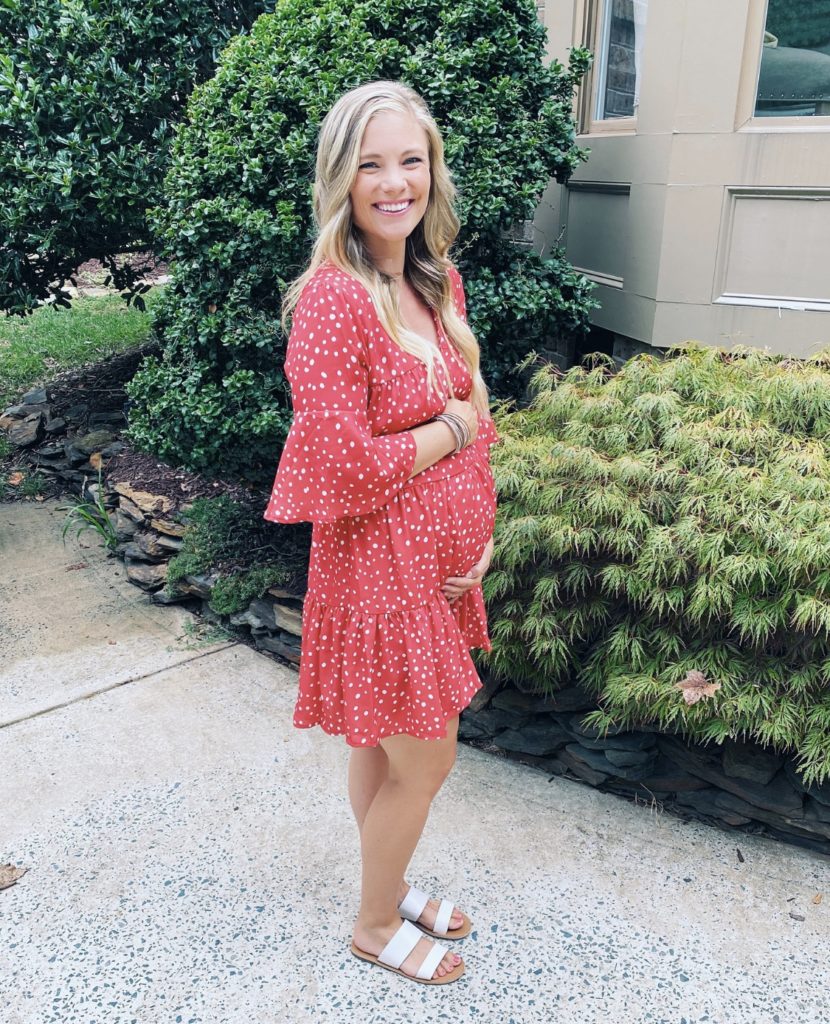 (My dress was a non-maternity Amazon find last year and it's the most comfy thing ever! It comes in an assortment of colors/patterns and I ordered a medium after reading reviews for the sake of a little extra length. For reference, I am a little over 5'7".) 
I've been rockin' that quarantine messy bun look for ALL the days lately and it honestly felt really nice to spend a little time putting on real clothes and curling my hair. Not that living in pajamas, athletic wear and bathing suits for five months doesn't have its perks…
Back at home, it was nap time for Ryder and while he snoozed, Ryan and I opted out of most of the household chores we originally planned to tackle other than laundry and dishes and did some puzzles and played some games with Chase instead.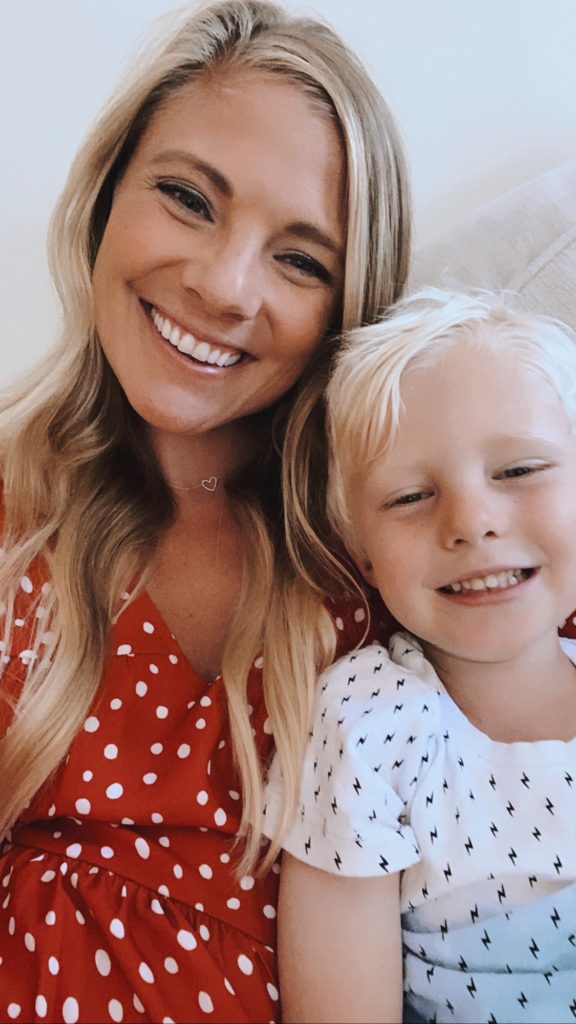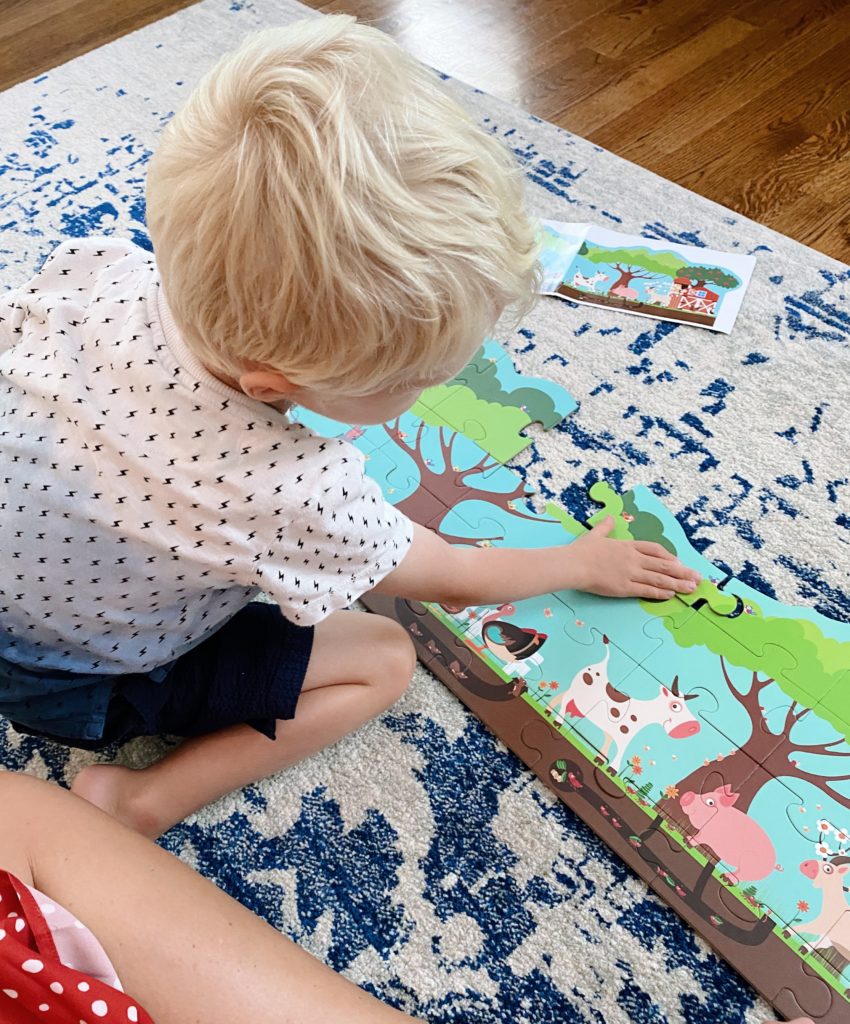 I also had a virtual baby shower to attend for a sweet couple in my extended family who is expecting a baby girl in September!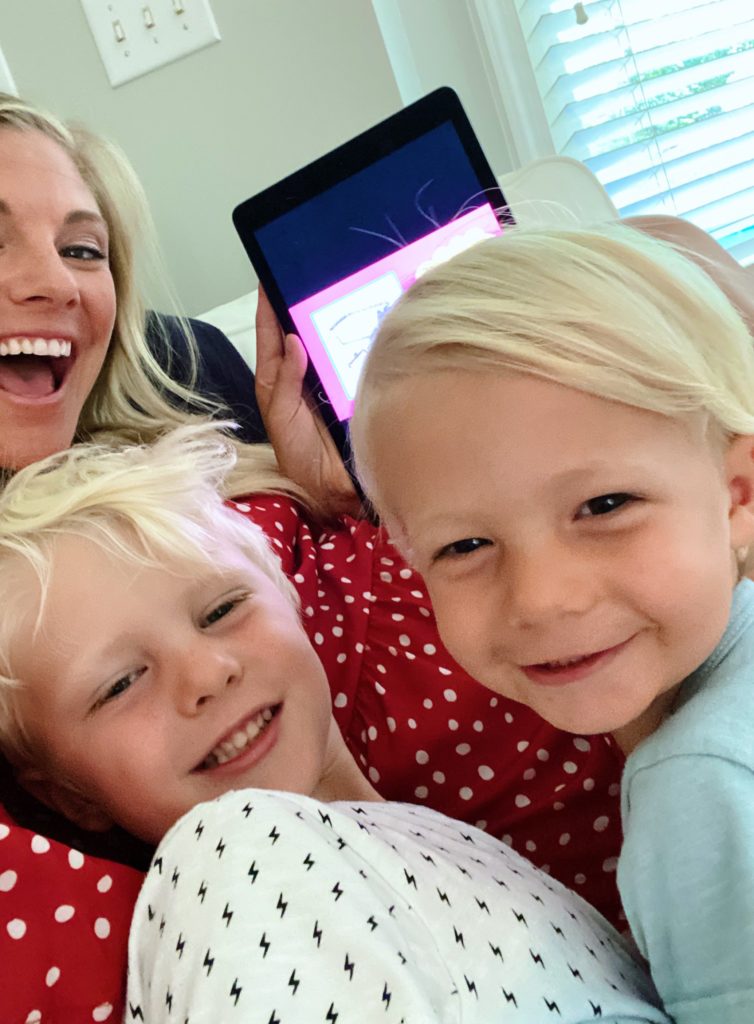 Can you tell Chase and Ryder wanted in on the action once Ryder was awake again at the end of the shower?
This was the first virtual event I've attended (outside of random Zoom happy hours, etc.) and it was so well done! I wasn't sure what to expect and/or how these things are planned and handled but it was such a sweet way to celebrate baby Sammie! My second cousin's mother and some of the expectant mother's friends planned a sweet shower with virtual games that were really fun and not nearly as awkward as I kind of imagined virtual showers might be. Clearly everyone is excited for another sweet baby to join our family in September!
We filled the rest of our Saturday with family time and grabbed pizza at Alino's (our absolute favorite local spot) and frozen custard to go from Whit's with my father-in-law before calling it a day.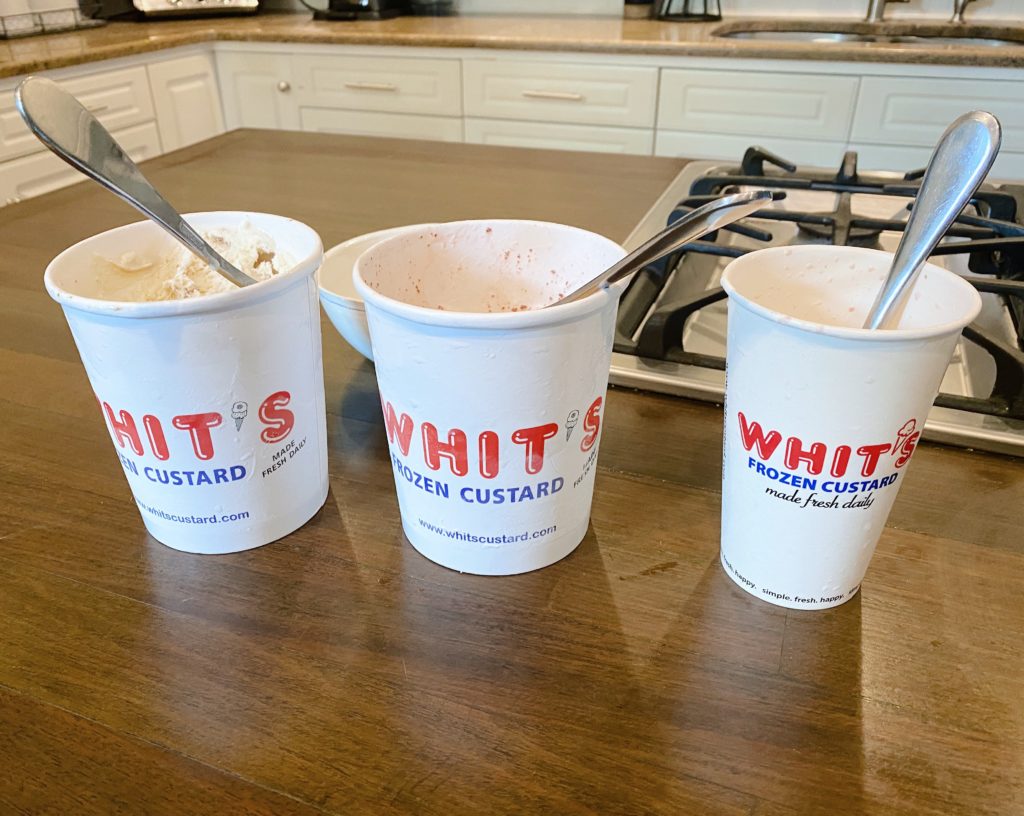 Our frozen custard bar featured three flavors: Milk 'n' Cookies (okay but kind of disappointing and not nearly as good as it sounds), Red Velvet (very tasty) and Strawberry (my favorite of the bunch). Strawberry ice cream is where it's at for me this summer, I swear. It's so underrated and delicious!
Sunday
Sunday morning began with a walk around the neighborhood with the boys and Sadie.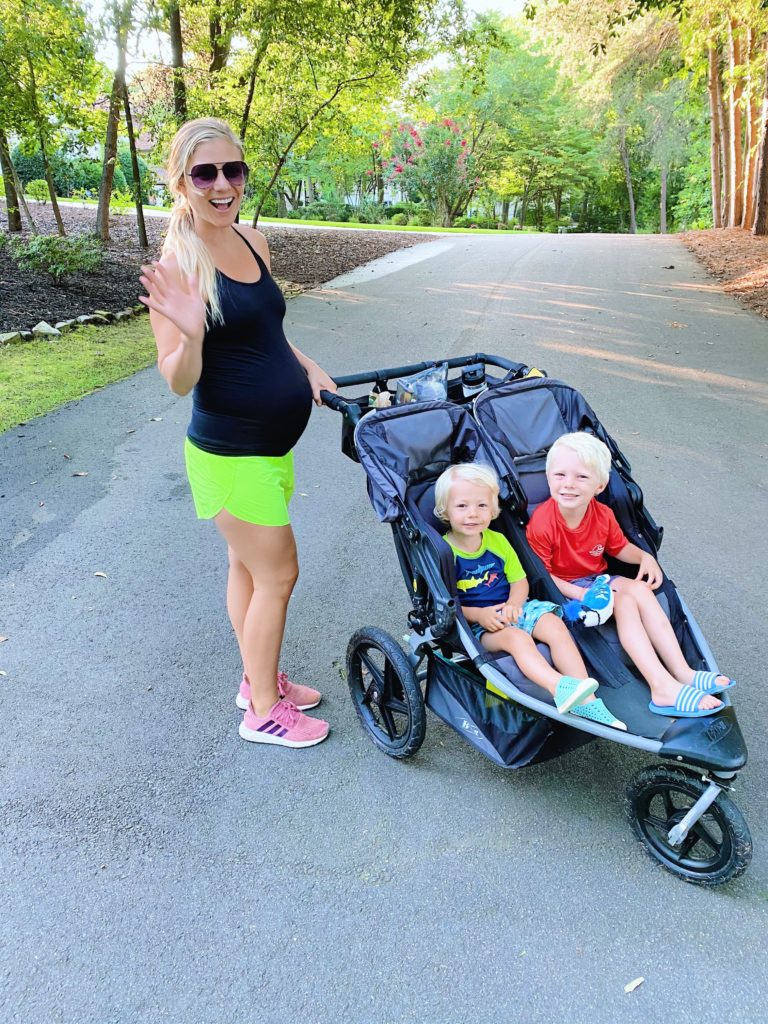 (My top is a super stretchy old Fabletics find. My sunglasses are part of the Amazon aviator two-pack I previously mentioned and LOVE. My shorts are one of my favorite purchases of the summer from Athleta! I've mentioned them once before but they're not maternity — I just sized up — and they are a dream! A thick, forgiving waistband, super lightweight and the perfect length. They don't ride up at all and I want them in every color. I keep checking back because they seem to sell out quickly and I am determined to nab another pair or two.) 
We stopped at a little field in the neighborhood so the boys could pick some wild mushrooms to poke with sticks and do all the other random outside stuff that seems to keep these two amused these days.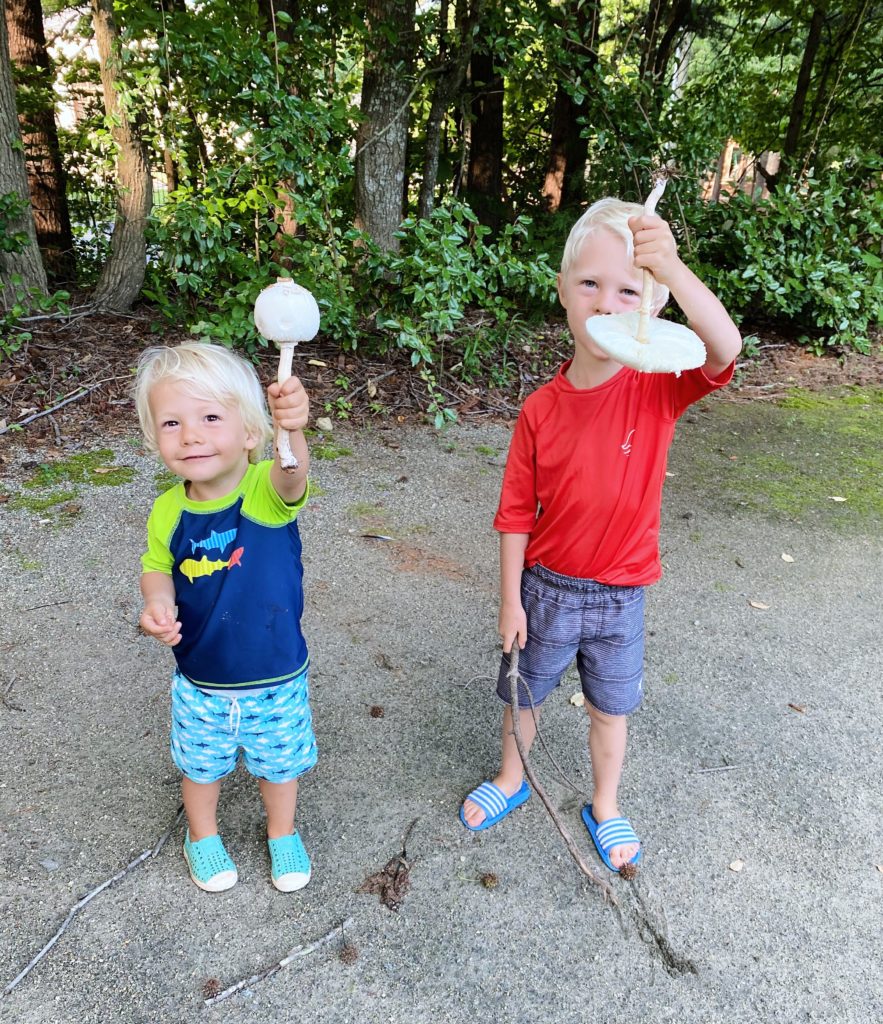 Oh and Ryder was all about more monster truck shenanigans, of course.
In the early afternoon, we headed out on the boat with my father-in-law and made our way up the lake to my friend Carrie's parents' house so the kids could splash around and play with Lilly and Tommy and we could enjoy some more time with our friends.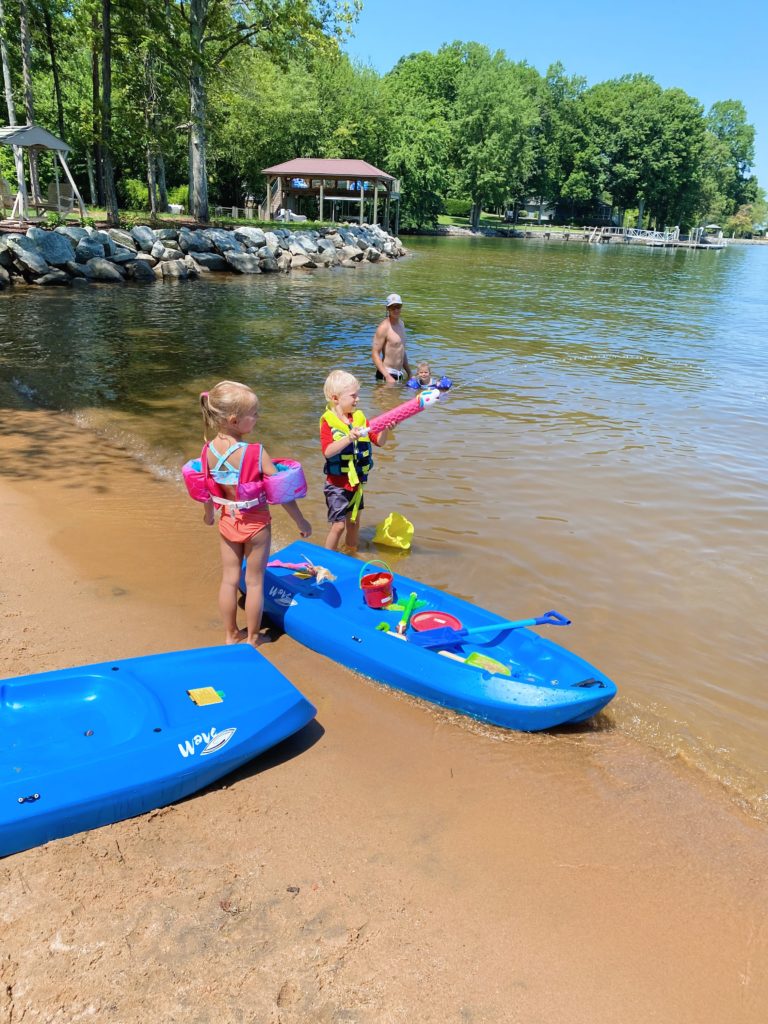 Once we made it home, we managed to get Ryder down for a late nap and Chase was all-in on a children's podcast which gave me some time to work and Ryan time to wash our cars and make a quick grocery store run. We rounded out the day with playtime in the backyard and fun around the house before dinner, bath time, stories and all that jazz. Ryan and I also finished final episode of The Last Dance documentary series on Netflix and loved it!

Plans for this week look similar to the past few weeks around here. We'll be filling our days with neighborhood walks, swimming at the little beach near our house, an outside play date or two with close friends and of course I'll be squeezing in some work whenever possible. I hope to check back in soon and see you around here later this week! Have a great Monday, my friends!

And just like that, another weekend has come and gone! Our weekend ended up being surprisingly full and we loved every second. It felt nice to have some "real" plans on the agenda and get together with some friends for some outdoor fun. Here's a peek into the last two days with our crew!