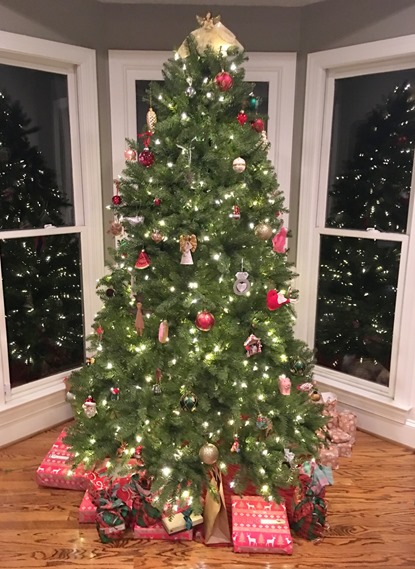 We celebrated our Christmas with Ryan's mom and Les on Saturday and had a great time exchanging gifts. It was Chase's first present-opening experience and I think the tissue paper ended up claiming the top prize at first!
Chase received a lot of wonderfully thoughtful gifts and after the tissue paper got a little boring, he moved onto loving the new Fisher-Price Kick and Play Crib Mat that doubles as a mat he can kick at in his crib or play with during tummy time. All of the lights and music were right up his alley.
Ryan's favorite new toy was the set of layering rings Chase received that he said would "make a good drinking game." Naturally we tried to toss the rings on the wobbly tower a few times and it was much harder than it looked!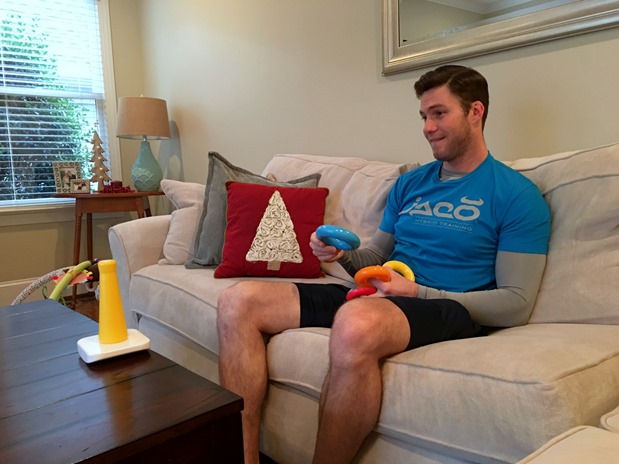 Once we were done unwrapping presents, we decided to drive into Davidson since Ryan's mom and Les fell in love with the adorable college town during their last visit over the summer.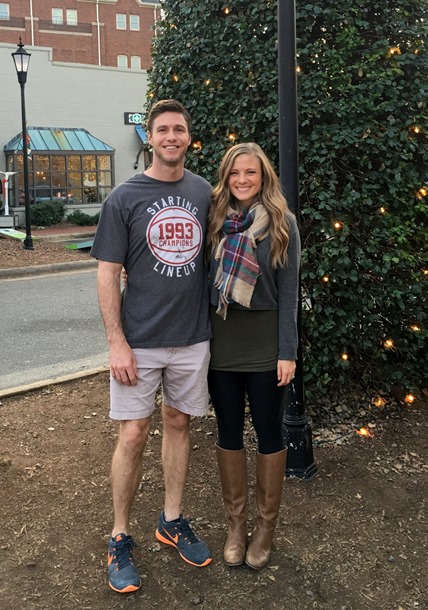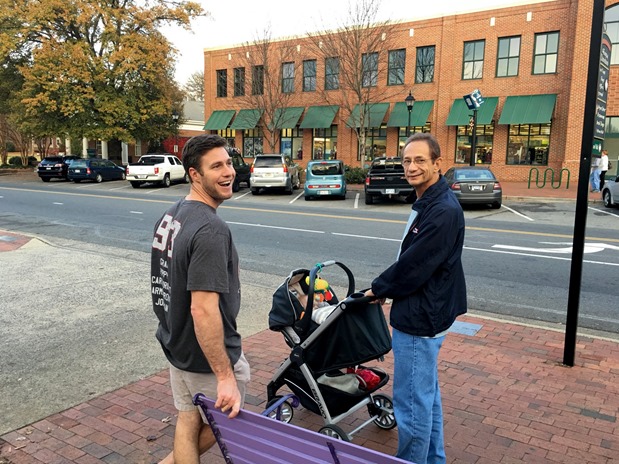 The weather was unseasonably warm this weekend and as you can tell from the above photos, no one seems to quite know how to dress when the temperatures get so warm in November. (I will always opt for cold weather clothing whenever possible since I rarely got to wear it for 10+ years when we were living in Florida!)
During our time in Davidson, we spent a few hours meandering in and out of the adorably decorated shops along Main Street.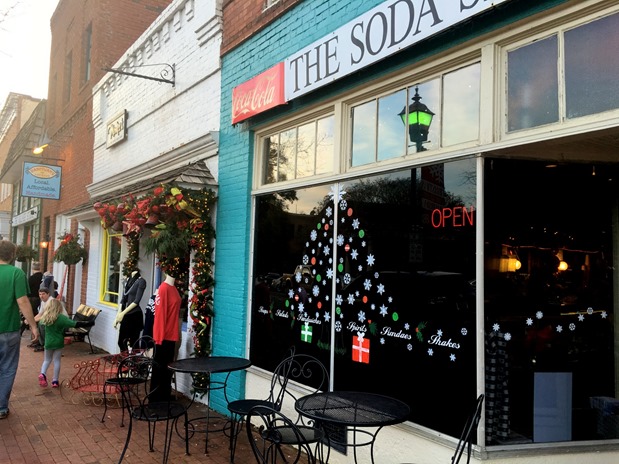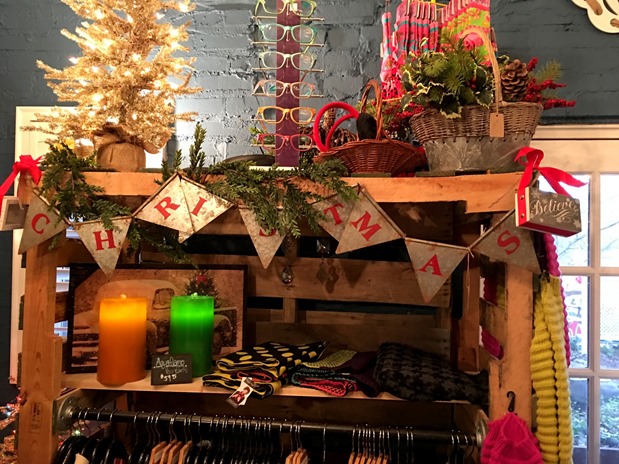 When I saw this sign, it made me laugh out loud: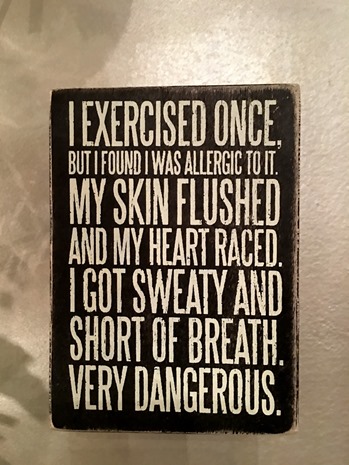 Exercise with caution, folks.
I didn't end up buying anything other than a passion iced tea from Millstone Bake House but it was just as tasty and refreshing as I remembered!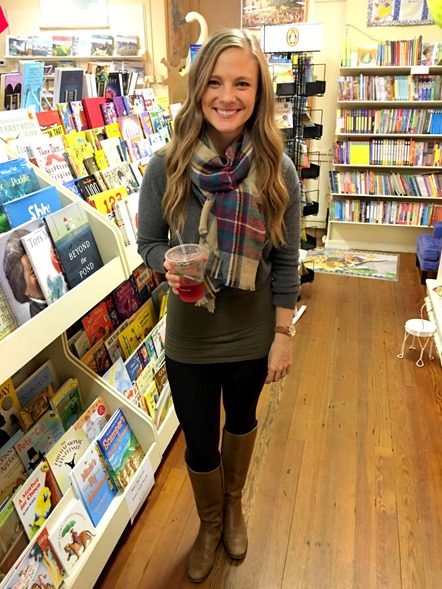 Before heading back home, our little gang popped into Carrburrito's for margaritas!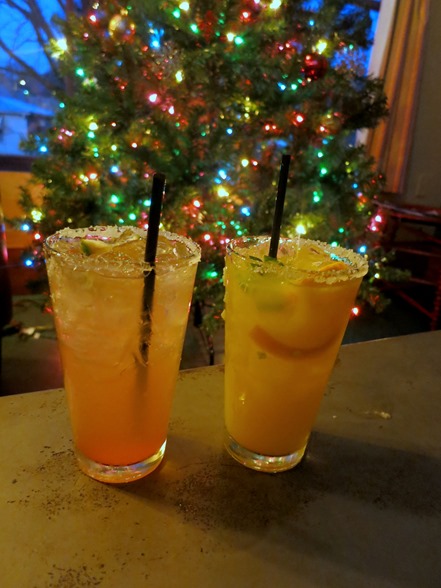 His and hers margaritas: Watermelon and Orange jalapeño! (I'll give you one guess which one was mine…)
Once we finished our drinks, we drove back to our house for a delicious ham dinner my mother-in-law kindly prepared for everyone. I missed her cooking! The weekend ended up flying by and we had just enough time to squeeze in breakfast and a walk on Sunday morning before Diane and Les had to catch their flight back to Florida.
(I made an eggnog French toast casserole on Sunday morning… Recipe to come!)
When Ryan left to drive Les and Diane to the airport, Chase and I drove off to the outlet mall to do some exchanges and holiday shopping and arrived home rather drained. The mall was mayhem and I was reminded why I tend to do the majority of my holiday shopping online these days. Phew! We left with a couple of stocking stuffers for my mom and three new 6-month outfits for Chase from Carter's since our little boy is growing longer by the day! I had hoped to go into more than three stores, but even with a nursing break (bless nursing rooms!), Chase wasn't having it and wanted to be out of his stroller and dancin' around, so we headed home after a short little trip.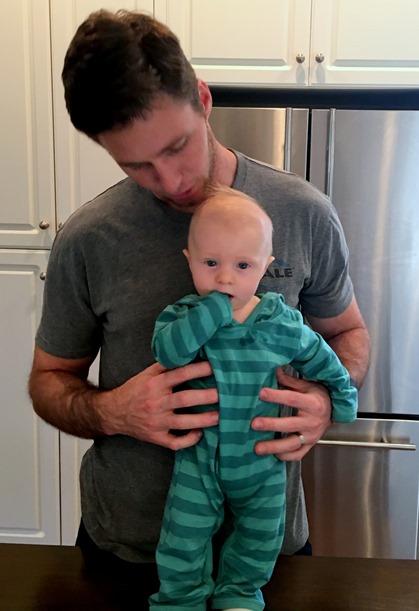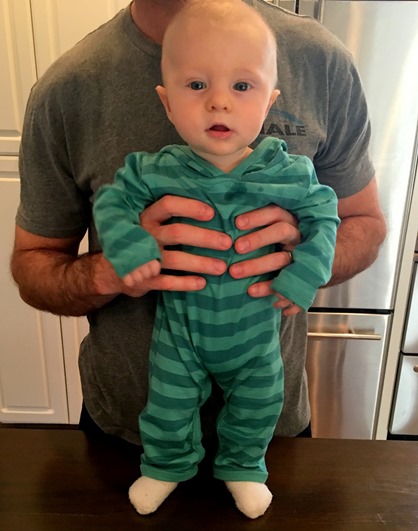 The rest of our Sunday was spent hanging around outside with Ryan and Sadie and concluded with a movie night and some blog time for me. I'm pretty convinced my eyes are going to close the minute they hit the pillow tonight (I'm typing up this blog post on Sunday evening) and I'm hoping a good night's sleep awaits.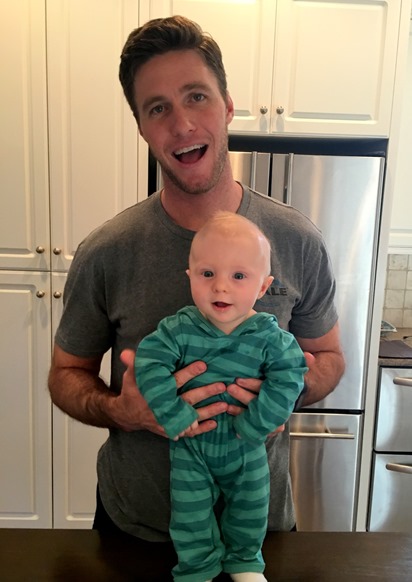 Enjoy your Monday, my friends!!

Early Thursday evening, Diane and Les arrived in town to spend the weekend with their grandson and celebrate an early Christmas with our little family. We've been looking forward to their visit for months and it was so nice to have them staying with us during the holiday season.